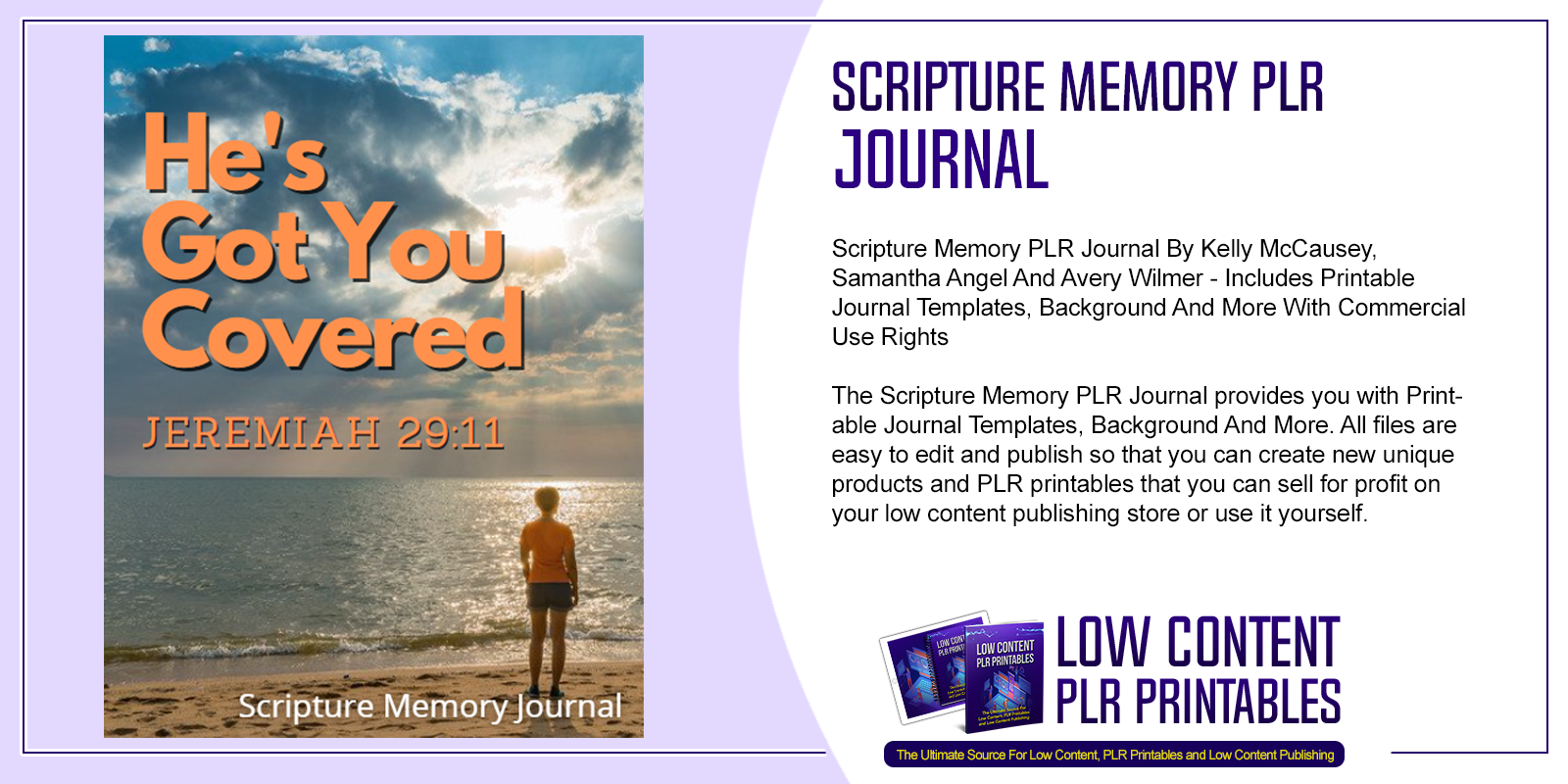 Scripture Memory PLR Journal
in
Affirmation PLR Journals , PLR Background Pages , PLR Digital Pages , PLR Graphics and Clipart , PLR Journal Prompts , PLR Journals , PLR Printable Trackers , PLR Product Templates , Prayer PLR Journals , Print On Demand PLR , Spiritual PLR Journals
Choose Your Desired Option(s)
#ScriptureMemoryPLRJournal #ScriptureMemory #BiblicalPLR #ChristianPLR #ScriptureMemoryPLR #kellymcausey #samanthaangel #averywilmer #printablejournal #journaling #commercialuserights #commercialuse #publishing #selfpublish #publish #plrjournalpages #journalpages #Journaltemplates #printondemandplr #doneforyouplr #lowconentplr #plrprintables
Scripture Memory PLR Journal By Kelly McCausey, Samantha Angel And Avery Wilmer – Includes Printable Journal Templates, Background And More With Commercial Use Rights
The Scripture Memory PLR Journal provides you with Printable Journal Templates, Background And More. All files are easy to edit and publish so that you can create new unique products and PLR printables that you can sell for profit on your low content publishing store or use it yourself.
Introducing The…
Scripture Memory PLR Journal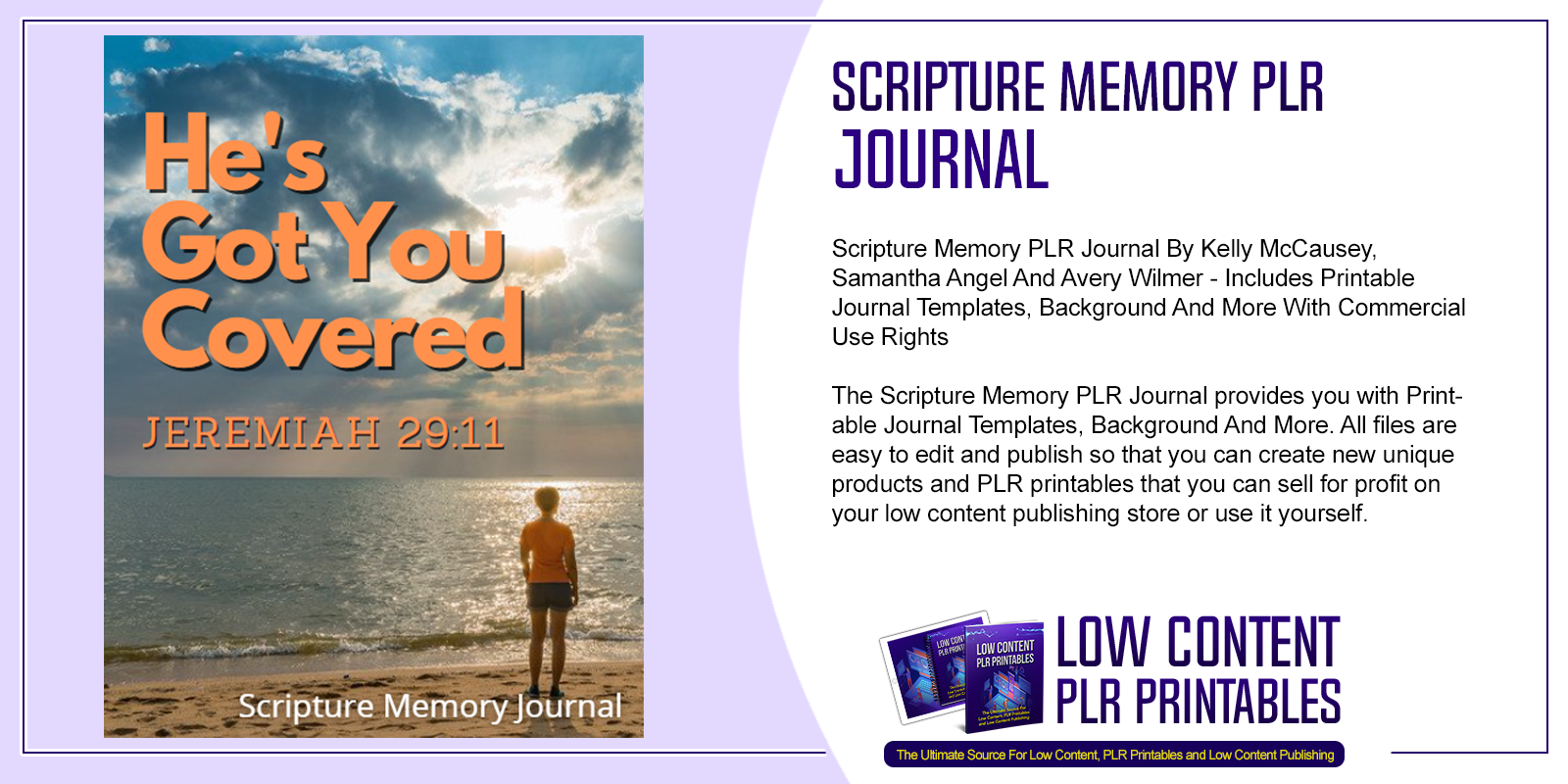 This is exactly what you could be getting in the Scripture Memory PLR Journal:
This is a Canva Template Set designed to help your community memorize a beloved verse of God's Word in one week.
Excerpt:
We only know what we know. But our God knows everything. Every detail of our lives is planned out by Him. He sees the future and the right now at the same time.
There is a verse in the Bibles that talks about the plans that God has for us. It tells in detail the plan God has for you.
Jeremiah 29:11 says: "For I know the plans I have for you,' declares the Lord, "plans to prosper you and not to harm you, plans to give you hope and a future."
Note all content is provided within the Canva Template. They don't provide other versions of the text. Having it all in Canva makes it sooo easy for you to customize for your people! Change fonts, use different images, add your own words and calls to action.
The package includes:
500+ word introduction to the verse.
7 Journal Pages providing space to write out the verse & journal reflections.
1 Beautiful Desktop Background featuring the verse. (Keep it front of mind!)
See The Scripture Memory PLR Journal For Yourself – Click Here
Licensing Rules
This content has been developed by their own writing team and are sold to you with a Private Label License.
Feel free to tweak and edit every item of content to suit your message and target market.
You may rewrite, tweak, add, remove and brand all elements as your own.
You may freely publish the content on your website, in your emails, newsletters, podcasts & videos.
You may bundle the content for sale or offer it in a membership site.
You may publish what you receive from us anywhere that allows White Label content – please note, some publishing platforms are not open to it. (For example, Amazon does not permit White Label content in Kindle books.)
Important Note: We have Bible Verses in most of our content. Verses are clearly marked and must not be edited. The NIV version is copyrighted and requires proper attribution.
Please note, the White Label License does not allow:
You may not pass along any Regifting, Reselling or White Label rights to others.
You may not pass the entire White Label Perks package on to others. (The editable Word docs & PhotoShop files, etc are for your use only.)
The Scripture Memory PLR Journal is just for you if you're looking for printable journal workbook templates and more that can be used to create your own unique printables and profit! Perfect for you if you have a publishing business and are looking for new products or printables. Click the link below to learn more!
See The Scripture Memory PLR Journal For Yourself – Click Here
Other Products You Might Like