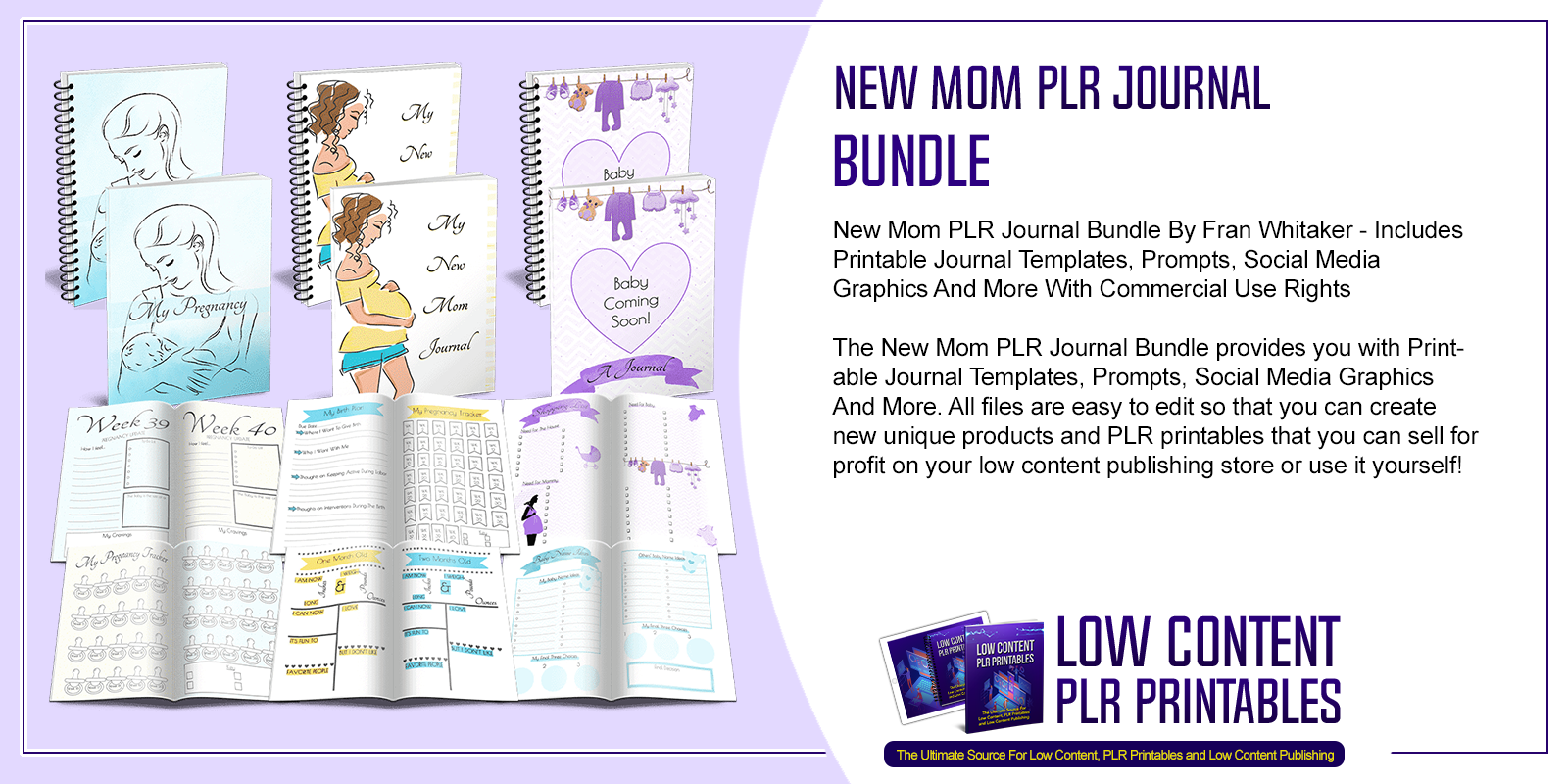 New Mom PLR Journal Bundle
in
Life PLR Journals , New Mom PLR Journals , PLR Digital Pages , PLR Graphics and Clipart , PLR Journal Bundles , PLR Journal Prompts , PLR Journals , PLR Printable Covers , PLR Printable Trackers , PLR Product Templates , PLR Workbooks , Print On Demand PLR
Choose Your Desired Option(s)
#NewMomPLRJournalBundle #NewMomPLRJournal #newmom #newborn #newmomprintables #newmomjournal #newbornprintables #newbornjournal #franwhitaker #thehappyjournalsclub #thehappyjournals #journal #journaling #plrjournal #journalpages #journaltemplates #journalprompts #socialmediatemplates #socialmedia #covers #fonts #printondemand #doneforyou #publishing #journalbundle #bundle #Printable #printablebundle
New Mom PLR Journal Bundle By Fran Whitaker – Includes Printable Journal Templates, Prompts, Social Media Graphics And More With Commercial Use Rights
The New Mom PLR Journal Bundle provides you with Printable Journal Templates, Prompts, Social Media Graphics And More. All files are easy to edit so that you can create new unique products and PLR printables that you can sell for profit on your low content publishing store or use it yourself!
Introducing The…
New Mom PLR Journal Bundle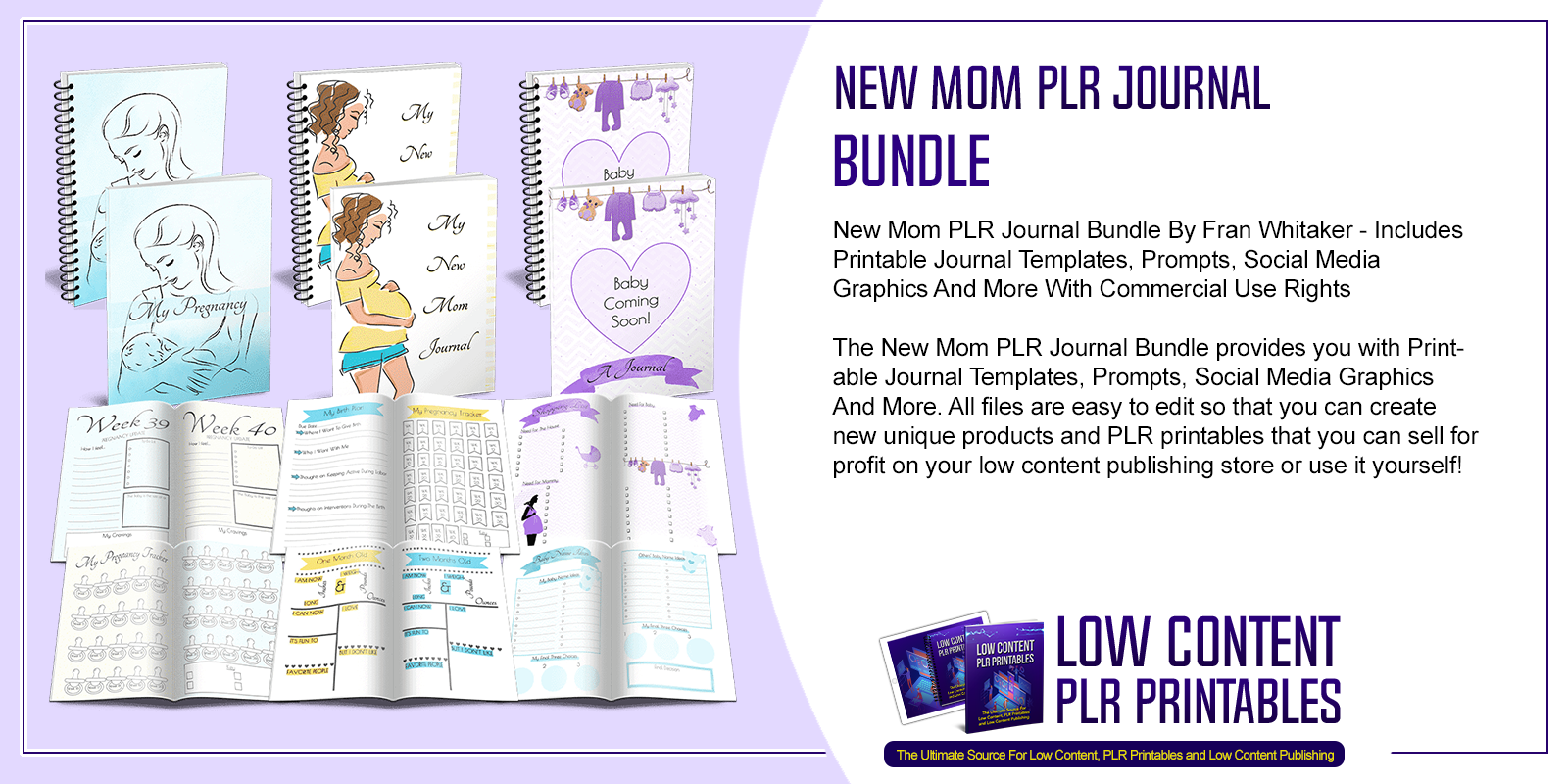 This is exactly what you could be getting in the New Mom PLR Journal Bundle:
Check out all the incredible content you'll have for effortlessly creating products your loyal customers will adore
Three Journals
Imaginative, flexible, and fully editable new mom journal PLR 70 page template sets in THREE unique designs. You'll get these journal templates in two sizes: 6 x 9″ (One with Bleed) and A4. Plus you'll get both full colour & greyscale versions. All the templates come in PowerPoint and PDF files.
Jounal Prompts
You'll get 23 creative journal prompts for during pregnancy, after the birth and for when the child is at toddler age. These can be used by themselves on social media, in blog posts, as a lead magnets or added to your journals. You'll get a text file, and PowerPoint and PDF versions, meaning you can use them as they are or edit them to match your brand.
Social Media Images
You'll get five high quality social media images, formatted for Pinterest, Twitter, Facebook & Instagram (20 images altogether). All you have to do is add your own text and share. You will receive the images as PNG files, but you'll also get the PowerPoint files for each size – this allows for fast editing. You can reuse them, too!
Plus Keywords, Covers and Fonts!
To top this all off, you'll also get all this: 200 Keywords (100 SEO Keywords & 100 Pinterest Keywords), 3 A4 covers, 3 KDP covers. And 6 3D mockups in PNG. PLUS all font files are included!
The New Mom Journal PLR Bundle will help you do all of the following
new mom journal plr bundle, baby journal, expectant mother journal, pregnancy diary book
Help your customers reduce stress and anxiety by providing an outlet for future/new mums
Help your customers stay organised and on track during a time of life changes
Give your customers a place to keep all pregnancy and new baby information together and organised
Easily and quickly produce beautiful pregnancy printables or new mom bullet journal templates
Create hundreds of new mom journals, baby journals and worksheets in minutes.
Use the journal prompts and social media images to produce blog posts, social media posts and/or lead magnets in minutes.
The pages you get include: birth plan, weekly updates, doctors appointments, trackers and milestones.
You also get each journal in greyscale.
3 6×9″ New Mom Journal templates (one design with bleed).
Plus 3 A4 New Mom Journal PLR templates
Editable PowerPoint files making the journal templates super flexible.
Plus Ready to go PDF files
Multiple page designs, with some duplicates to show you the possibilities.
PLUS all font files included
New Mom Journal Prompts
23 Journal Prompts ranging 3 different stages
Comes in one ready to go PDF file and as a text file
Comes in an editable Powerpoint file with all used font files
Social Media Images
5 Pinterest Pins
5 Instagram Images
5 Twitter Images
5 Facebook Images
Added Extras
To top off The Sleep Journal PLR Bundle you'll also get the following…
Keywords
200 Keywords, including:
100 SEO Keywords
100 Pinterest Keywords
Fonts
All the font files used in all files.
(no more hunting around for the correct fonts!)
Covers
3 x A4 covers*
3 x 6×9 KDP Covers*
6 x 3D Mockups
*in PowerPoint, PDF & PNG
Make The New Mom Journal PLR Bundle your own!
Numerous Templates To Maximise Sales
With very little effort, the baby journal PLR Bundle gives you the power and flexibility to create hundreds of journals and worksheets.
You can either give these away as lead magnets and bonuses or sell them for profit to help your business' bottom line.
Ready To Go AND Fully Editable Versions
All templates come ready to use as PDF files and fully editable in Powerpoint.
In Powerpoint it is super easy to edit pages, move them around, delete and duplicate them. You can make multiple, high quality journals in minutes! Trust me, your productivity will sky rocket!
See The New Mom PLR Journal Bundle For Yourself – Click Here
Full Private Label Rights
The Happy Journals PLR Club's licence is extremely flexible. The only limitations on there are to do with Amazon's KDP publishing services. These limitations have more to do with Amazon's rules rather than our own. Amazon requires you to make changes to your private label rights templates before you upload them to KDP – if you do not you may find they will not publish your books.
Pinterest Pin Templates are for you to promote your business. They cannot be sold.
You can create unlimited journals and tools for personal & commercial use.
You can give your finalised journals and tools away (as gifts, as lead magnets, etc.)
Sell on Etsy, Amazon or your own website for profit.
You can use your own or company name as author of all journals, tools, & written materials
The New Mom PLR Journal Bundle is just for you if you're looking for amazing new PLR printable journal pack that can be used to create your own unique printables when purchased and rebranded! You can also buy these printable pages to sell on your store or use it for yourself. Perfect for you if you have a publishing business and are looking for new products or journal printable bundle. Click the link below to learn more!
Here's a coupon to get 25% off any products from Thehappyjournals.club
IMMOZIE25
See The New Mom PLR Journal Bundle For Yourself – Click Here
Other Products You Might Like