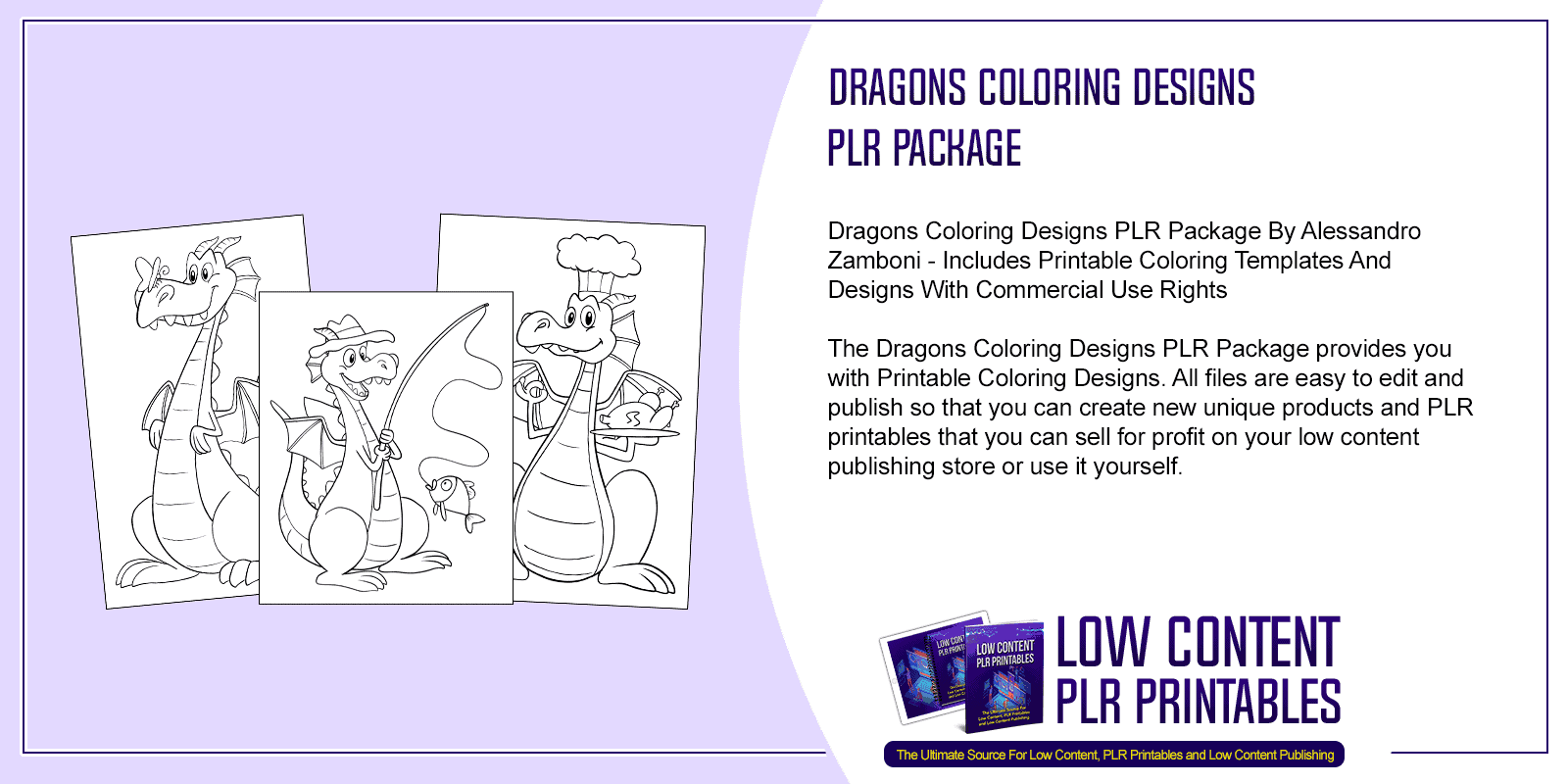 Choose Your Desired Option(s)
#Dragons #ColoringDesigns #PLRPackage #dragonprintables #dragonplr #plrprintables #printables #printable #publish #publishing #selfpublish #coloringpages #plrcoloringdesigns #plrcoloringpages #alessandrozamboni #designs #printabledesigns #printablepages #plrdigitalpages #templates #lowcontentplr #lowcontent #publishing
Dragons Coloring Designs PLR Package By Alessandro Zamboni – Includes Printable Coloring Templates And Designs With Commercial Use Rights
The Dragons Coloring Designs PLR Package provides you with Printable Coloring Designs. All files are easy to edit and publish so that you can create new unique products and PLR printables that you can sell for profit on your low content publishing store or use it yourself.
Introducing The…
Dragons Coloring Designs PLR Package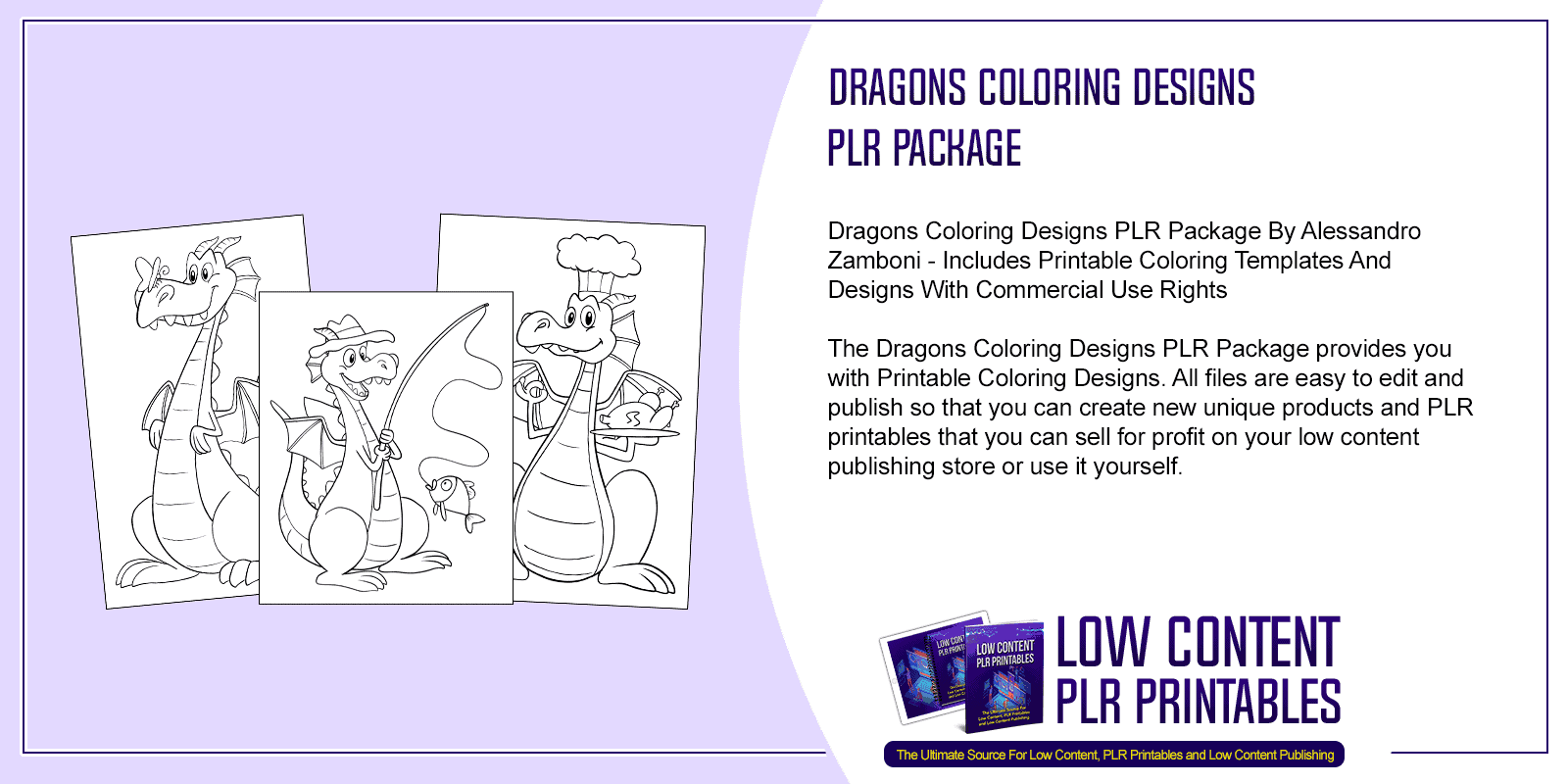 This is exactly what you could be getting in the Dragons Coloring Designs PLR Package:
What You Get:
Hot Children And Adults Coloring Books Niche.
Top Quality Designer Dragons Drawings in Black And White.
Download and use them in your projects (coloring books, journals, mugs, activity books, and more!)
​No more tryouts to find the right designer, and no more money thrown out the window (They already did that for you by finding the best designer)
​Full Commercial license included.
Why Should You Purchase This Dragons Pack?
You pay $0.85 per dragon, instead of the $20 each I paid for.
These are the cutest dragons you and your customers have ever seen before (and cuteness sell!)
You get the chance to create unlimited products for final customers (coloring books, activity books, journals, fiction stories, mugs,
birthday cards, t-shirts, ugly sweaters and more!)
​No one else can create such cute dragons for you.
​You can earn a lot selling these as yours, on Amazon, Etsy, eBay and a lot more places.
What Can I Do With These Images?
Coloring Books
Journals
Activity Books
Mugs
Stickers
Fiction Stories for Kids
T-Shirts
Ugly Sweaters
Hoodies
Birthday Cards
Posters
All The Print-on-Demand Products
See The Dragons Coloring Designs PLR Package For Yourself – Click Here
The Dragons Coloring Designs PLR Package Licensing Terms:
You can use these dragons for personal use.
You can use these dragons for commercial use in finished products you sell to customers.
You can sell your finished products in digital or physical form.
You cannot resell the dragons with PLR, MRR and RR. All sales are private use for your customers.
You cannot sell the package "as-is".
You cannot give away the dragons graphics for free.
​You cannot use dragon graphics inside memberships or as bonuses.
The Dragons Coloring Designs PLR Package is just for you if you're looking for amazing a new PLR printable coloring bundle that can be used to create your own unique printables when purchased and rebranded! You can also buy these printable coloring templates to sell on your store or use it for yourself. Perfect for you if you have a publishing business and are looking for new products or printables. Click the link below to learn more!
See The Dragons Coloring Designs PLR Package For Yourself – Click Here
Other Products You Might Like