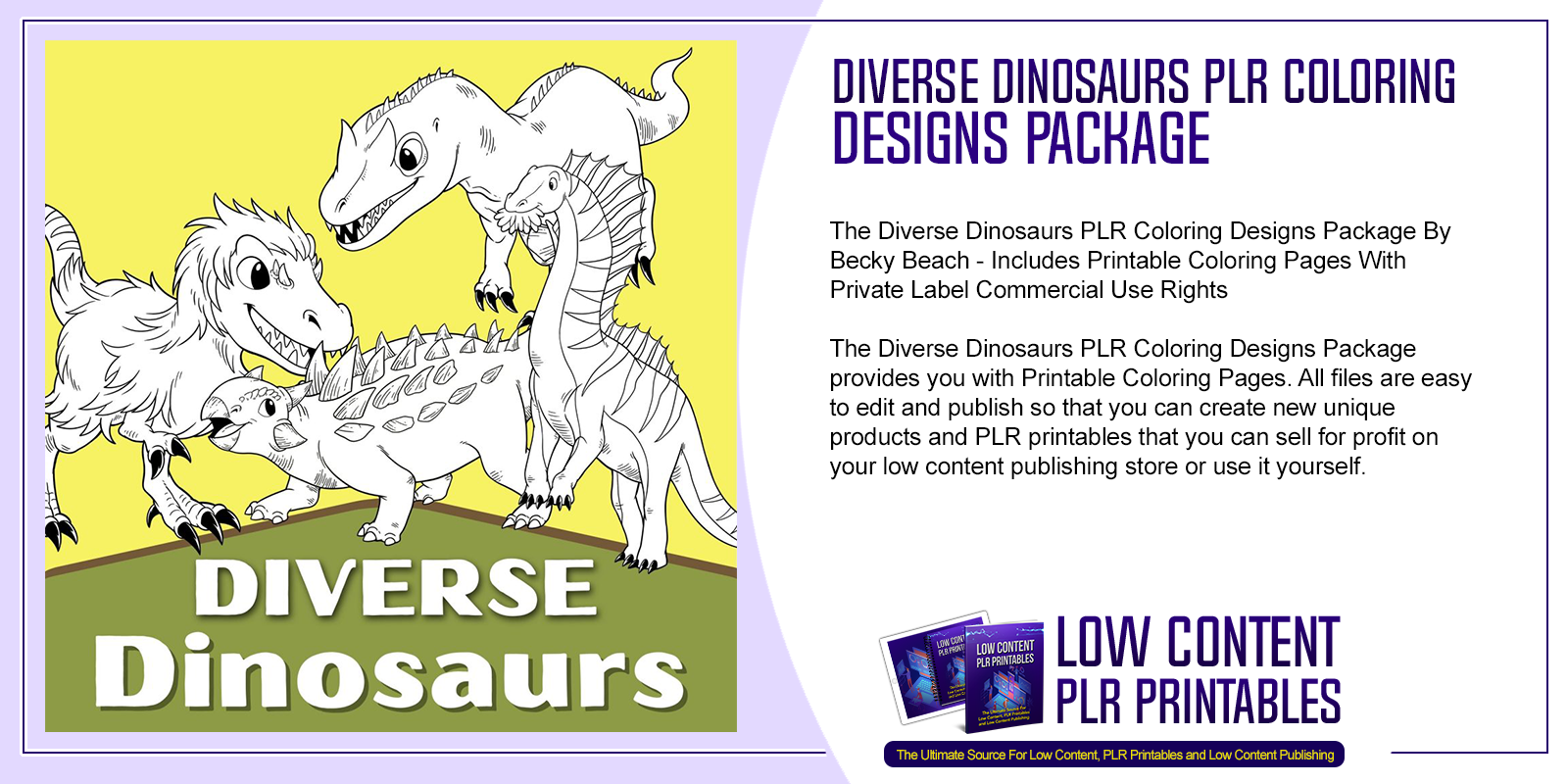 Choose Your Desired Option(s)
#DiverseDinosaurs #PLRColoringDesignsPackage #dinosaurprintables #plrprintables #kidsplrprintables #kidsprintables #beckybeach #plrbeach #coloringprintables #coloringpages #lowcontentplr #coloringpages #plrcoloringpages #coloringdesigns #printablepages #commercialuserights #publishing #selfpublish #printondemandplr #doneforyouplr #lowcontentpublishing
The Diverse Dinosaurs PLR Coloring Designs Package By Becky Beach – Includes Printable Coloring Pages With Private Label Commercial Use Rights
The Diverse Dinosaurs PLR Coloring Designs Package provides you with Printable Coloring Pages. All files are easy to edit and publish so that you can create new unique products and PLR printables that you can sell for profit on your low content publishing store or use it yourself.
Introducing The…
Diverse Dinosaurs PLR Coloring Designs Package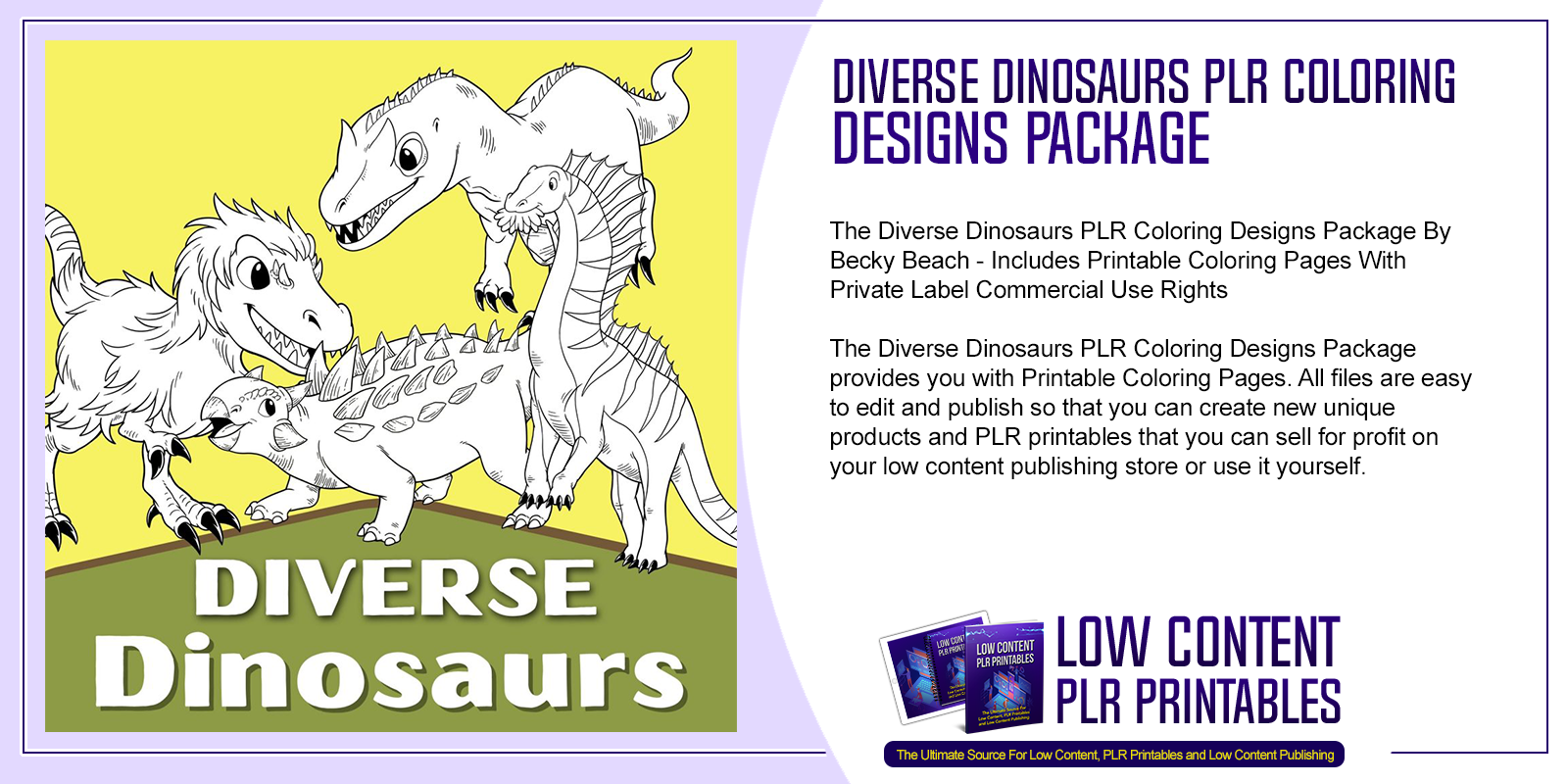 Here's what you'll learn with this The Diverse Dinosaurs PLR Coloring Designs Package:
A complete done for you coloring page solution to skyrocket your profits in the children's coloring book niche:
30 Black and White Images
Includes Commercial License
PNG and SVG Files Included
8.5 x 11 Coloring Page Size
300 DPI for high-quality printing
Unlimited Use
Use for Coloring Books or POD
You get these dinosaurs below:
1. Albertosaurus
2. Allosaurus
3. Amargasaurus
4. Ankylosaurus
5. Ankylosaurus
6. Apatosaurus
7. Archaeopteryx
8. Argentinosaurus
9. Baryonyx
10. Brachiosaurus
11. Brontosaurus
12. Camposaurus
13. Carnotaurus
14. Daemonosaurus
15. Diplodocus
16. Eoraptor
17. Giganotosaurus
18. Iguanodon
19. Megalosaurus
20. Parasaurolophus
21. Plateosaurus
22. Pterodactyl
23. Saturnalia
24. Silvisaurus
25. Spinosaurus
26. Stegosaurus
27. Styracosaurus
28. Triceratops
29. Tyrannosaurus
30. Velociraptor
See The Diverse Dinosaurs PLR Coloring Designs Package For Yourself – Click Here
What rights come with these files?
Complete Commercial Rights to use on your own projects. Can be used in any Print on Demand products.
What can't I do with these files?
You may not resell these images as is. They must be sold in a end product like a coloring book or POD product.
The New Family Traditions KDP and PLR Printables Package if you're looking for amazing printable product templates and papers. You can buy it for your own use or simply edit and sell it on your own publishing store with your branding to profit! Click the link below to learn more.
Get 20% off any PLR printable products at PLRBeach.com by using this coupon:
MOZIE20
See The Diverse Dinosaurs PLR Coloring Designs Package For Yourself – Click Here
Other Products You Might Like