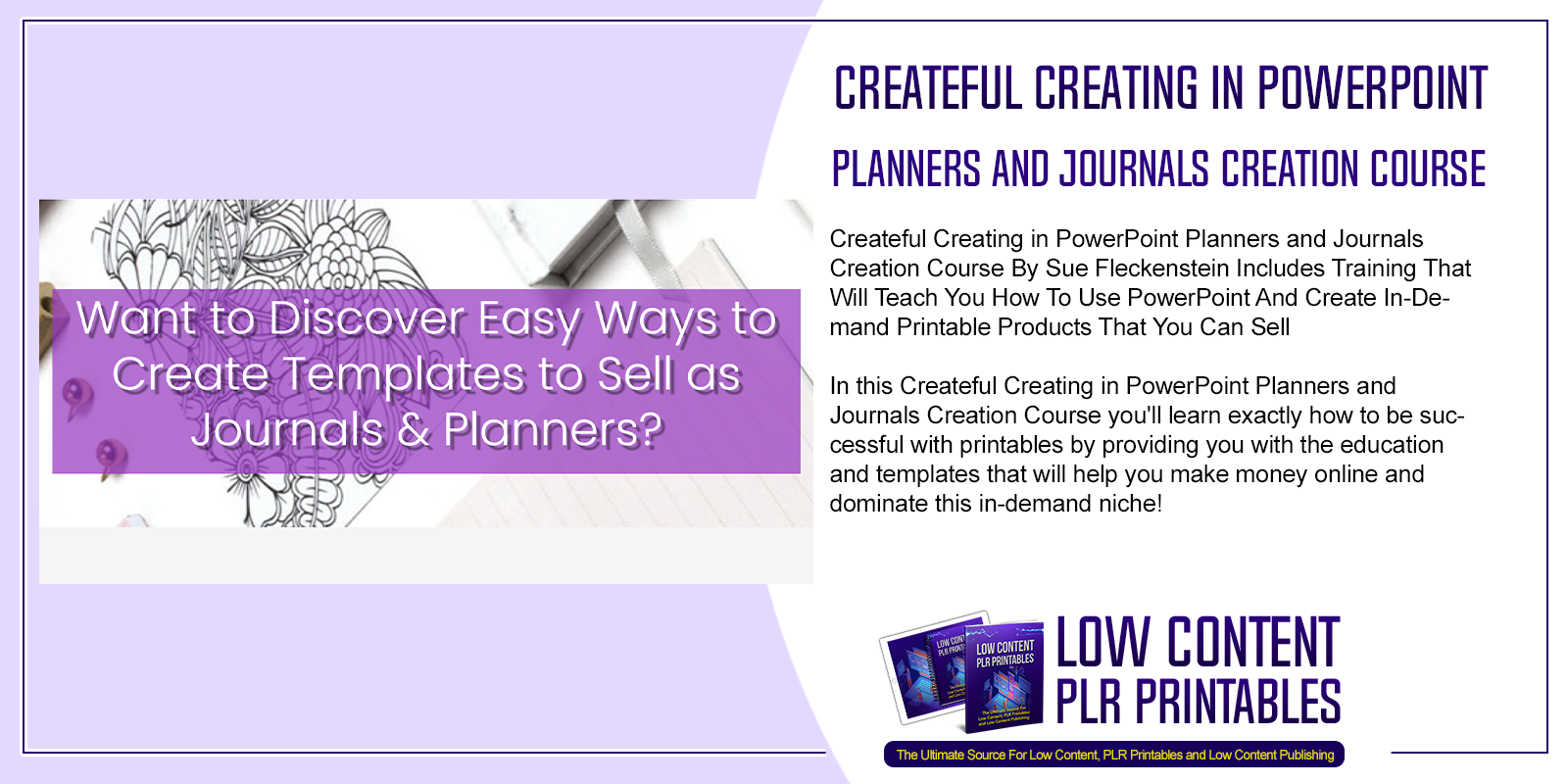 Choose Your Desired Option(s)
#CreatefulCreatinginPowerPoint #PlannersCreationCourse #JournalsCreationCourse #creatingpowerpointprintables #powerpointprintables #powerpointcourse #powerpointtraining #suefleckenstein #createfuljournals #plannercreation #journalcreation #printablescreation #printablescourse #plrprintables #lowcontentplr #publish #selfpublishing #course #learn #plrprintables #lowcontentplr
Createful Creating in PowerPoint Planners and Journals Creation Course By Sue Fleckenstein Includes Training That Will Teach You How To Use PowerPoint And Create In-Demand Printable Products That You Can Sell
In this Createful Creating in PowerPoint Planners and Journals Creation Course you'll learn exactly how to be successful with printables by providing you with the education and templates that will help you make money online and dominate this in-demand niche!
Introducing The…
Createful Creating in PowerPoint Planners and Journals Creation Course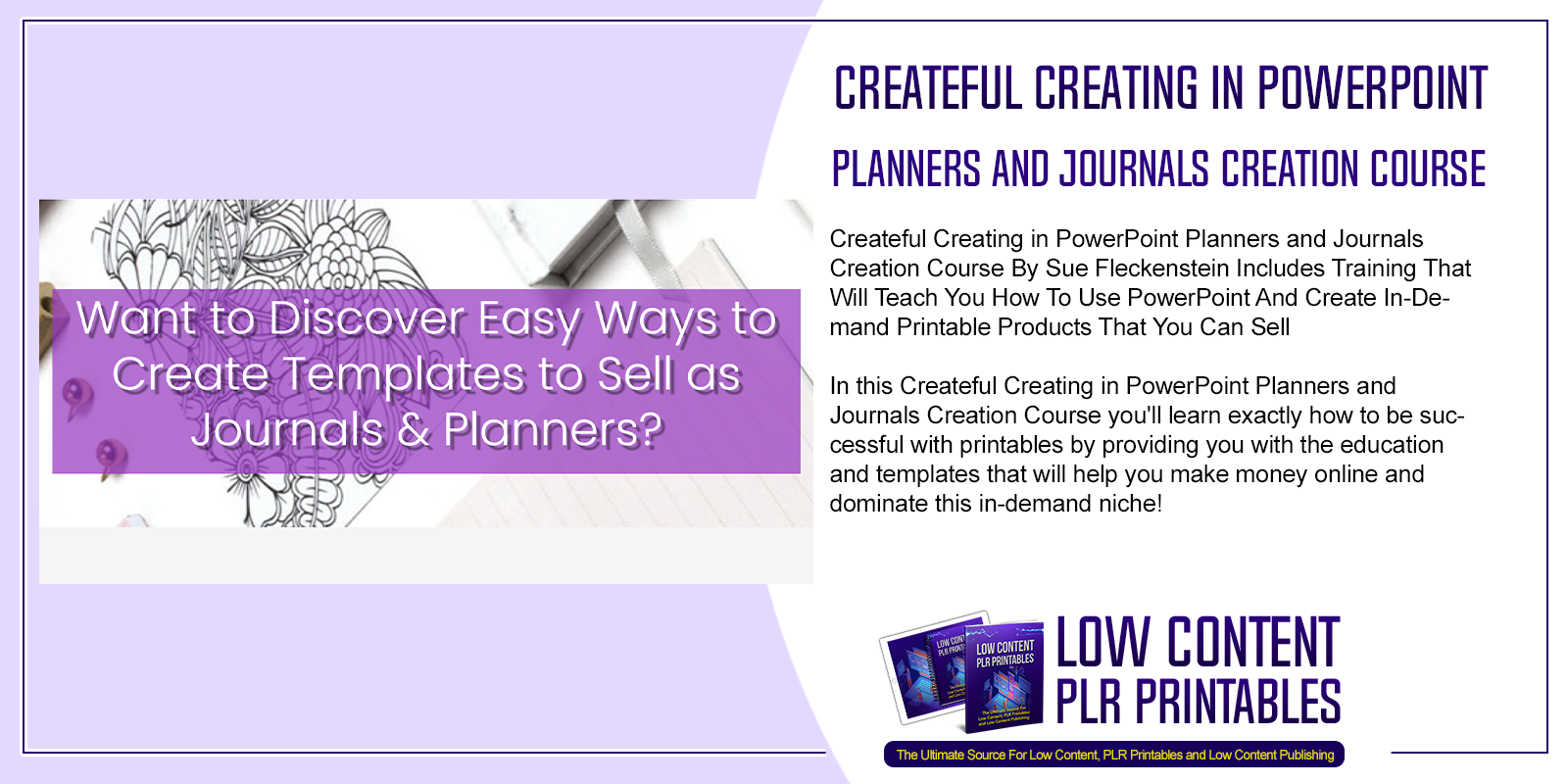 This is exactly what you could be getting in the Createful Creating in PowerPoint Planners and Journals Creation Course:
Upon enrolling you will receive immediate access to all Modules & PDF Guides
Welcome & Resource File
A quick overview of PowerPoint and the features we will be using.
1. Includes a PDF PowerPoint Tips book that you can refer to as often as you like.
2. You get the actual set of templates that I work on during the course. This way you get hands-on experience & an actual product you can sell after completing this course.
Module One – Course Walk Through
Let's get started with PowerPoint. You get a PowerPoint Tips PDF along with a walk through video, and a practice session. All in preparation for the main training.
Module Two – PowerPoint Tips & Tricks
This is the meat of the course where we go over design choices, making edits, creating templates, adding images, replacing images and more.
Follow along as I create a Moms Planner.
Module Three – Options for Selling Journals
In this module we will do a basic look of the various places you can sell your journals.
Module Four – Setting Up Your Website
Moving on to exciting things, this module teaches you how to set up a sales page, download page and add your own buy buttons and connect everything to your email service.
Module Five – Marketing
Once you have your journal ready for sale you need to get traffic to your sales pages. In this module we will discuss how to find your target market & various ways to market your content.
Module Six – Advanced Training
Now that you have the basics in place, we are going to learn how to use tables to quickly create all kinds of templates.
How to create a video using PowerPoint and training on how to use the Slide Master feature.
Module Seven – Publishing on Amazon KDP
Video walk through of how to upload your journal.
Video of how to create a PDF cover version in Photoshop.
Module Eight – Publishing On Lulu
Follow me as I publish a journal on Lulu. This modules teaches you how to get started with Lulu, how to select your book size, how to fix the DPI image, how to create your cover image and how to check, edit and revise your journal file.
Module Nine – Fillable PDFs
Fillable or Editable PDF's are super popular. Learn how to create some simple forms and calendars using Adobe Acrobat Pro.
Follow along as I create a multi page fillable document with various form fields.
This type of content is great for selling as Printables on sites such as Etsy.
Module Ten – Creating Printables
Learn how to use your current templates to create printables that you can sell on sites such as Etsy.
Module Eleven – Digital Planners
This is a basic look of what a Digital Planner is, and how to create tabs and hyperlinks in PowerPoint.
Module Twelve – Bonus
Access to tutorials on how to use Photoshop.
Private Members Group
You get access to a private group where you can ask questions, get feedback and support.
Template Package Included
New, publishing margins now added to the templates.
See The Createful Creating in PowerPoint Planners and Journals Creation Course For Yourself – Click Here
By the end of this course you'll be able to:
Create your own journal effortlessly
How to edit your current templates so they are unique to you
Know how to change templates, background designs and colors
How to use tables to create planners quickly
How to use a template to create more journals and planners from scratch
Create journals and planners with different sizes – full letter, half letter, A4, A5 etc.!
Where to find stunning images that you can use for your cover designs
How to use patterns to add interest to your journals
How to set up your journal for sale on your website, including adding that all important Buy Now Button!
Understand the importance of creating an email list, and a basic overview of how to do this
Find out where your target market is lurking and how to connect with them
Step by Step Tutorials
This course is Self-Paced so you can learn at your own pace
Full access so you can review the content multiple times.
Lessons will be mainly Video based but some will be text lessons that you can download as a PDF
All videos will be bite sized so you can rewind and watch them again
Who is this for?
Bloggers who want to produce journals, planners & printables for their customers
Authors who want to publish a line of journals and planners
Anyone who is creative and wants to find an outlet for their creativity
Work at Home Moms that want to start an online business in their spare time
Aspiring designers
Coaches who want to brand their planners and journals
Any small business owner that wants to create their own products
Anyone that wants a new business venture
Etsy or Shopify store owners who are looking for new products to sell
Anyone who can't find that 'perfect' planner or journal – you can now create your own
Anyone who has an interest in creating journals, planners and/or printables
Brick & Mortar business owners looking for customised printables and planners to sell or give away
If you'd like to embark on an exciting adventure in journaling, planners and printables then this course is for you!
Here's what you get for your payment today:
Immediate access to all Modules
Bonus templates to help you create additional journals and planners
Free PowerPoint Tips Report – download and start learning your way around
Set of Six Modules – Video and PDF training guides
Ongoing access to all updates and new content that is added to the course
The Createful Creating in PowerPoint Planners and Journals Creation Course is perfect for those of you who want to generate new streams of income online and on your website. When you purchase this training get access to amazing training and more to educate yourself and ensure your business succeeds in this high-demand market! Click the link below to check out this amazing training.
Get a special discount on the Createful Journals Beautiful PLR Journals and Printables Shop, use the coupon code below to save 20% off any products at CreatefulJournals.com.
MOZIESAVES20
See The Createful Creating in PowerPoint Planners and Journals Creation Course For Yourself – Click Here
Other Products You Might Like