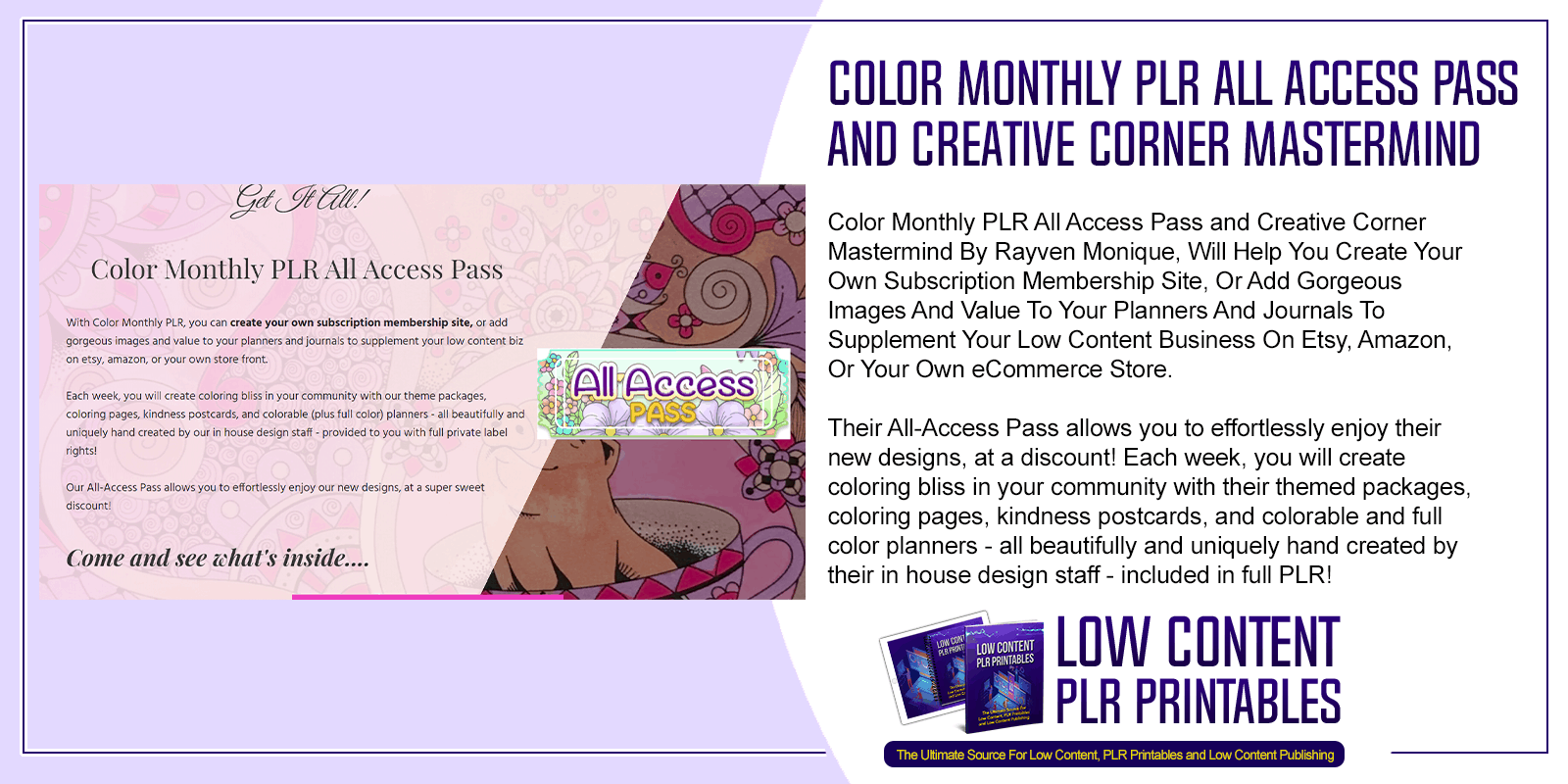 Choose Your Desired Option(s)
#colormonthlyplr #allaccesspass  #creativecornermastermind #rayvenmonique #subscriptionmembershipsite #membershipprogram #lowcontentbusiness #lowcontentmembership #lowcontent #lowcontentplr #etsy #amazon #journals #planners #coloringpages #themedprintables #printables #Plrprintables #printablesmembership #plrprintablesmembership #printablesmembershipprogram #publishing
Color Monthly PLR All Access Pass and Creative Corner Mastermind By Rayven Monique, Will Help You Create Your Own Subscription Membership Site, Or Add Gorgeous Images And Value To Your Planners And Journals To Add To Your Low Content Business On Etsy, Amazon, Or Your Own eCommerce Store.
Their All-Access Pass allows you to effortlessly enjoy their new designs, at a discount. Each week, you will create coloring bliss in your community with their themed packages, coloring pages, kindness postcards, and colorable and full color planners – all beautifully and uniquely hand created by their inhouse staff – included in full private label rights!
Introducing The…
Color Monthly PLR All Access Pass and Creative Corner Mastermind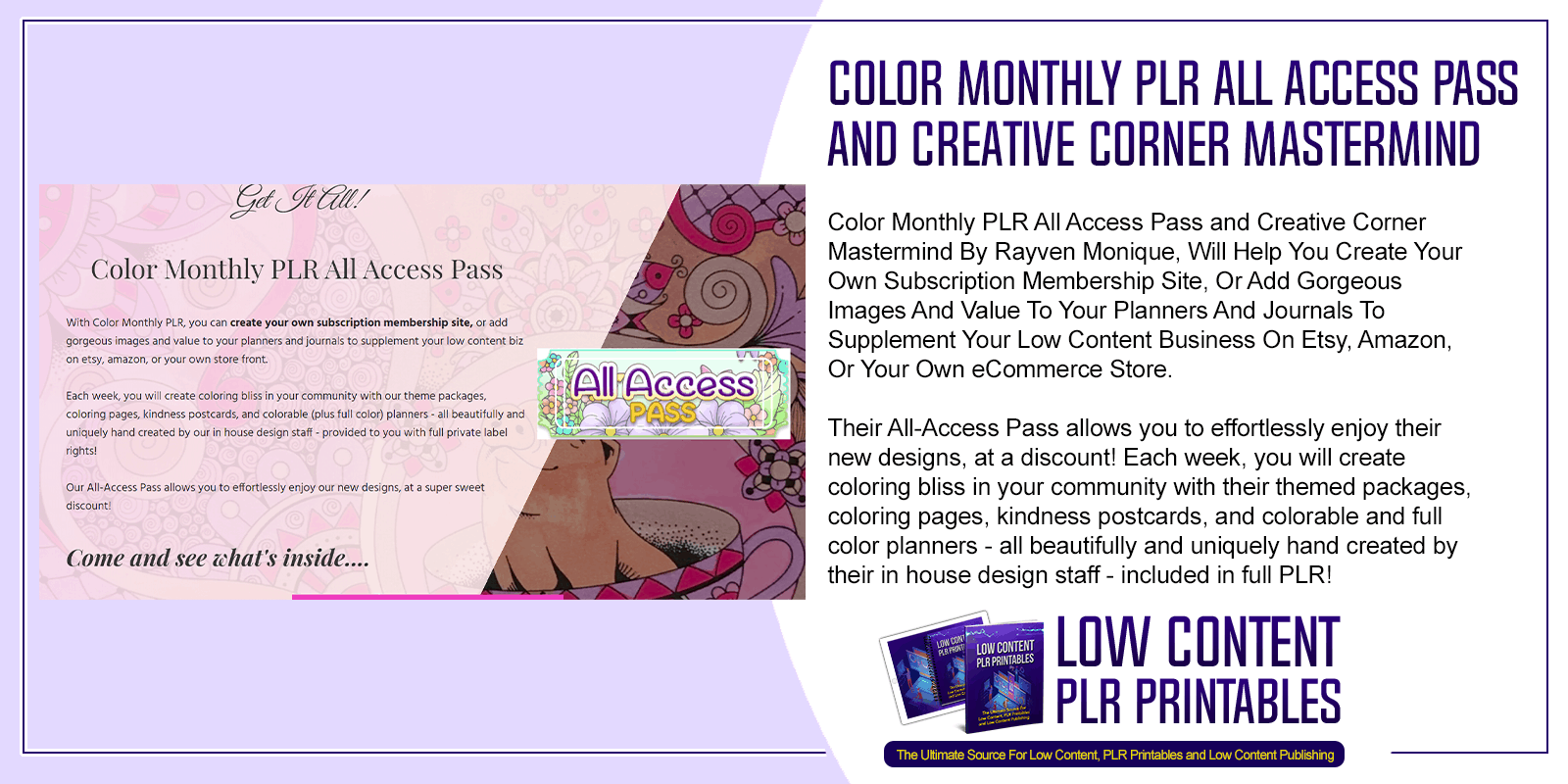 Here's what you'll learn with this amazing Color Monthly PLR All Access Pass and Creative Corner Mastermind:
1st Tuesday of the Month:
Monthly Theme
The designs in their Monthly Theme Packages are planned to flow around seasons or holidays, and, in addition to traditional coloring pages, feature seasonal quotes, monthly calendars, daily to-do lists, and even dinner planning pages. Now your customers can stay organized while coloring, too!
Each hand-crafted coloring page is family friendly, and created with a variety of skill-levels in mind. Our simple to color mandala pages have wide spaces, intended for those with limitations such as arthritis, while pages such as our pattern designs have more intricate details for the experienced coloring enthusiast.
Regular Price: $46.50
Currently: May 2021 Theme Package
Your package includes:
10 Mandalas
5 Pattern Pages
5 Seasonal/Theme Pages Featuring a Quote
3 Seasonal/Theme Pages Without a Quote
3 Gorgeous Everyday Designs
5 Calendars/Planners
2 Illustrated Affirmations
Cover Page
You'll Notice They're A Month Ahead.
This gives you the time you need to prepare, market and deliver to your people! You'll always enjoy this generous lead time.
2nd Tuesday of the Month:
Coloring Pages Package
Each month their artists create fabulous coloring page packages designed for adult hands and hearts. The packages range in size from 20-30+ pages (most often are 30-page packages).
Regular Price: $30-45+
Currently: Sloth Adventures Coloring Pages
Ziplining
Bungee Jumping
Skydiving
Roller Coaster
Ice Skating
Hiking the Appalachian Trail
Snow Skiing
Jet Skiing
Water Sliding
Scuba Diving
Pirating
Racing Cars
Double Dutch Jump Rope
Cup Stacking Competition
Run a Marathon
Biking Across America
Poker Champion
Cooking Competition
Trapeze Artist
Movie Star
Singing Karaoke
Cow Tipping
Boxing
Skateboarding
Fencing
30-page Coloring Pages package
8.5×11 JPG & PDF
See The Color Monthly PLR All Access Pass and Creative Corner Mastermind For Yourself – Click Here
3rd Tuesday of the Month:
Kindness Postcards Package
A random act of kindness doesn't have to be some big grandiose gesture. Sometimes, a little inspirational note is the perfect way to spread kindness and put a smile on someone's face. Their personal mission is to spread joy and happiness throughout the world, one coloring (or colorful!) page at time. And so they present to you: Kindness Postcards.
Regular Price: $12
Currently: March 2021 Package
Your package includes:
4 colorable postcards in black and white
4 full-color postcards (same designs)
Postcard back
PDF, JPG and PNG formats
PSD files
Private Label Rights!
These postcards come with a traditional back that will allow you to have them printed if you so choose.
This month's kindness thoughts:
You are powerful in your own way.
You possess internal strength to overcome challenges.
You inspire me with how you help others.
You are charismatic and good influence to others.
4th Tuesday of the Month:
Coloring Planner Packages
Their low content colorable planners, journals, decor, art projects, and creative inspirations are sure to impress you and your customers! The packages range in size from 15-30+ pages (most often are 20-page packages) and when full color designs are made, they are included in your membership!
Regular Price: $45-70+
Currently: Dream & Sleep Coloring Journal Designs
Your package includes 26 Beautifully Illustrated Planner For Etsy And Craft Sellers Themed in black and white PLUS the entire 26-page set in full color:
Business Profile
Password Keeper
Craft Product Planner
Lets Get Organized
Craft Product Summary
Craft Product Pricing Worksheet
Project Wish List
Craft Supplies
Craft Supplies Inventory
Products Inventory
Comparing Suppliers
Supplier Directory
Customer Order Form
Thank You Gift Cards
Customer Feedback
Monthly Goal Planner
Monthly Sales Tracker
Goal Planner
Monthly Marketing Log
Social Media Content Ideas
Income Tracker
Expense Tracker
Daily Planner
Weekly Planner
Yearly Profit Tracker
Jar of Profit
Become a Creativity Corner Masterminder and enjoy All Access Pass membership PLUS join them for a weekly LIVE zoom masterminding session!
The Color Monthly PLR All Access Pass and Creative Corner Mastermind Licensing Terms:
All images are in JPG and PDF format to make it easy for you to either edit, or use as-is. Because of the unique form of PLR as coloring pages, it's super important you read this licensing agreement completely.
Purchasers have full permission to:
Alter/rebrand the pages/elements of the pages in any way
Create merchandise with the pages/elements of the pages
Create a membership site selling coloring pages
Sell the coloring pages as a package, or element of a larger package/product
Offer pages as a bonus for a paid product or membership
Offer pages as a resource within a paid membership
Offer the pages as a bonus for paying clients
Print the pages and give them away to customers or members in person
Print the pages and sell them to customers or members in person
Offer the pages as an optin resource
You may NOT use Color Monthly's name (or Rayven's, for that matter).
You may NOT publish the content for free on the web. (this protects everyone's investment)
You may NOT resell the PLR rights to any images in any package.  
The Color Monthly PLR All Access Pass and Creative Corner Mastermind is just for you if you want new low content every week of every month! In addition to ALL the products you'll get in the All Access Pass, the Creativity Corner Mastermind also includes private Facebook Group access, and a weekly zoom mastermind call held at 10am or 8pm EST every Tuesday. This membership program is perfect whether you're completely new to publishing or an experienced business man or woman! Click our link below to learn more!
See The Color Monthly PLR All Access Pass and Creative Corner Mastermind For Yourself – Click Here
Other Products You Might Like