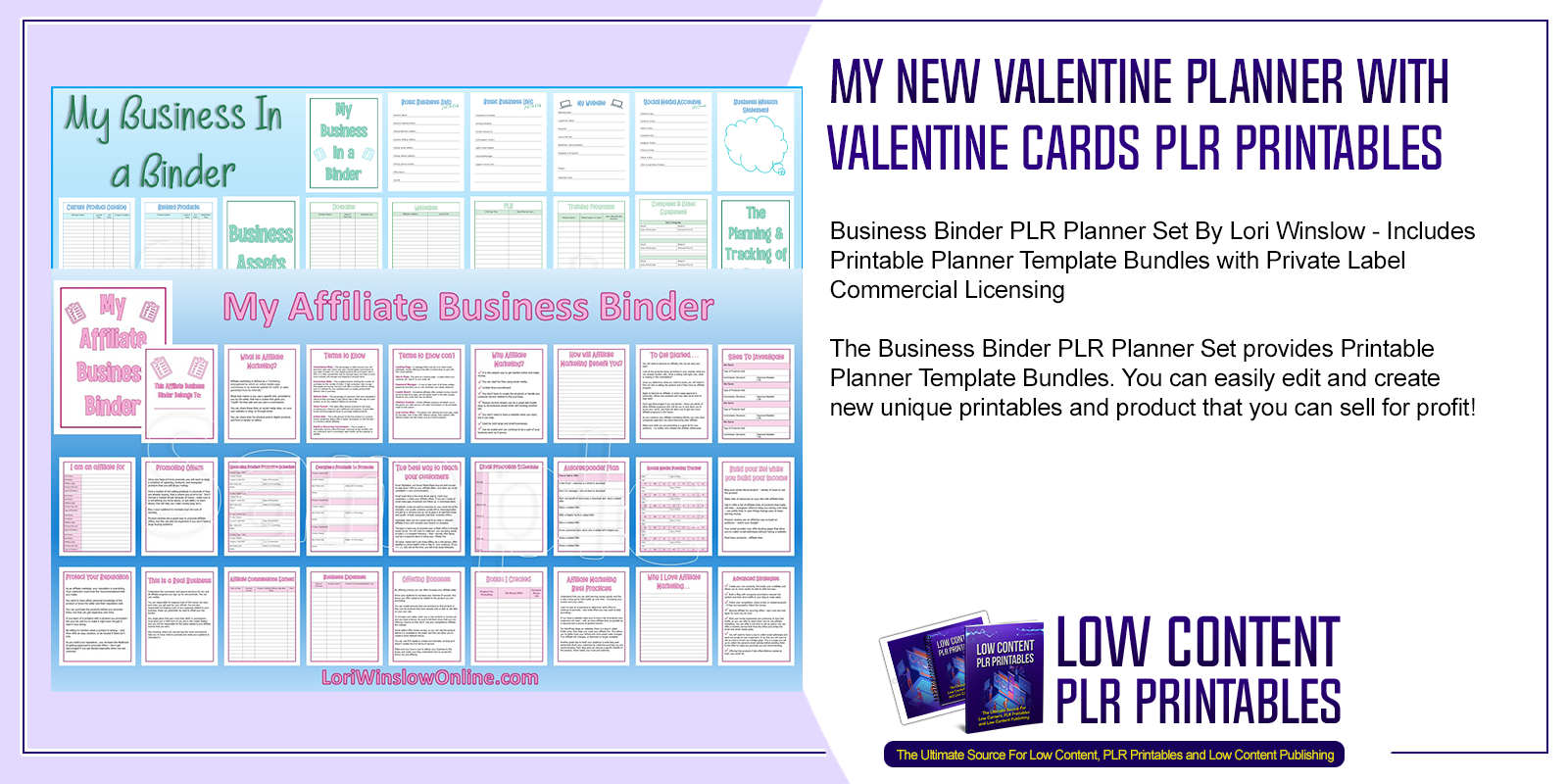 Business Binder PLR Planner Set
in
Business PLR Planners , Digital Planner PLR Cover Kits , Digital Planner PLR Papers , Online Business PLR Planners , PLR Digital Pages , PLR Digital Planner Assets , PLR Graphics and Clipart , PLR Planner Bundles , PLR Planner Templates , PLR Planners , PLR Printable Trackers , PLR Product Templates , Print On Demand PLR , Work From Home PLR Planners
Choose Your Desired Option(s)
#BusinessBinder #PLRPlannerSet #business #businessprintables #planners #planning #plrplanner #plannertemplates #loriwinslow #loriswinslowonline #publish #selfpublish #bundle #printablepages #privatelabelrights #commercialuse #commercialuserights #printondemandplr #plrprintables #publishing #plannerpages
Business Binder PLR Planner Set By Lori Winslow – Includes Printable Planner Template Bundles with Private Label Commercial Licensing
The Business Binder PLR Planner Set provides Printable Planner Template Bundles. You can easily edit and create new unique printables and product that you can sell for profit!
Introducing The…
Business Binder PLR Planner Set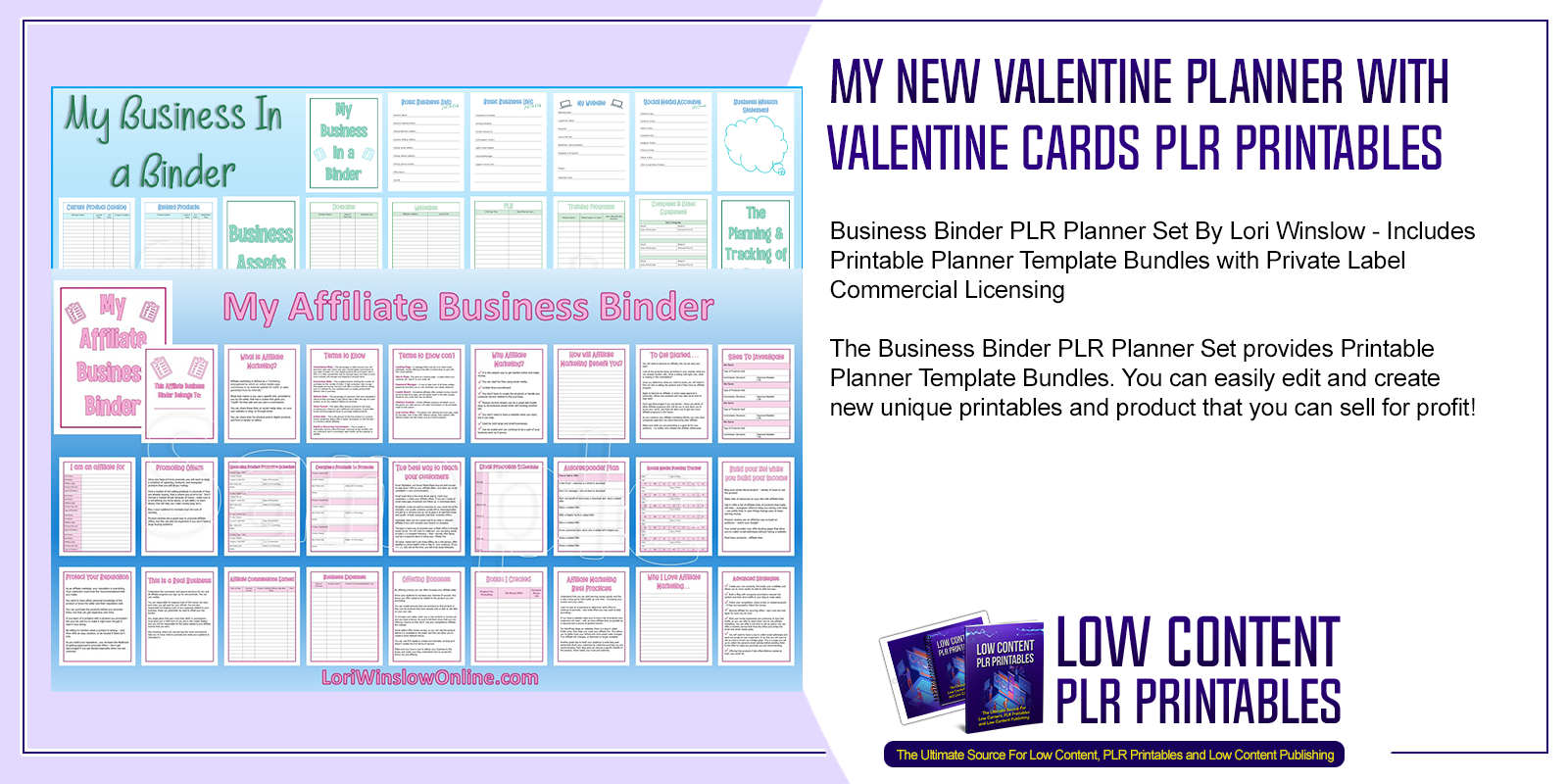 Here's what you'll get with this amazing Business Binder PLR Planner Set:
My Business In a Binder
31 pages of planners and trackers to help any online business owner quickly be able to gather their assets and tools to build a healthy bottom line.
Available in 2 sizes 8.5×11, 8×10 – jpg, PDF and PowerPoint files.
The Pages are:
Cover Page
Basic Business Info 1
Basic Business Info 2
My Website
Social Media Accounts
Business Mission Statement
Current Product Catalog
Retired Products
Business Assets Divider Page
Domains
Websites
PLR
Training Programs
Computer & Other Equipment
The Planning & Tracking Divider Page
Things To-Do Everyday
Things To-Do Every Week
Things To-Do Every Month
Things To-Do This Month
Anything Else I Need to Remember To-Do
Upcoming Product Promotion Schedule
Evergreen Products to Promote
Email Promotion Schedule
Email Subscriber Tracking
Sales Tracking
Affiliate Commissions Earned
Upcoming Product Ideas
Product Planning
Social Media Posting Tracker
I am an Affiliate for
These Awesome People are Affiliates For Me
My Affiliate Business Binder
27 unique pages designed to help launch and track an Affiliate Marketing Business
Available in 2 sizes 8.5×11, 8×10 – jpg, PDF and PowerPoint files.
The Pages are:
1. Cover Page
2. Belongs to
3. What is Affiliate Marketing
4. Terms to Know
5. Terms to Know con't
6. Why Affiliate Marketing
7. How Affiliate Marketing Benefit
8. To Get Started
9. Sites to Investigate
10. I am an affiliate for*
11. Promoting Offers
12. Upcoming Product Promotion Schedule*
13. Evergreen Products to Promote*
14. The Best Way to Reach Customers
15. Email Promotion Schedule*
16. Autoresponder Plan
17. Social Media Posting Tracker*
18. Build Your List, Build Your Income
19. Protect Your Reputation
20. This is a Real Business
21. Affiliate Commissions Earned*
22. Business Expenses
23. Offering Bonuses
24. Bonus I Created
25. Affiliate Marketing Best Practices
26. Why I Love Affiliate Marketing
27. Advanced Strategies
*The six pages marked with asterisks are also available in My Business in a Binder
See The Business Binder PLR Planner Set For Yourself – Click Here
Your Licensing Terms:
You may edit and brand as your own.
You may use the content to create products for resale on your own website or on sites like Etsy.com
You may offer the content for sale or offer it in a membership site.
You may publish it as is
Be aware that it is against the terms of service of Amazon KDP to use PLR content
You DO NOT have the right to pass on, share or sell the Resell Rights or Source Files
The Business Binder PLR Planner Set is just for you if you're looking for printable planner pack and more that can be used to create your own unique products and profit! Perfect for you if you have a publishing business and are looking for new products or printables. Click the link below to learn more!
See The Business Binder PLR Planner Set For Yourself – Click Here
Other Products You Might Like