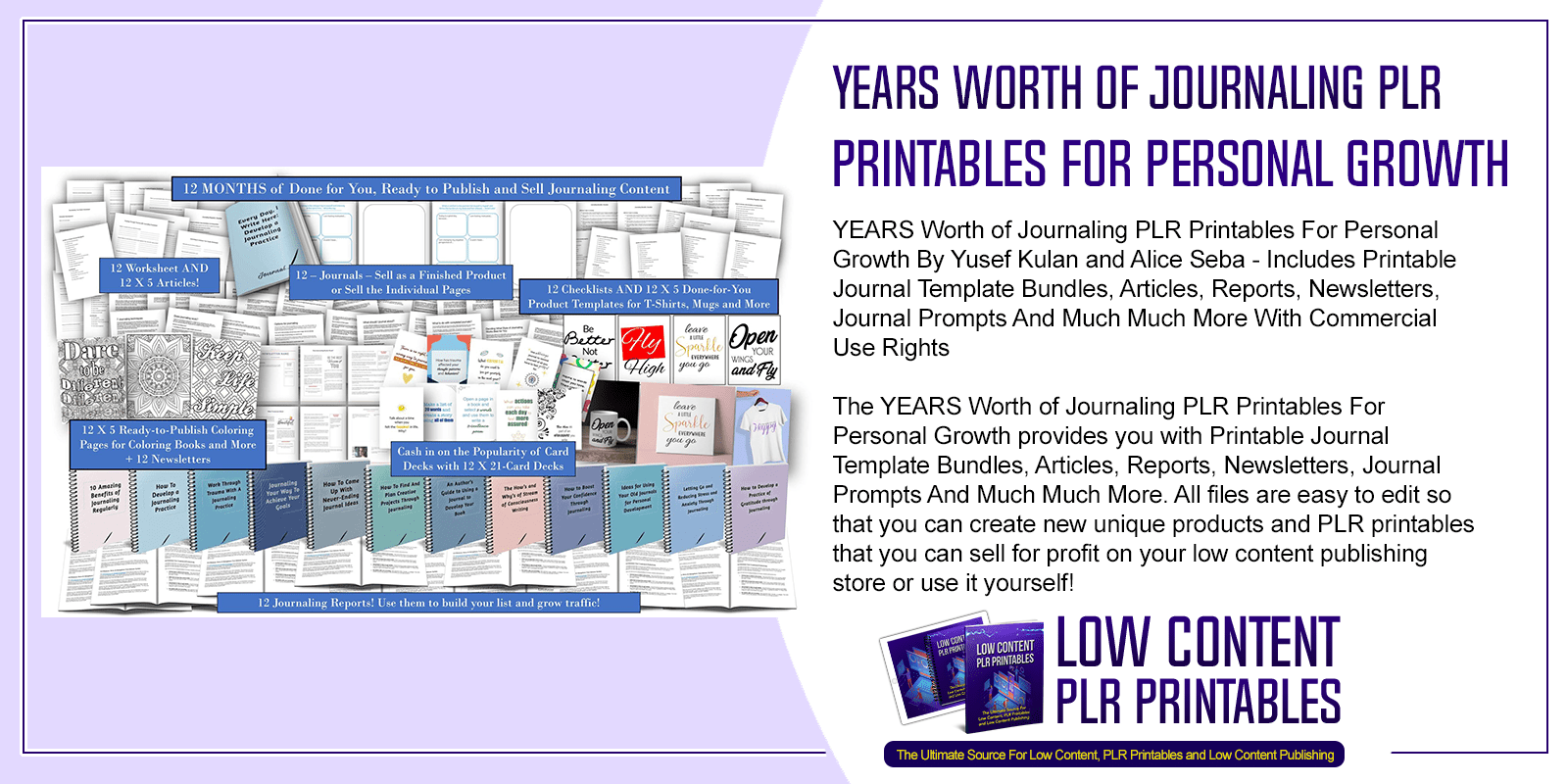 YEARS Worth of Journaling PLR Printables For Personal Growth
in
Affirmation PLR Journals , PLR Background Pages , PLR Checklists , PLR Coloring Pages , PLR Digital Pages , PLR Graphics and Clipart , PLR Journal Bundles , PLR Journal Prompts , PLR Journals , PLR Poster Graphics , PLR Printable Trackers , PLR Product Templates , PLR Workbooks , Print On Demand PLR , Self Care PLR Journals , Self Improvement PLR Journals , Spiritual PLR Journals
Choose Your Desired Option(s)
#YEARSWorthofJournaling #PLRPrintables #PersonalGrowth #personalgrowthprintables #personalgrowthjournal #journalbundle #journaling #journal #journalprintables #plrprintablebundle #printablepages #printablebundle #plrjournal #journalpages #journaldesigns #aliceseba #yusefkulan #ekithub #newsletter #report #prompts #templates #coloringpages #checklists #publishing #printondemand #doneforyou
YEARS Worth of Journaling PLR Printables For Personal Growth By Yusef Kulan and Alice Seba – Includes Printable Journal Template Bundles, Articles, Reports, Newsletters, Journal Prompts And Much Much More With Commercial Use Rights
The YEARS Worth of Journaling PLR Printables For Personal Growth provides you with Printable Journal Template Bundles, Articles, Reports, Newsletters, Journal Prompts And Much Much More. All files are easy to edit so that you can create new unique products and PLR printables that you can sell for profit on your low content publishing store or use it yourself!
Introducing The…
YEARS Worth of Journaling PLR Printables For Personal Growth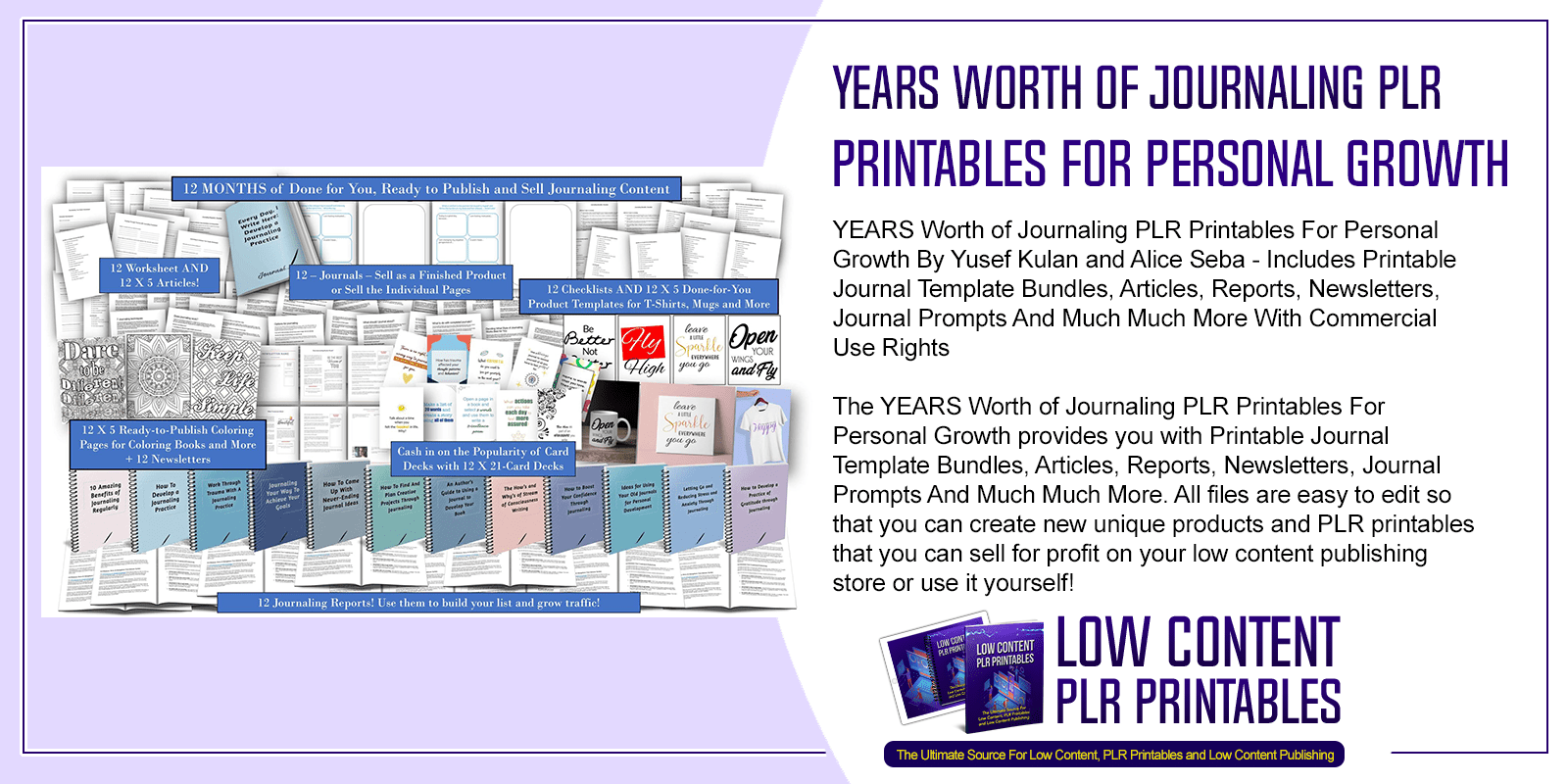 This is exactly what you could be getting in the YEARS Worth of Journaling PLR Printables For Personal Growth:
Here's a Quick Summary of What's Included in The Entire Year's Worth Package
12 Journaling Reports – (.docx) (87 pages / 36,589 words) Each month comes with a report on a different topic to get you started and keep you organized with journaling. 1 report for each month.
12 Professionally-Designed Ecover Sets – .JPG and .PSD with flat cover and 4 x 3D versions to go with each report.
60 Articles – (124 pages, 33,681) for your social media, blog and more. 5 articles per month.
12 Printable Newsletters – fully editable newsletter in .docx format includes 2 of the articles and some graphics in this EKit and includes plenty of space for your personal thoughts. 1 high quality printable newsletter for each month.
60 – 18″ x 24″ Posters/Product Templates – for wall art, mugs, t-shirts, social media, book covers, inserts…and more. 5 templates per month.
60 Coloring Pages – Use these sheets to generate traffic or create downloadable or print coloring books for sale. (.png / PSD 2550 x 3300 px). 5 coloring pages per month.
12 Journals with Ecovers – (.docx) comes with an Ecover Set. There are three 4d versions. 1 journal book per month.
12 x 21 Card Printable Card Decks – Card Deck with fully editable cards. They come formatted for commercial or at-home printing. Instructions included. 1 card deck per month.
12 Worksheets – (.docx) (22 pages / 1,843 words) to help your readers stay on track. 1 worksheet per month to go with the report.
12 Checklists – (.docx) (14 pages / 2,778 words) to help your readers create a plan for journaling. 1 checklist per month to go with the report.
You can grab ALL 12 packs at one low price (instant download) or if you're on a budget, sign up to get them monthly. The choice is yours, but the amount of time and money you'll save with the 12 packs will make it easier to get growing your business more quickly.
Here's a Quick Summary of ALL 12 Topics You Can Download Instantly:
Month 1: 10 Amazing Benefits of Journaling Regularly
Month 2: 5 Steps to Developing a Journaling Practice
Month 3: Work through Trauma with a Journaling Practice
Month 4: Journaling Your Way to Achieve Your Goals
Month 5: How to Come up with Never-Ending Journal Ideas
Month 6: How to Find and Plan New Creative Projects through Journaling
Month 7: An Author's Guide to Using a Journal to Develop Your Book
Month 8: The How's and Why's of Stream of Consciousness Writing
Month 9: How to Boost Your Confidence Through Journaling
Month 10: Ideas for Using Your Old Journals for Personal Development
Month 11: Letting Go and Reducing Stress and Anxiety Through Journaling
Month 12: How to Develop a Practice of Gratitude through Journaling
And again, you can download them all instantly or choose the pay-as-you go monthly option.
See The YEARS Worth of Journaling PLR Printables For Personal Growth For Yourself – Click Here
Private Label Commercial Rights License Info (applies to the graphics, journal templates and planner templates included in this package…no PLR rights are provided to the Insider's Guides or Courses included in this product):
1. You can add the content to a product that you plan to sell or give away for individual use.
2. You can modify the content (by removing, adding or otherwise editing any elements) to suit your needs.
3. You can use the content in your websites, blogs, newsletters, social media or anywhere you publish content.
4. You can add your name, URL or logo as the author/creator of this PLR content
5. You cannot list EkitHub.com, Happy Dog Island Store Inc. or anyone connected with our company as the author of this content. Why? This is private label rights content and we are offering the content without labels or branding.
6. You cannot sell or give away the original resell rights or offer any commercial rights to this content in any form. The exception being if you purchase the full resell rights license.
7. You cannot allow your customers to edit the documents or files. Please provide them with a PDF or other non-editable files. Your CAN do customizations on behalf of your customers, but they cannot make edits of the original files.
The YEARS Worth of Journaling PLR Printables For Personal Growth is just for you if you're looking for amazing new PLR printable bundle that can be used to create your own unique printables when purchased and rebranded! You can also buy these printable pages to sell on your store or use it for yourself. Perfect for you if you have a publishing business and are looking for new products or a printable bundle. Click the link below to learn more!
Get a special discount if you purchase products on the Ekit Hub Shop, use the coupon code below to save 40% off your first order at ekithub.com.
FRIENDSOFMOZIE
See The YEARS Worth of Journaling PLR Printables For Personal Growth For Yourself – Click Here
Other Products You Might Like