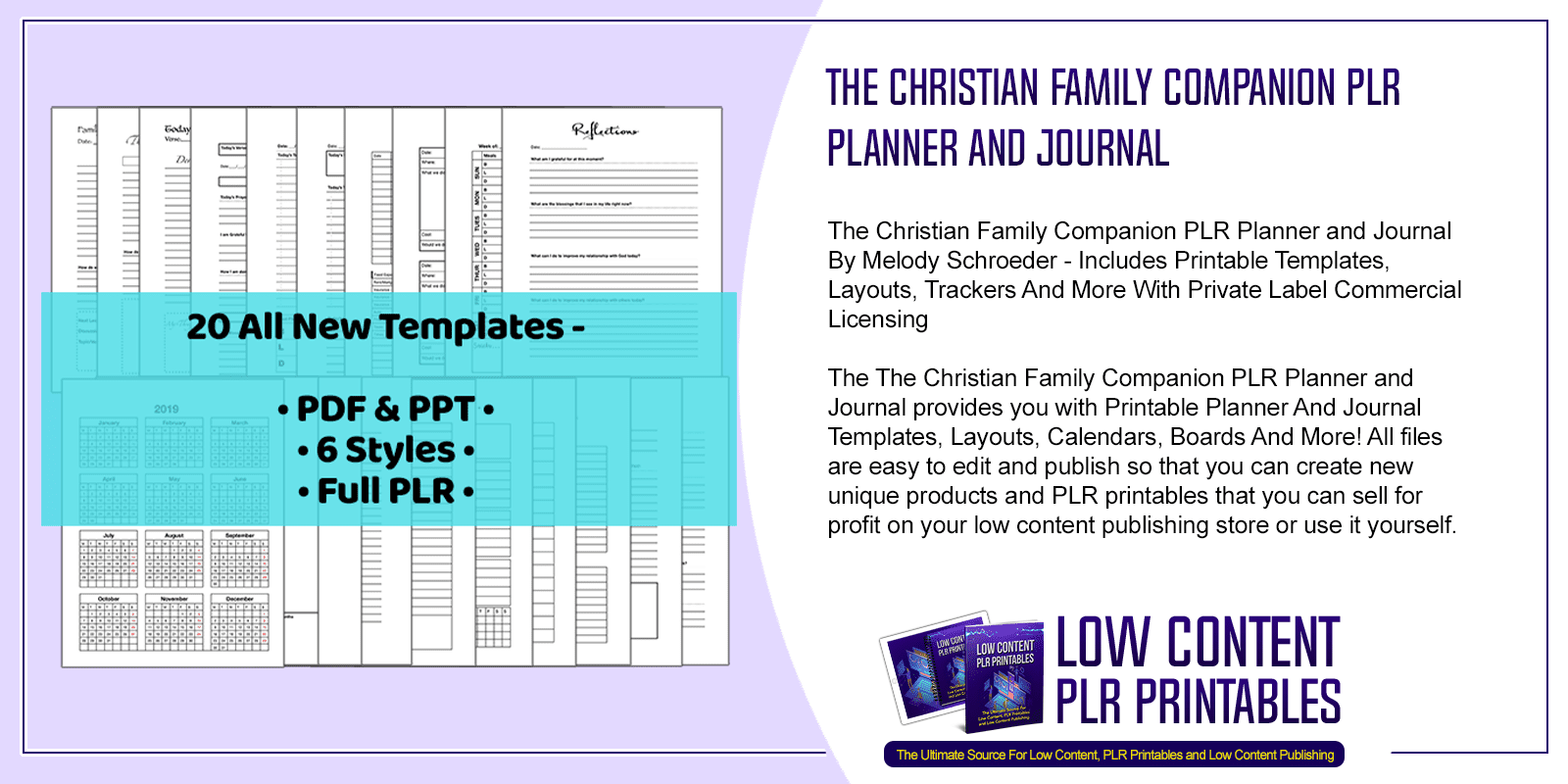 The Christian Family Companion PLR Planner and Journal
in
Bible PLR Planners , Digital Planner PLR Papers , Family PLR Planners , PLR Calendars , PLR Digital Pages , PLR Digital Planner Assets , PLR Journal Bundles , PLR Journals , PLR Planner Bundles , PLR Planner Templates , PLR Planners , PLR Product Templates , Print On Demand PLR
Choose Your Desired Option(s)
#TheChristianFamily #Companion #PLR #Planner #Journal #ChristianFamily #plrplanner #plrjournal #family #familyplr #familyplrprintables #plrprintables #printables #lowcontentplr #lowcontent #Publish #melodyschroeder #journaltemplates #plannertemplates #plrofthemonth #plrofthemonthclub #christianity #christian #christianplr #christianprintables
The Christian Family Companion PLR Planner and Journal By Melody Schroeder – Includes Printable Templates, Layouts, Trackers And More With Private Label Commercial Licensing
The Christian Family Companion PLR Planner and Journal provides you with Printable Planner And Journal Templates, Layouts, Calendars, Boards And More! All files are easy to edit and publish so that you can create new unique products and PLR printables that you can sell for profit on your low content publishing store or use it yourself.
Introducing The…
The Christian Family Companion PLR Planner and Journal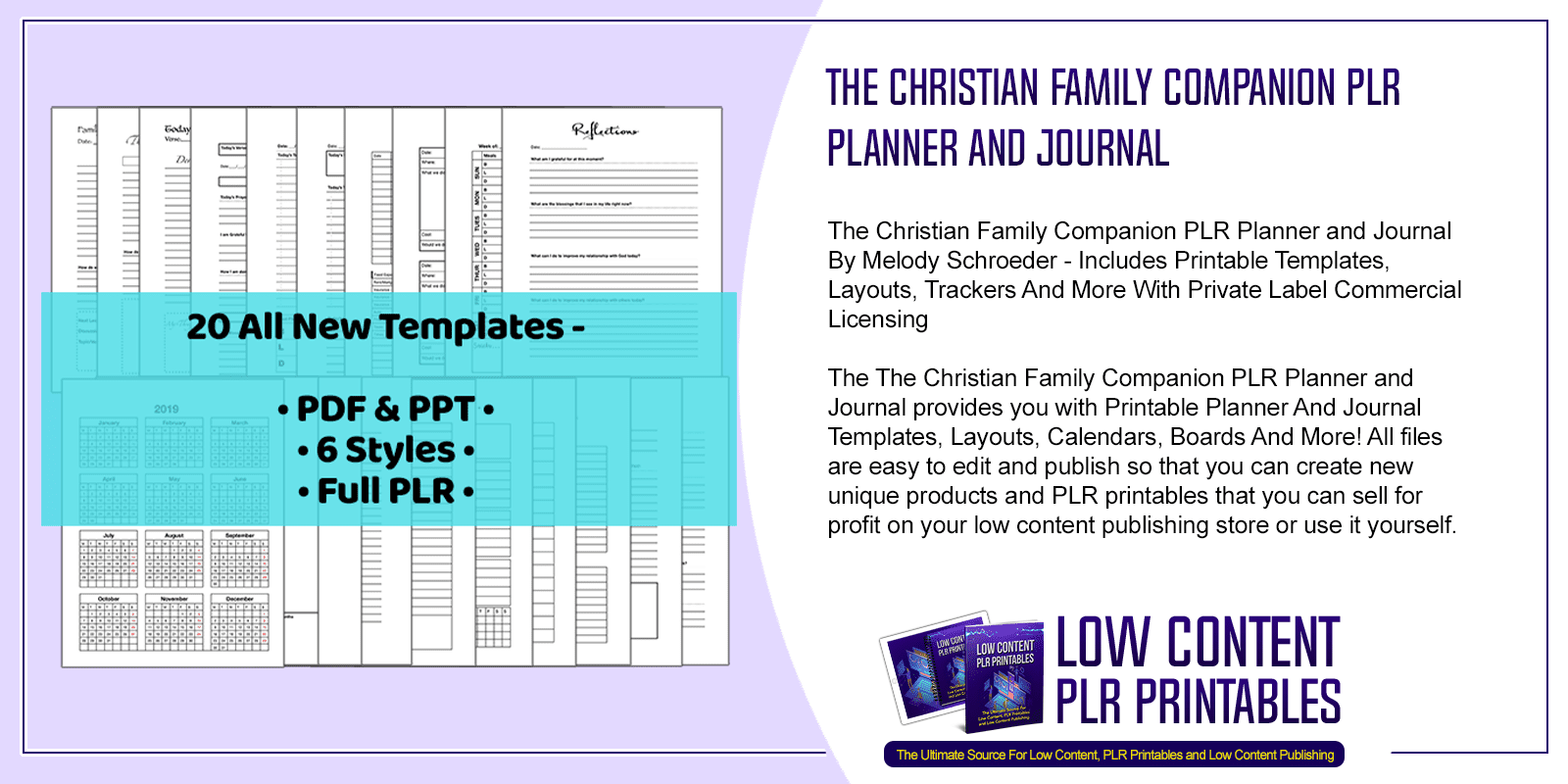 This is exactly what you could be getting in the The Christian Family Companion PLR Planner and Journal:
This amazing new Planner and Journal comes with 20 new Templates, uniquely designed to encourage your study and growth as a Christian, both as an individual and as a family!
From Daily Devotionals to Family Activities and everything in between, this unique Planner lets you plan and track every aspect of your daily life, while keeping you fully aligned with your Faith-based lifestyle.
Undated so you can start any time
Multiple layouts to choose from so you can use the one that best suits your needs
Devotion and Study prompts throughout Planner
Take your Bible journaling a step further with included Vision Board and "Doodle" pages!
What could you do with your own comprehensive faith and life planner?
Sell it online in Digital/Printable or Printed format,
Use it for Fundraisers, giveaways
Turn it into a course on living a faith-based life!
Every Christian Family Planner Bundle Includes:
20 Unique Templates!
Sermon Notes
2 Daily Devotional Layouts
2 Daily Reflections Layouts
Journal Template
Sketch & Doodle Page
2 Daily Planner Layouts to meet every need!
Family & Individual Bible Study Sheets
Expense and Income Tracking
Tithe & Donation Tracking
Vertical Calendar
2 Weekly Planner Layouts
Special Family Activities Page!
Meal Planner & Grocery List
Volunteer Activities Tracker
New! Vision Board
See The Christian Family Companion PLR Planner and Journal For Yourself – Click Here
Following will apply UNLESS a product-specific license is included with your purchase. What you can do with PLROfTheMonth.club PLR products:
Create and sell an unlimited number of products from the elements included in each Planner Toolkit
You may sell the end product at any price or use the end product as a giveaway to generate leads, or as a bonus
Offer Resell or Private label Rights to the new products that you create
Use the design elements, including Banners, Frames, Overlays, Covers and page templates with the design elements from other Toolkits or with graphics and templates from other sources without limit
Sell on your own website, online marketplace or any other method as long as the end product does not violate the rules of that marketplace.
What can't you do with PLROfTheMonth.club PLR products:
Claim copyright for the end designs without making substantial changes to the original elements. If the source design elements are clearly identifiable, you will not be able to claim copyright
Use the name of PLRoftheMonth.Club in any way unless promoting the offer as an affiliate of PLRoftheMonth.Club
Re-sell the entire Toolkit 'As Is' without making substantial changes, additions or modifications to the core product
Edit any image delivered to you as a PNG or JPEG so as to remove a portion of the image and use in another project on it's on as this is a violation of the Terms Of Use of the images: For example: You cannot remove a single rose from a frame of roses on a cover.png to use in another project on its own or to sell as part of a graphics offer.
The Christian Family Companion PLR Planner and Journal is just for you if you're looking for amazing new PLR printable planner templates that can be used to create your own unique printables when purchased and rebranded! You can also buy this printable bundle to sell on your store or use it for yourself. Perfect for you if you have a publishing business and are looking for new products or printables. Click the link below to learn more!
See The Christian Family Companion PLR Planner and Journal For Yourself – Click Here
Other Products You Might Like