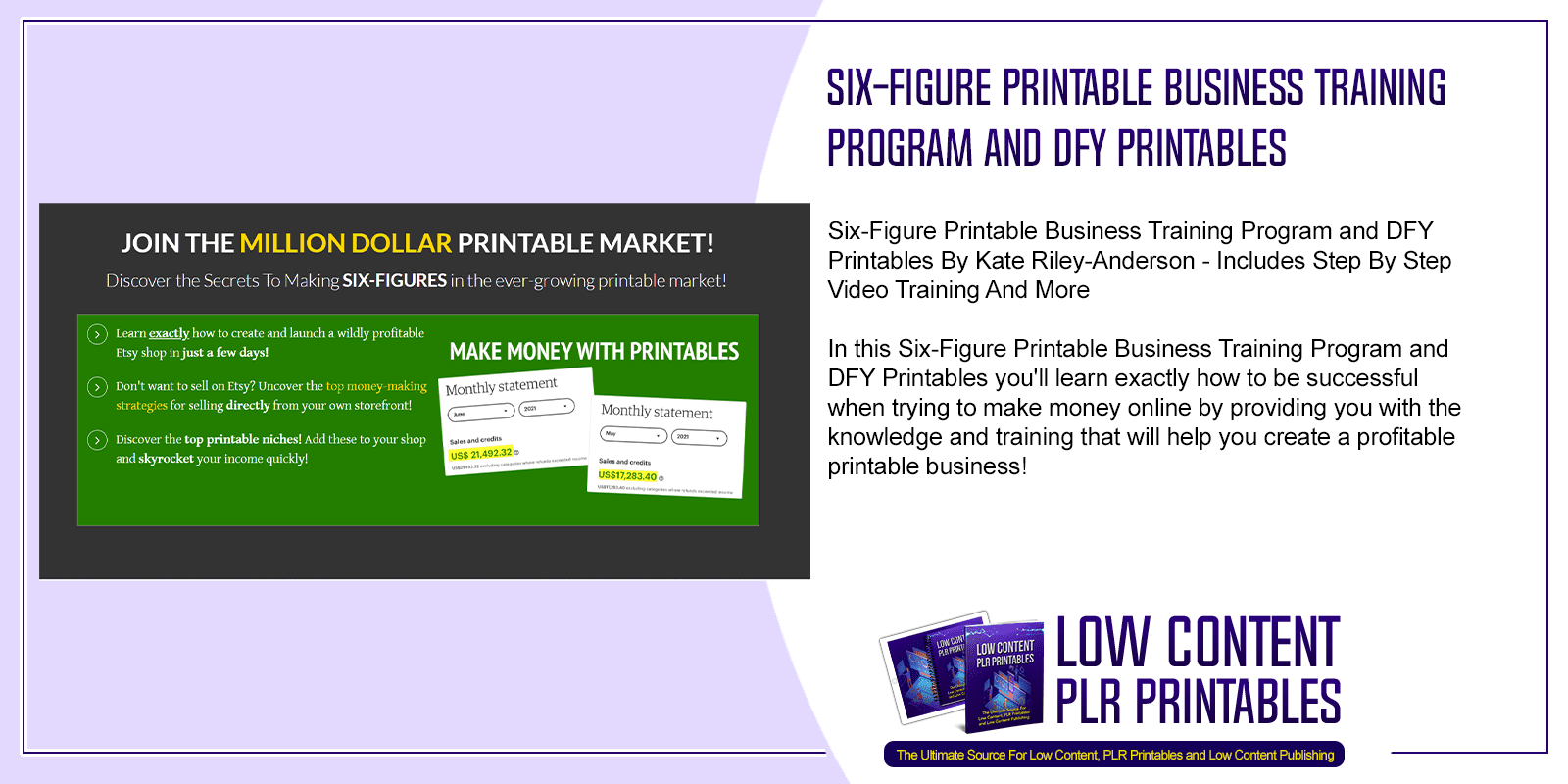 Choose Your Desired Option(s)
#SixFigure #PrintableBusiness #TrainingProgram #DFY #Printables #sixfiguretrainingprogram #doneforyou #plrprintables #printable #lowcontent #Lowcontentplr #publishing #Publish #katerileyanderson #nicheraiders #printablepros #training #course #program #trainingprogram #business #Onlinebusiness #makemoneyonline
Six-Figure Printable Business Training Program and DFY Printables By Kate Riley-Anderson – Includes Step By Step Video Training And More
In this Six-Figure Printable Business Training Program and DFY Printables you'll learn exactly how to be successful when trying to make money online by providing you with the knowledge and training that will help you create a profitable printable business!
Introducing The…
Six-Figure Printable Business Training Program and DFY Printables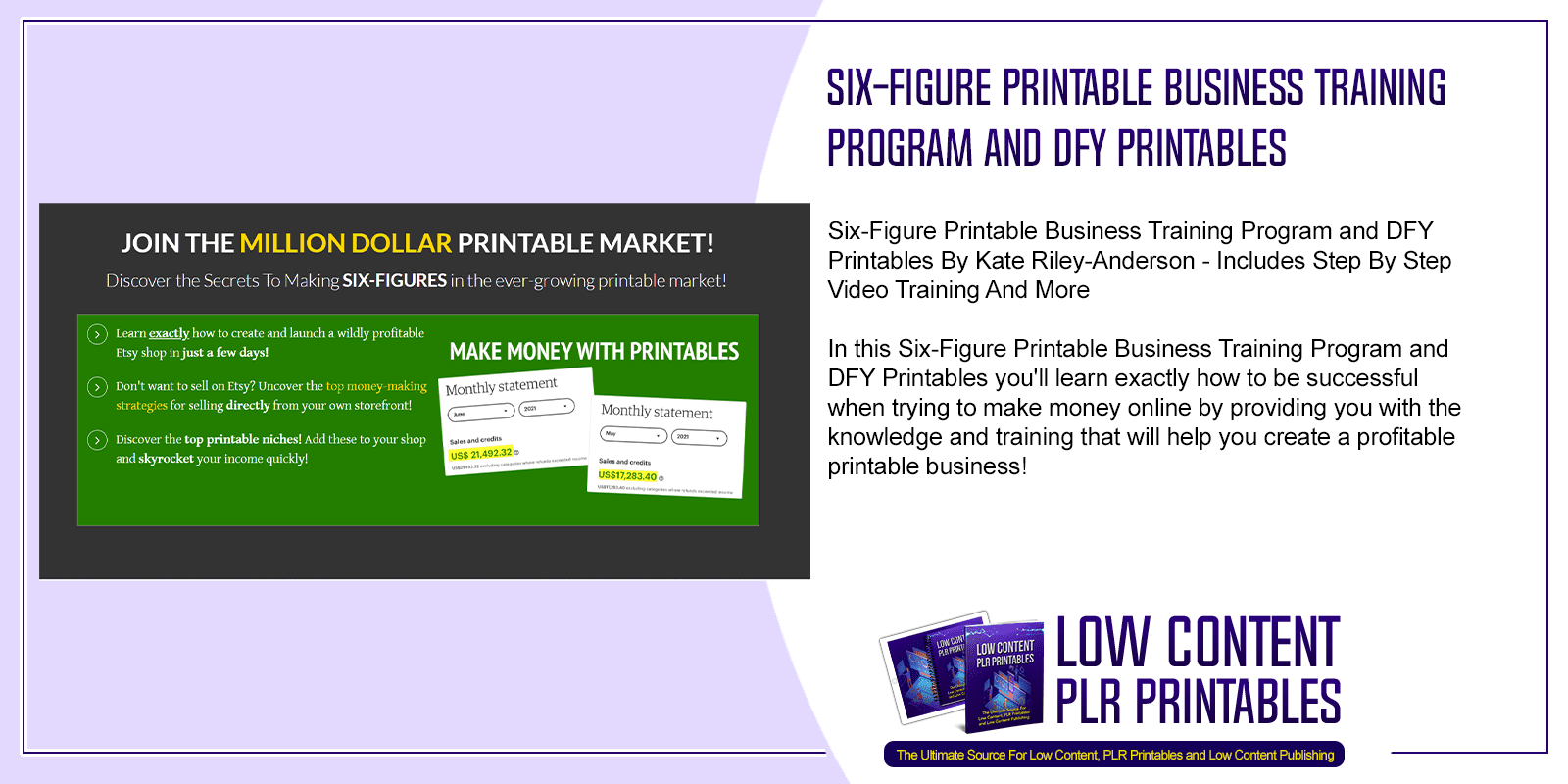 This is exactly what you could be getting in the Six-Figure Printable Business Training Program and DFY Printables:
What You Get:
Module #1: Etsy Profit Blueprint
This all-inclusive guide takes you step by step through the entire process of creating a profitable Etsy shop, complete with done-for-you graphics and even inventory!
This is much more than "how to set up an Etsy shop" guide. You can Google that information anywhere. The modules in Printable Pros form a complete blueprint to launching a successful shop in a short time so it's profitable from the get-go.
Module #2: Tribe Building Strategy Guides
Fact: Nearly every top printable seller has doubled their income once they've moved outside of Etsy.
Etsy is a great quick-start marketplace to gain traction on and build up a customer base, but it's only the beginning! And I'll show you exactly what your next step should be once you're ready to expand!
This is the real meat & potatoes of how to level up quickly.
Module #3: Income Maximizer Strategies
I'm also going to show you how to further level-up by injecting a powerful traffic source into your printable business that will help you skyrocket sales (while building a loyal tribe of customers)—all at the same time.
And the coolest thing about this is that the traffic source is absolutely free!
No paid advertising necessary. I actually advise against investing any money in paid advertising until you're at a consistent 5-figures/monthly because you simply won't have to!
Module #4: Traffic Mastery Guides
I'm also going to reveal another top strategy for pumping a steady flow of premium, highly-targeted traffic to your printable products without having to spend hours setting up and tweaking campaigns.
This simple, yet highly-effective strategy is the juice that powers up some of my most successful campaigns and it's drop-dead easy to do!
Module #5: Valuable Bonuses
If you've ever purchased anything from me before then you know I'm all about loading my offers with actually useful bonuses (not PLR that everyone already has), and this time I've gone the extra mile with a full collection of premium products and resources that will help you jack up your income faster and easier than ever before!
From profit-building checklists that outline the exact steps you need to take in order to set yourself up for long-term success, to workbooks that reveal my personal strategies, you'll have everything you need to build your printable empire!
Module #6: Even More Bonuses!
I'm taking it one step further by eliminating your workload (because that's the most valuable thing I can do for you).
So, with your purchase, you'll also gain instant access to done-for-you shop graphics as well as a beautiful Etsy starter pack – absolutely free!
Module #7: Done-For-You Printables
Looking to start making money even faster? I've got you covered with an additional bonus that includes done-for-you printables, complete with reseller/commercial-use rights!
You'll even get the source files so you can easily customize them however you wish!
See The Six-Figure Printable Business Training Program and DFY Printables For Yourself – Click Here
Get Ready To Build a Profitable Printable Business!
Save time and avoid a steep learning curve! I've designed a series of in-depth lessons that will take you from start-to-finish quickly! I'll guide you every step of the way.
Power up your business, load your storefront, and start making money while never being left confused or frustrated. I've got your back.
Kick Start Your Printable Business easily! I'm going to give you a bundle of commercial-use printable packs that you can sell!
The Six-Figure Printable Business Training Program and DFY Printables is perfect for those of you who want to generate new streams of income online and learn how to create your own low content business. When you purchase this course get access to amazing training and more to educate yourself and ensure your business succeeds!
See The Six-Figure Printable Business Training Program and DFY Printables For Yourself – Click Here
Other Products You Might Like