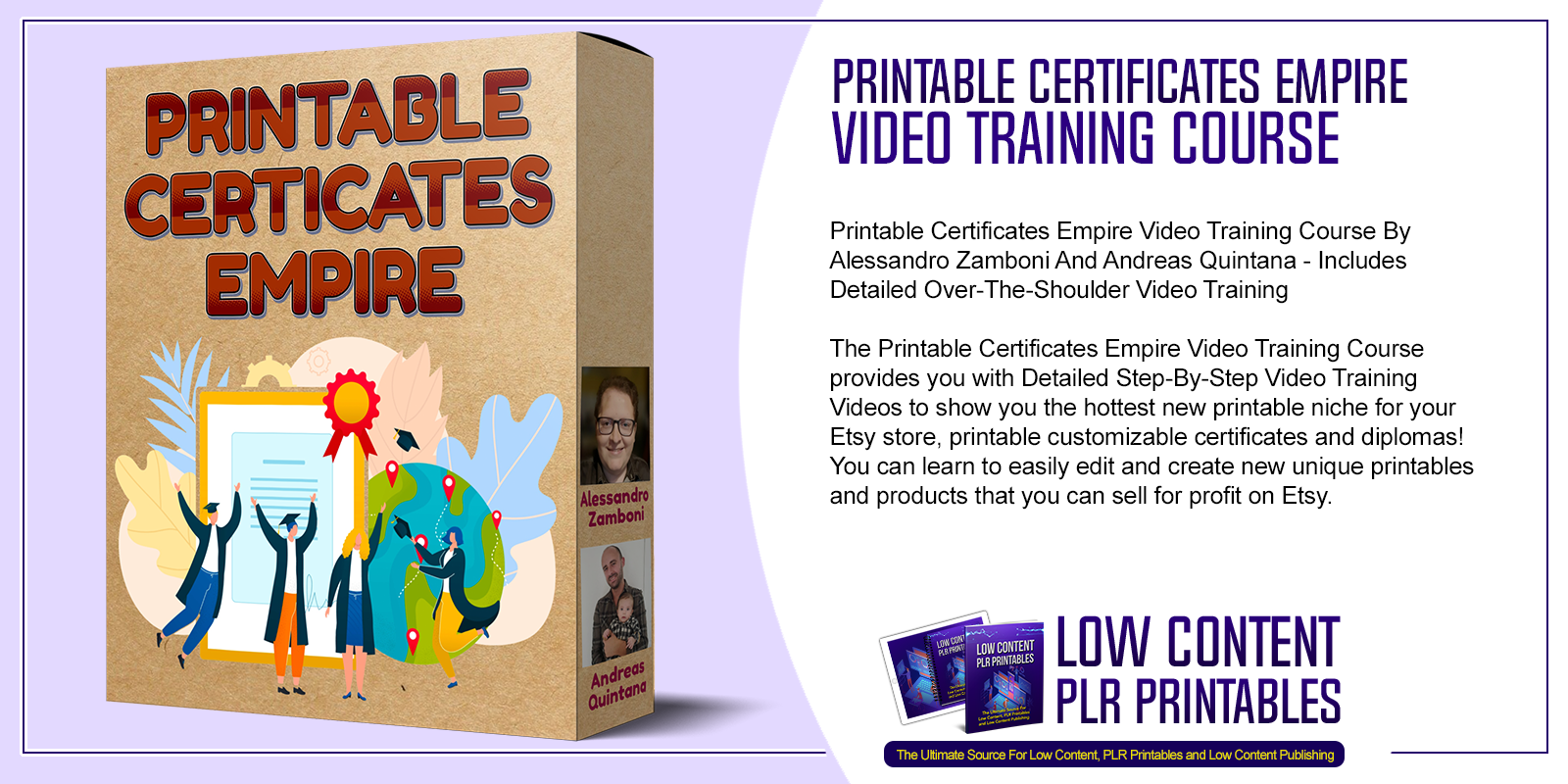 Choose Your Desired Option(s)
#PrintableCertificatesEmpire #VideoTrainingCourse #course #training #videotraining #plrprintables #printables #printablecourse #etsy #etsyprintables #lowcontentplr #plrprintables #alessandrozamboni #andreasquintana #etsystore #printablecertificates #lowcontent #commercialuse #publish #selfpublish #publishing #printablevideotraining #customizablecertificates #printableniche #nicheideas
Printable Certificates Empire Video Training Course By Alessandro Zamboni And Andreas Quintana – Includes Detailed Over-The-Shoulder Video Training
The Printable Certificates Empire Video Training Course provides you with Detailed Step-By-Step Video Training Videos to show you the hottest new printable niche for your Etsy store, printable customizable certificates and diplomas! You can learn to easily edit and create new unique printables and products that you can sell for profit on Etsy.
Introducing The…
Printable Certificates Empire Video Training Course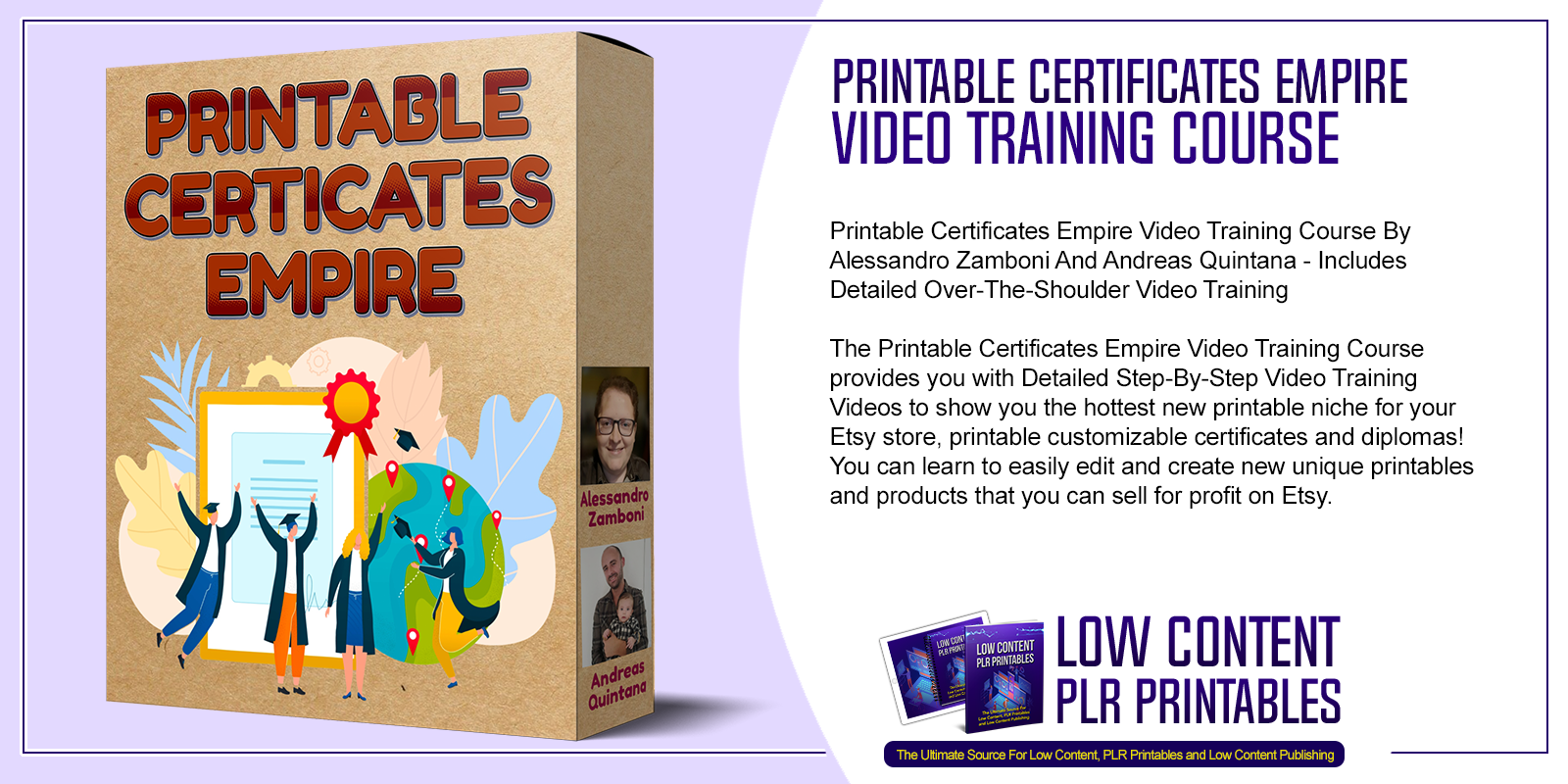 Here's what you'll learn with this amazing Printable Certificates Empire Video Training Course:
Inside our video course, you will discover:
Learn everything about the printable certificates/diplomas niche.
Get the top keywords for this niche.
​Find out the best free tools to use for running this business.
Discover how to create schools and homeschools certificates.
​See how to create a preschool diploma for kids.
​The way to create a wonderful wizard diploma.
​How to create a course completion diploma.
​The keys to create a perfect wedding certificate.
​How to create a superb sports certificate.
​The best way to create a local shops gift certificate.
​And much, much more!
And What About The Super Set Of Benefits? 
There's still a little competition in this niche.
Creating printable certificates and diplomas has a huge potential.
​You can build a passive income with this niche, perfect for your current printables Etsy store.
You can get paid multiple times for the same templates, that are evergreen.
​You can build your business with ease, and keep it growing year by year.
​It's fun, and you can do this in 10 to 20 minutes per week.
​People purchase certificates on impulse, and there's always a need for them in a lot of places, online and offline.
​This is an easy side-hustle for you and your family. Little drops will bring a secondary income.
See The Printable Certificates Empire Video Training Course For Yourself – Click Here
Here Is Your Exclusive Bonus!
14 CERTIFICATES BORDERS
Inside this bonus ZIP file you will get access to 14 different certificate templates you can use for creating your own certificates to resell on Etsy.
The Printable Certificates Empire Video Training Course is just for you if you're looking for a printable video training course that can be used to learn and create your own unique printables when purchased! It also includes printable templates to edit and sell on your store or use it for yourself. Perfect for you if you have a publishing business and are looking for new products or ideas. Click the link below to learn more!
See The Printable Certificates Empire Video Training Course For Yourself – Click Here
Your Recently Viewed Products
Other Products You Might Like