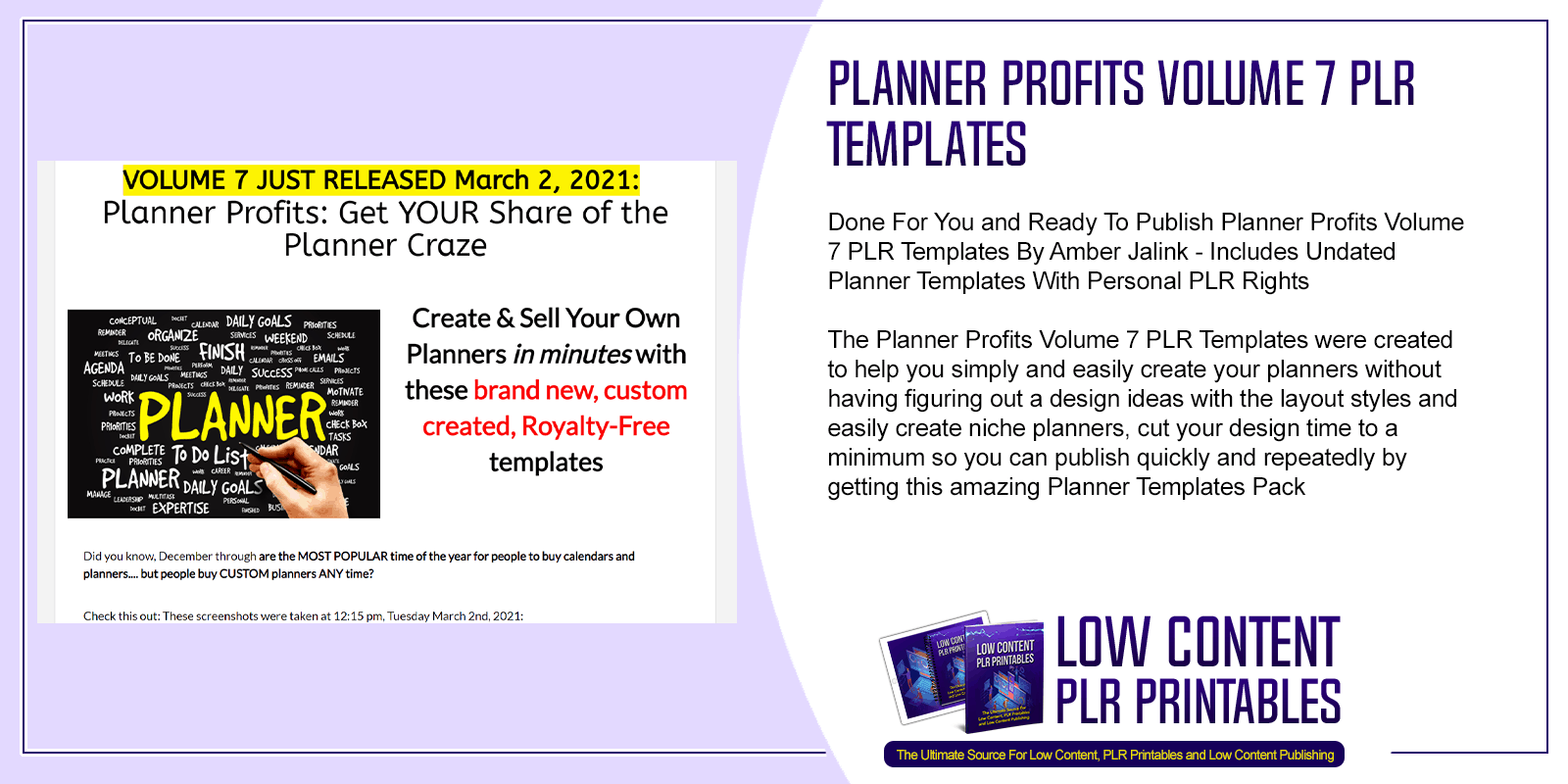 Choose Your Desired Option(s)
#plannerprofitsvolume7 #plrtemplates #plannerprofits #plannerprofitsplr #plannerprofitstemplates #plrprintables #plrprintabletemplates #plrplanner #planner #plannertemplates #plannertemplatesbundle #plrplannertempates #personaluse #publishing #selfpublishing #amberjalink #undated #undatedplanner #undatedplrplanner #undatedplr #royaltyfreeplr #plrproducttemplates #plrjournaltemplates #journalsplr #personalplrrights #nicheplanners #plannertemplatespack
Done For You and Ready To Publish Planner Profits Volume 7 PLR Templates By Amber Jalink – Includes Undated Planner Templates With Personal PLR Rights
The Planner Profits Volume 7 PLR Templates were created to help you simply and easily create your planners without having figuring out a design ideas with the layout styles and easily create niche planners, cut your design time to a minimum so you can publish quickly and repeatedly by getting this amazing Planner Templates Pack
Introducing The…
Planner Profits Volume 7 PLR Templates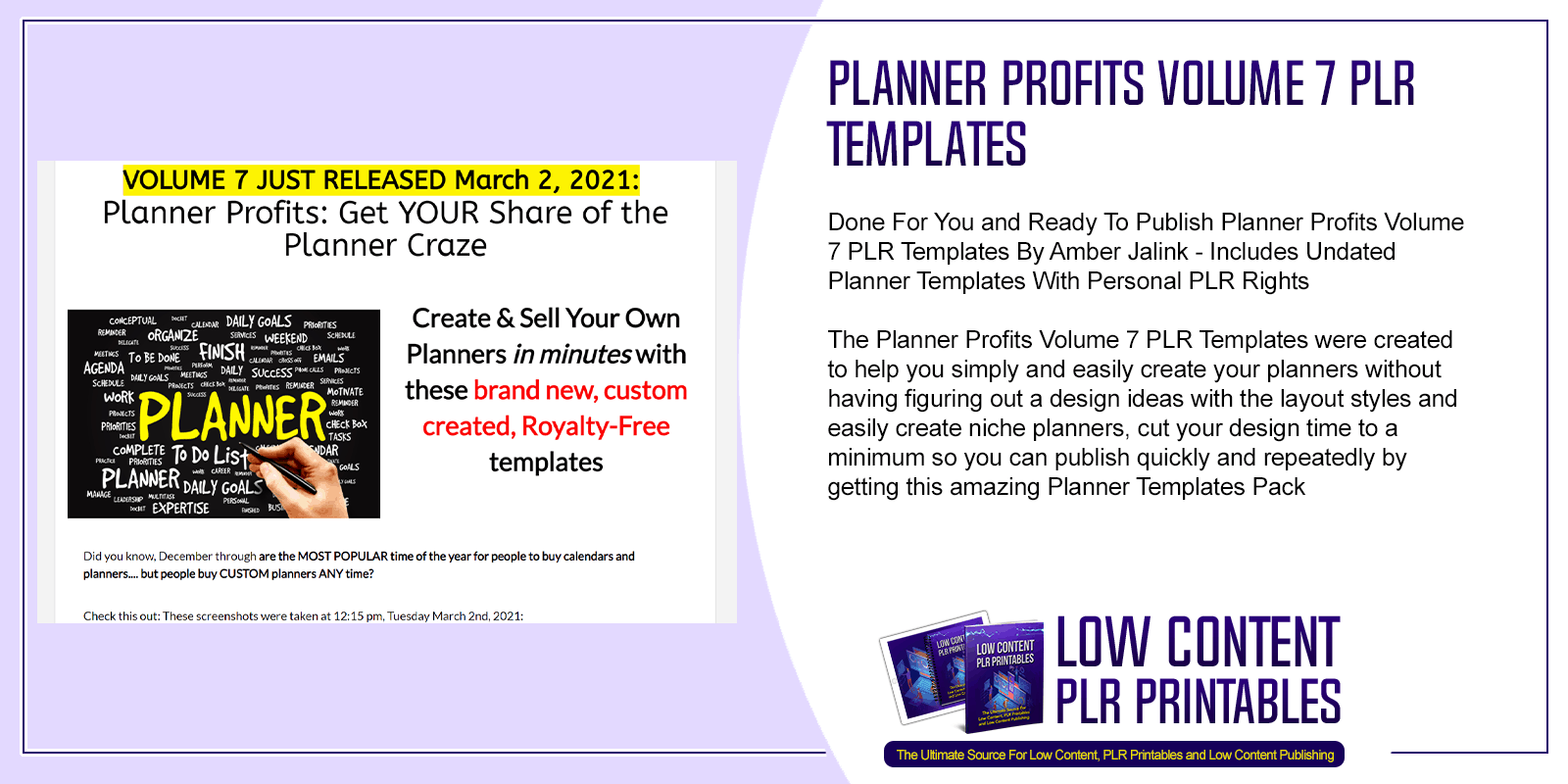 This is exactly what you will be getting in this Planner Profits Volume 7 PLR Templates Pack:
5 Brand new, royalty free undated planner templates with Personal PLR rights so you can create and sell unlimited planners!
They are designed in Microsoft Powerpoint for the most flexibility. For those who don't have Powerpoint, you can easily open and edit them in free tools such as OpenOffice or LibreOffice. Each one is a weekly planner, and some have the option of daily as well. And template #5 is a combination of several – simply use what you want, expand or change it.
Each template is set for the standard 8.5″ x 11″ paper, however you can adjust it to whatever size you prefer.
There are a variety of images added – they can easily be changed, it was more to show you some options to spice it up. While you may not want to do full color for Amazon/KDP, you certainly can as a printable for Etsy or Gumroad.
The Planner Profits Volume 7 PLR Templates Licensing Terms:
PERSONAL USE RIGHTS
WHAT YOU CAN DO:
You can create endless planners/journals for yourself (I do this all the time!)
Create planners and journals and sell them on Amazon KDP, Etsy, or any other marketplace you wish. There are NO limits on how many you can create or sell, and there are NO royalties to pay!
YES you can give the COMPLETED planners away as you please (i.e., gifts, bonuses etc).
YES you can sell the *completed* Planners and journals that you have designed even as a digital PDF (printable), but NOT the powerpoint file.
YES you CAN sell CUSTOMIZED planners on Fiverr *** without the powerpoint files. (See what you can't do below).
WHAT YOU CAN NOT DO:
You MUST NOT give these templates away anywhere outside of your business. That means:
You MUST NOT post them on blackhat or file sharing sites
You MUST NOT post these on sites like CreativeFabrica, CreativeMarket etc.
You MUST NOT give these templates away as bonuses or Freebies
You MUST NOT sell these templates as is in any way without significant changes (not just to words, but to the entire layouts).
You MUST NOT create "fiverr gigs" or any similar service to create and sell the TEMPLATES without changes for others. You MAY customize them for sure and sell them that way, without the base template (powerpoint) included. It must simply be customized.
They actively fight DMCA abuse. If you want to create these for others or supply PLR rights for others, you will need to purchase a Developer's license.
With the Planner Profits Volume 7 PLR Templates Pack it is very simple for you to create and publish, without the hassle of the designing part of the layouts, which is often the most time consuming. If you have ideas in mind, it's just a matter of changing the text, replicating to the number of pages you want or need, adding dates or removing, and publishing wherever you need to. Get this amazing pack if you're looking for planner templates that you can use or sell for profit!
Get The Guidance with the Angels PLR Planner and Journal For Yourself – Click Here
Other Products You Might Like