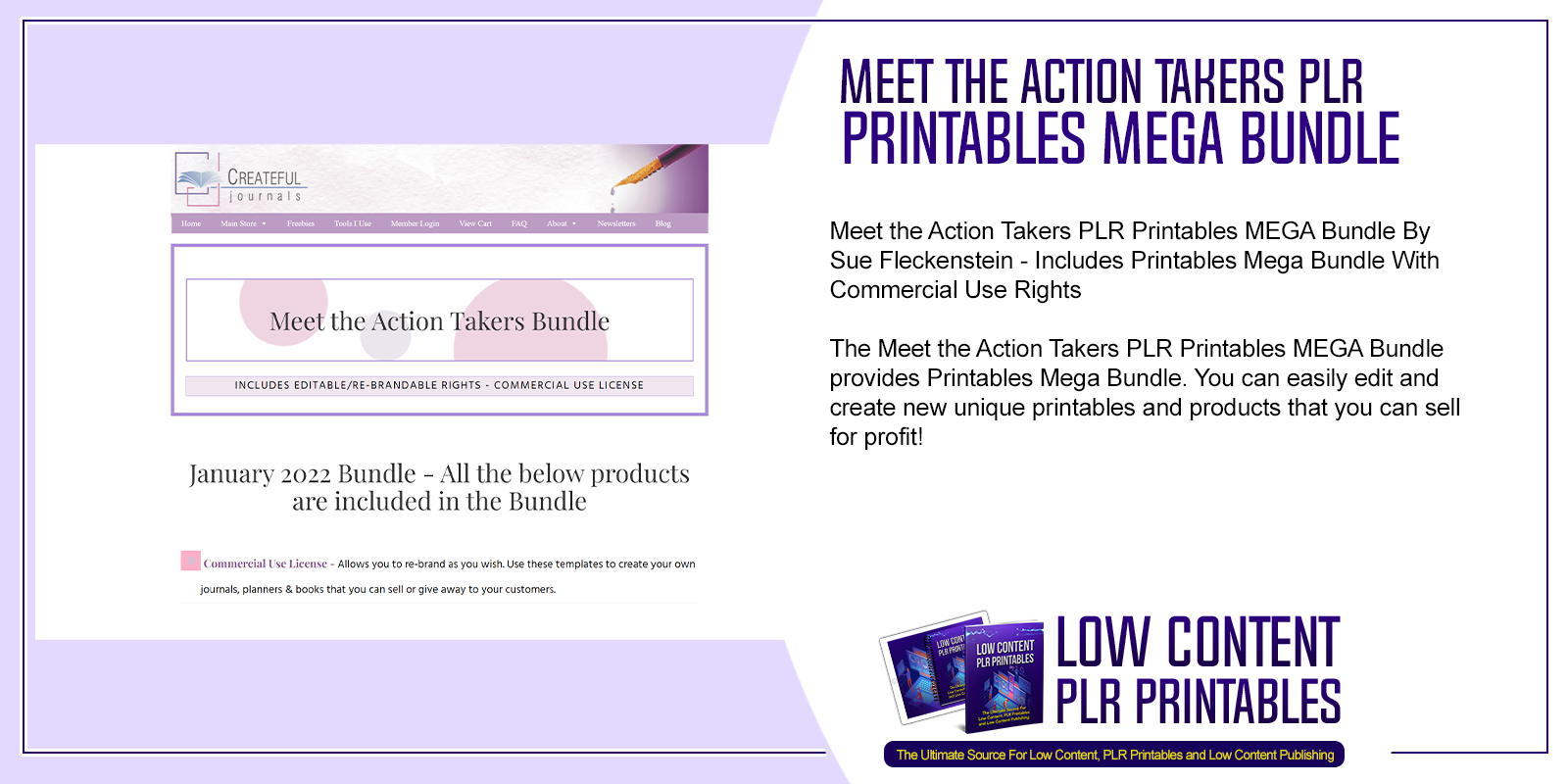 Meet the Action Takers PLR Printables MEGA Bundle
in
Digital Planner PLR Papers , PLR Activity Books , PLR Calendar Templates , PLR Calendars , PLR Coloring Pages , PLR Digital Pages , PLR Graphics and Clipart , PLR Journals , PLR Planner Bundles , PLR Planner Templates , PLR Planners , PLR Poster Graphics , PLR Printable Trackers , PLR Product Templates , Print On Demand PLR
Choose Your Desired Option(s)
#MeettheActionTakers #PLRPrintablesMEGABundle #actiontakers #plrprintables #megabundle #lowcontentplr #plrprintables #publish #selfpublish #commercialuse #planner #journals #suefleckenstein #printables #printablebundle #createfuljournals #printondemand #printondemandplr #takeaction #publishing
Meet the Action Takers PLR Printables MEGA Bundle By Sue Fleckenstein – Includes Printables Mega Bundle With Commercial Use Rights
The Meet the Action Takers PLR Printables MEGA Bundle provides Printables Mega Bundle. You can easily edit and create new unique printables and products that you can sell for profit!
Introducing The…
Meet the Action Takers PLR Printables MEGA Bundle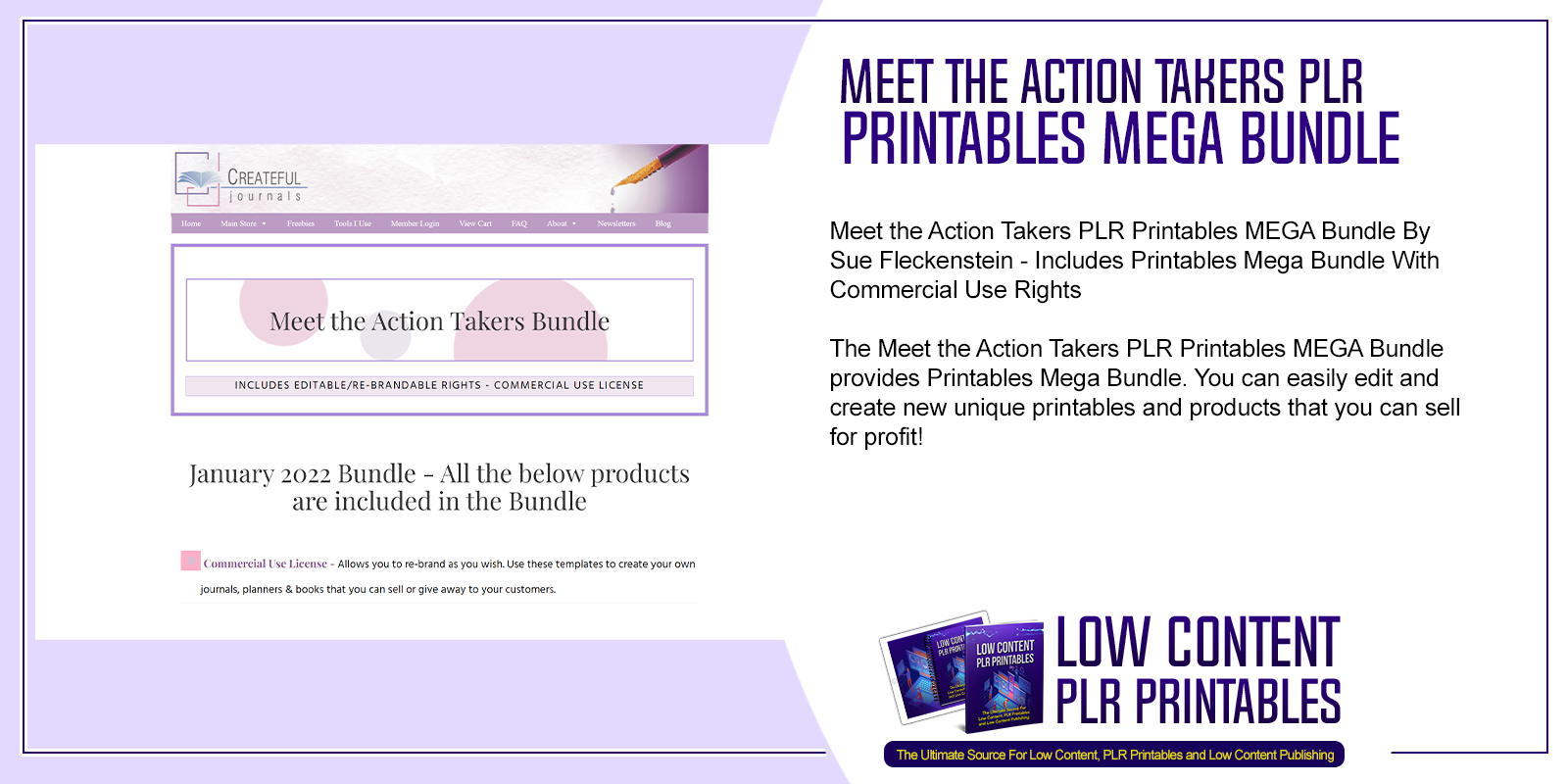 This is exactly what you could be getting in the Meet the Action Takers PLR Printables MEGA Bundle:
What You Get:
Social Media Canva Template Bundle – Desiree Zega from Fitmomology
Desiree is a mom who was tired of working for someone else and decided to take her destiny into her own hands. She loves to help women empower themselves to live a healthier and more active lifestyle. She loves creating both personal and commercial use printables to help others achieve financial freedom.
50 Different Total Social Media Templates. 10 Pinterest Pin Templates, 6 Facebook Ad, templates, 16 Instagram Post Templates, 7 Instagram Story Templates, 11 Product Mockup Templates
Use these templates to Showcase your Products and advertise them on social media.
Value – $47
190 Mix & Match Manifest the Best Workbook and Planner Package – Miranda Nippes from Printable Island
Hi! I'm Miranda and I love being able to helping Business Owners, Coaches, Bloggers, and POD Sellers save time and money with my ready-made Commercial Use Digital Products.
Don't you love to save time and money? With this 190 Page Mix and Match Manifestation Workbook and Planner Package that comes with full Private Label Rights and you can do just that.
You will receive PowerPoint, PDF, and JPG files. You have the ability to Mix and Match, Customize and Create several completely unique products. There is no editing required, just pick and choose the pages you want to include.
Included with the 190 Workbook and Planner pages are 4 Full Color Front & Back Covers and 10 Motivational Coloring Pages.
As always you get the 3 popular sizes: 6 x 9, 8 x 10 and 8.5 x 11. Guidelines act as a margin if you wish to publish online.
Value – $21
15 Self-Development Articles – Gipsy Malan from Your PLR Shop
Gipsy is a mom and wife from South Africa – after a lifetime in Accounting she decided to pursue her passion to create digital products. She creates personal use printables and commercial use articles, but keep an eye on her store for some commercial use printables coming soon.
15 Self-Development Articles
Perfect for your blog posts – or compile them into an e-book and sell it
5 Public Speaking Tips That Will Make You Look Like a Pro (812 words)
How To Implement SMART Goals (937 words)
3 Hacks To Beat Procrastination (753 words)
Secrets to Finding Motivation and Staying Motivated (724 words)
5 Habits of Successful Entrepreneurs (568 words)
How to Form New Habits (636 words)
5 Time Management Tips You Must Know! (637 words)
7 To-Do List Strategies to Employ (785 words)
Effective Sleep Tips to Increase Productivity (673 words)
3 Morning Routine Mistakes To Avoid! (746 words)
5 Ways to Increase Your Creativity (657 words)
How to Improve Your Concentration (789 words)
7 Interesting Productivity Hacks You Can Use (716 words)
9 Daily Habits To Level Up Your Life (826 words)
3 Important Questions to Help You Discover Yourself (635 words)
Value – $17.99
Valentine's Digital Paper Set – Kay from Templates for Creators
Templates for Creators offers commercial use planner templates, journal templates, printables templates, and digital design elements for creators and sellers to quickly create digital products for their Etsy shops, Shopify stores, websites, or blogs.
Use these commercial use Valentine's Day digital paper sets to decorate printables or digital planners for your Etsy shop, blog, or website. Includes extended commercial use license which allows you to use these digital papers to design your own commercial use or "PLR" products.
Value – $19
BOHO Undated Planner – Marilynn from Marilynn's Place
I am an older bird (heading toward that octagonal year) and finally following my dream of making products for people to use and enjoy in their everyday lives. I enjoy creating graphics and making planners, journals and printables.
Beautifully done Boho style undated journal including yearly, monthly, and weekly calendar pages; vision board pages, journal and note pages. You will have plenty of places to write, take notes and revise your plans as the days pass.
Value – $21
Geometric Hearts & Flowers Digital Paper Pack
– Lara Champion from Tales From the Rouge
My name is Lara and I'm the owner of Tales From the Rouge. I'm a wife and mom obsessed with nature, gemstones, and my ever-increasing collection of typewriters. I've spent my career working as a writer and television producer but my passion lies in art, photography, and digital planning.
The Tales From the Rouge "Geometric Hearts and Flowers" digital paper pack is a brand new set consisting of 40 seamless digital papers. This sampler set includes 20 individually patterned papers with a modern take on red and white "candy hearts" as well as 20 individually patterned papers in a geometric "flower bouquet" theme. These images come in high resolution, 300 DPI JPG files in 12 x 12" format. As an added bonus, an additional 40 pieces of companion US letter format (8.5 x 11″) are also included in this bundle for extra versatility. These papers are perfect for creating unique covers and backgrounds for planners and printables as well as scrapbooking, journaling, social media graphics, website backgrounds as well as KDP cover designs and POD products.
Value – $17
Stick to Your Goals – Kelda Ytterdal from PLR Buffet
Creating is her joy … the entire process from vision to finished product.
Kelda is retired from a long career in business where she took her creativity with her to apply in projects including writing, presentations, training, and publishing.
In "retirement", she is establishing her own business creating printables (journals, planners, activity books, puzzles, social media graphics) and publishing books.
Born and raised in Seattle, Kelda now lives east of there towards the mountains, surrounded by nature that feeds her creative spirit.
Take any one of these 5-page themes, 8.5 x 11 in. pages to:
— Use the pages as is in other printables you create;
— Share a theme packet with your customers;
— Mix 'n match the themes for something fun.
Edit pages in PPT and Canva to make it uniquely yours.
8.5 x 11 inch pages
An extra for this bundle is 15 Fun Stickers, provided in both a printable sheet and also as transparent PNG individual stickers. Add them to your products, provide them to your customers as a gift, include them with another bundle of stickers … BE CREATIVE!
Value – $27
My Vision Board for A Better Me – Sharon Kinnier from Talking Gurus
Talking Gurus is a digital marketing company in Personal Development and Self Help Niche. We offer eBooks, eCourses, Digital Planners, Workbooks, and Journals designed to help you reach goals and work on self-discovery.
Planner/Workbook with guided steps for working on self improvement
Value – $27
Create Your Dream Life Planner – Marcy Patterson from My PLR Toolkit
I am new PLR seller. I have myplrtoolkit.com, and my personal use site is theunpopularmom.com. I love creating planners and journals!
Planner/Workbook with guided steps for working on self improvement.
See The Meet the Action Takers PLR Printables MEGA Bundle For Yourself – Click Here
What you can do with CreatefulJournals.com PLR Journal Content:
You MAY create an Unlimited number of products for your own personal use
You MAY create an Unlimited number of products to sell as a PDF version [printable] in your Etsy or Shopify Store, or on your own website – applies to the new products YOU have CREATED – YOU MAY only sell these with personal use rights.
You MAY create products to sell on Amazon or other self-publishing sites.
What can't you do with CreatefulJournals.com PLR Journal Content:
You MAY NOT sell or give away any of the source documents such as the Word Docs or Powerpoint Slides.
You MAY NOT sell these products on sites such as Creative Fabrica, Design Bundles etc
You MAY NOT sell any of their products as a Gig on Fiverrr.
You MAY NOT use their name or website in connection with your products.
The files DO NOT come with private label rights or resell rights of any kind.
You MAY NOT give your customers any type of COMMERCIAL LICENSE or RESELL RIGHTS with their products – they are for personal use only.
The Meet the Action Takers PLR Printables MEGA Bundle is just for you if you're looking for printable bundles and more that can be used to create your own unique products and profit! Perfect for you if you have a publishing business and are looking for new products or printables. Click the link below to learn more!
Get a special discount on the Createful Journals Beautiful PLR Journals and Printables Shop, use the coupon code below to save 20% off any products at CreatefulJournals.com.
MOZIESAVES20
See The Meet the Action Takers PLR Printables MEGA Bundle For Yourself – Click Here
Other Products You Might Like