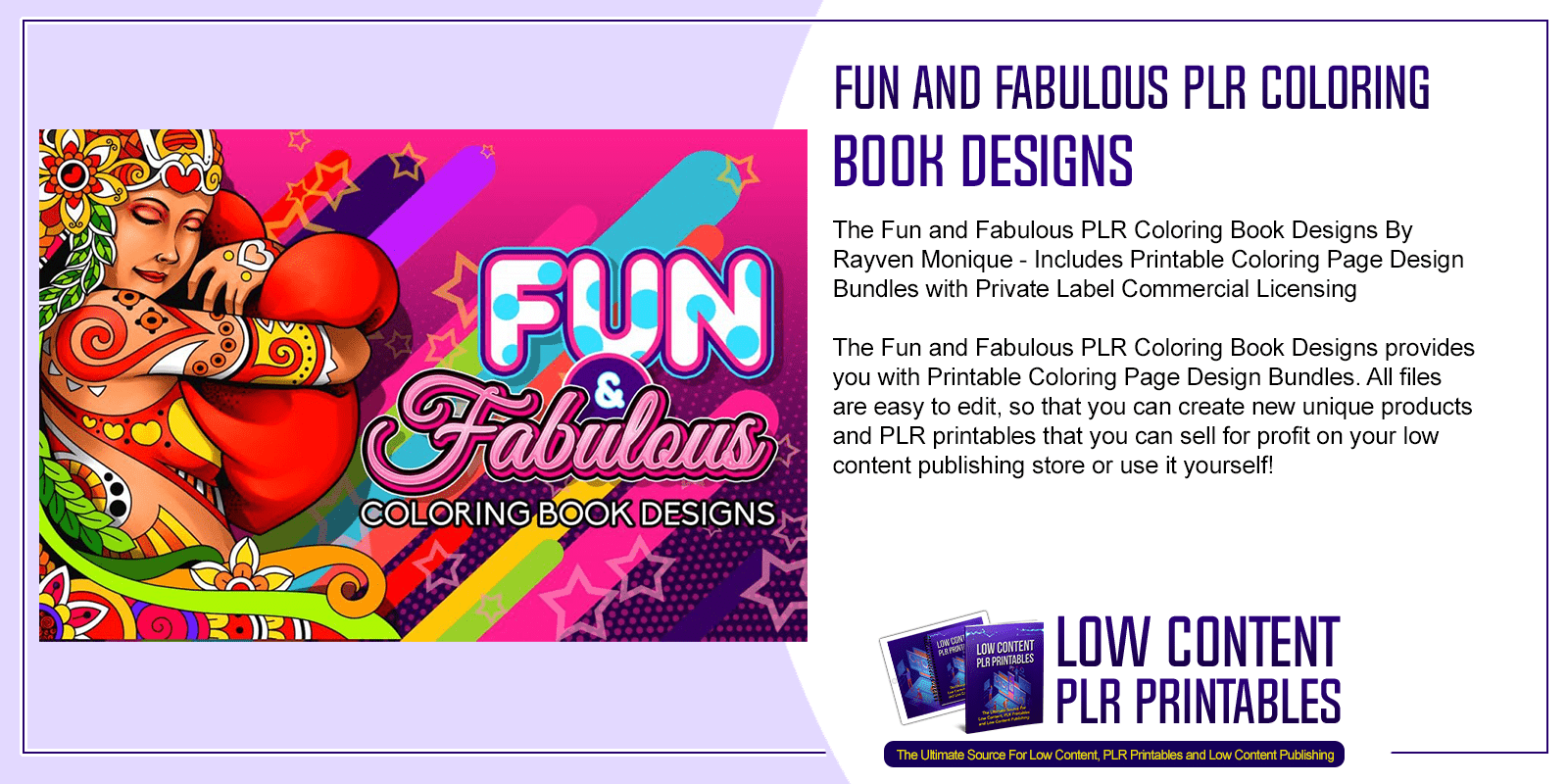 Choose Your Desired Option(s)
#FunandFabulous #PLRColoringBookDesigns #plrcoloringbook #plrcoloringdesigns #designs #templates #rayvenmonique #colormonthly #coloring #plrcoloring #coloringprintables #printablepages #plractivitybook #coloringbook #commercialuse #commercialuserights #printondemand #doneforyou #plrprintables #lowcontentplr #plractivity #activitypages #mandalas #publish
The Fun and Fabulous PLR Coloring Book Designs By Rayven Monique – Includes Printable Coloring Page Design Bundles with Private Label Commercial Licensing
The Fun and Fabulous PLR Coloring Book Designs provides you with Printable Coloring Page Design Bundles. All files are easy to edit, so that you can create new unique products and PLR printables that you can sell for profit on your low content publishing store or use it yourself!
Introducing The…
Fun and Fabulous PLR Coloring Book Designs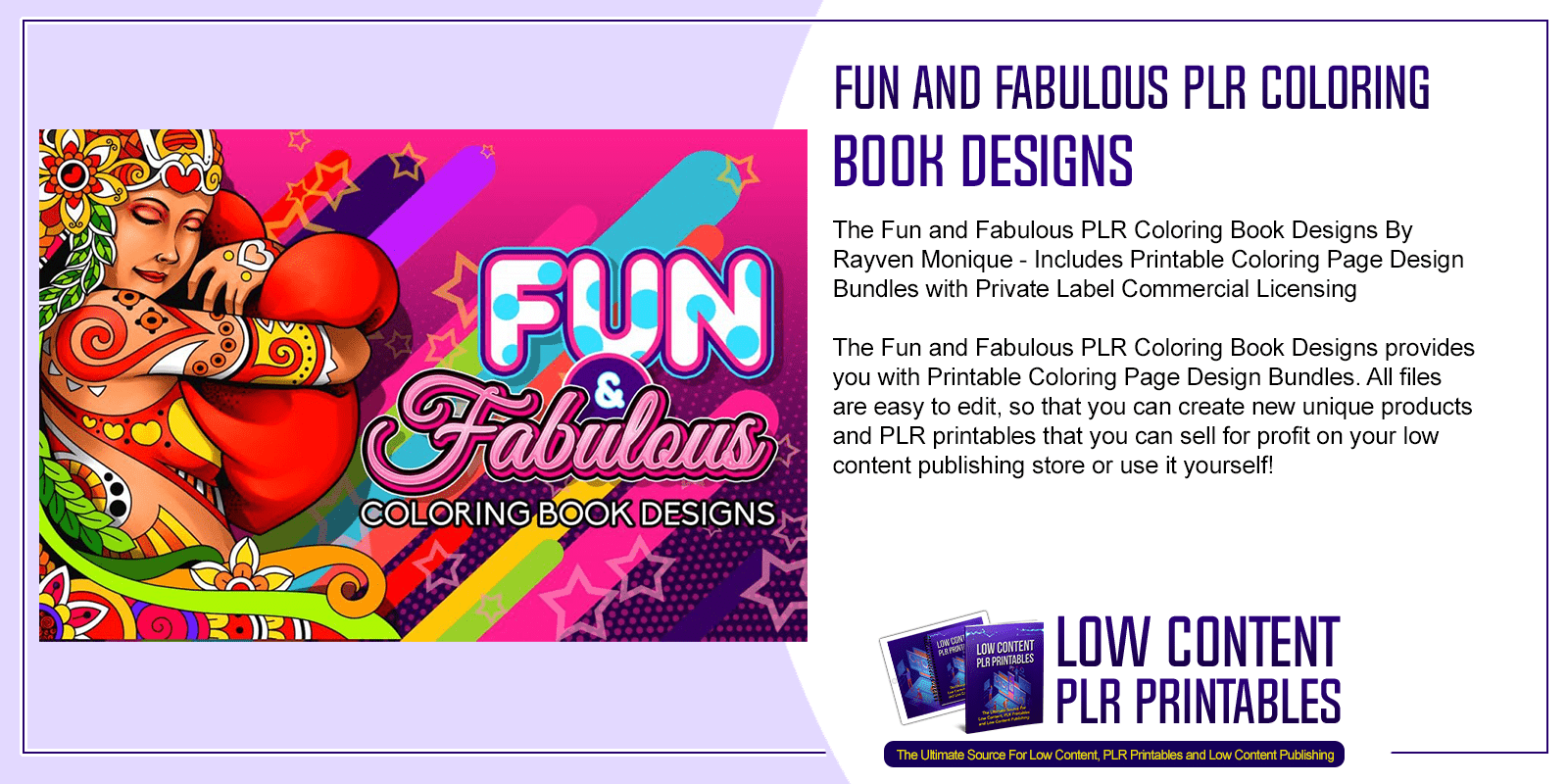 Here's what you'll get with this Fun and Fabulous PLR Coloring Book Designs:
This Bundle Includes the Following Coloring Pages:
"Soul Meets Soul On Lovers' Lips"
"If You Have Only One Smile in You Give It To The People You Love"
"Love Is Our True Destiny. We Do Not Find The Meaning Of Life By Ourselves Alone – We Find It With Another"
"A Heart Is Not Judged By How Much You Love, But By How Much You Are Loved By Others"
"So Sweet, So Sweet The Roses In Their Blowing"
"People Become Really Quite Remarkable When They Start Thinking That They Can Do Things"
"The Best Luck Of All Is The Luck You Make For Yourself"
"Live Daringly, Boldly, Fearlessly."
"Be Like A Flower And Turn Your Face To The Sun"
"It's Called Perseverance"
"Gratitude Is Not Only The Greatest of Virtues, But The Parent Of All Others"
"Be Thankful For What You Have"
"I Choose Happy"
"Attitude Is Everything"
Hearts And Leaves Doodle
Sun And Waves
Hot Air Bunny Balloon
Flower Petals
Tree With Leaves Falling
Mermaids With Starfish On Rock
Sea Creature Collage
Rough Waves On The Beach
City Scene With Potted Flower
Flower And Wheel Doodle
Tea Cups With Steam Doodle
"If You Want To Turn Your Life Around, Try Thankfulness"
"LOVE"
Haystack and Flowers Doodle
Angels In Love
Flowers And Squares Doodle
Flowers In Art Boxes
Palm Tree With Flowing Waves
"Luck, That's When Preparation And Opportunity Meet"
Peacock In The Sun
Mockingbird Spreads His Wings
"I Am Too Positive To Be Doubtful"
"Success Is Often Achieved By Those That Don't Know That Failure Is Inevitable"
"Don't Quit Your Daydream"
"Success Is Liking Yourself"
"Success Is Not The Key To Happiness"
See The Fun and Fabulous PLR Coloring Book Designs For Yourself – Click Here
Fun & Fabulous
40 awe-inspiring coloring pages for adults for just $60! Includes a mixture of designs and inspirational quotes.
Fun & Fabulous + MORE!
40 + 125 MORE awe-inspiring coloring pages for adults. A total of 165 pages for just $247.50!
Private Label Rights License
You have full permission to resell this content to a retail end-user as you see fit. Your PLR license will allow you to keep 100% of the profits! Your license covers everything EXCEPT: you may not use our name on your product, and you may not sell the resell rights to someone else.
The Fun and Fabulous PLR Coloring Book Designs is just for you if you're looking for printable coloring templates that can be used to create your own unique printables when purchased and rebranded! You can also buy these templates to edit and sell on your store or use it for yourself. Perfect for you if you have a publishing business and are looking for new products or printables. Click the link below to learn more!
See The Fun and Fabulous PLR Coloring Book Designs For Yourself – Click Here
Other Products You Might Like