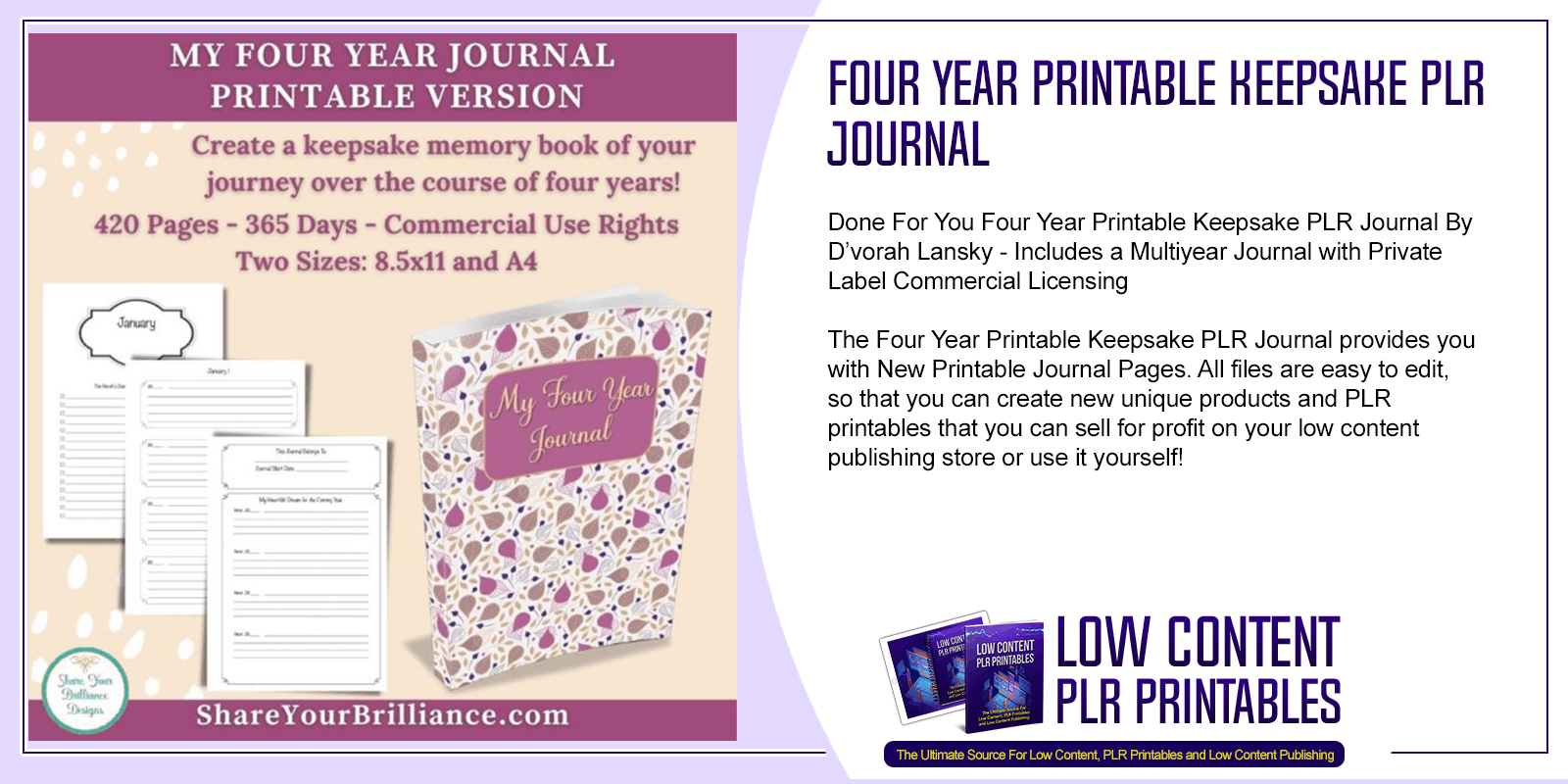 Choose Your Desired Option(s)
#Four #Year #Printable #Keepsake #PLR #Journal #fouryearjournal #yearly #yearlyjournal #journaling #plrjournal #Printablejournal #journalpages #plrjournalpages #dvorahlansky #multiyear #multiyearjournal #plrjournalpapers #privatelabelrights #commercialuse #commerciallicense #publishing #selfpublishing #shareyourbrilliance #plrprintables #plrprintablejournal #lowcontentplr
Done For You Four Year Printable Keepsake PLR Journal By D'vorah Lansky – Includes a Multiyear Journal with Private Label Commercial Licensing
The Four Year Printable Keepsake PLR Journal provides you with New Printable Journal Pages. All files are easy to edit, so that you can create new unique products and PLR printables that you can sell for profit on your low content publishing store or use it yourself!
Introducing The…
Four Year Printable Keepsake PLR Journal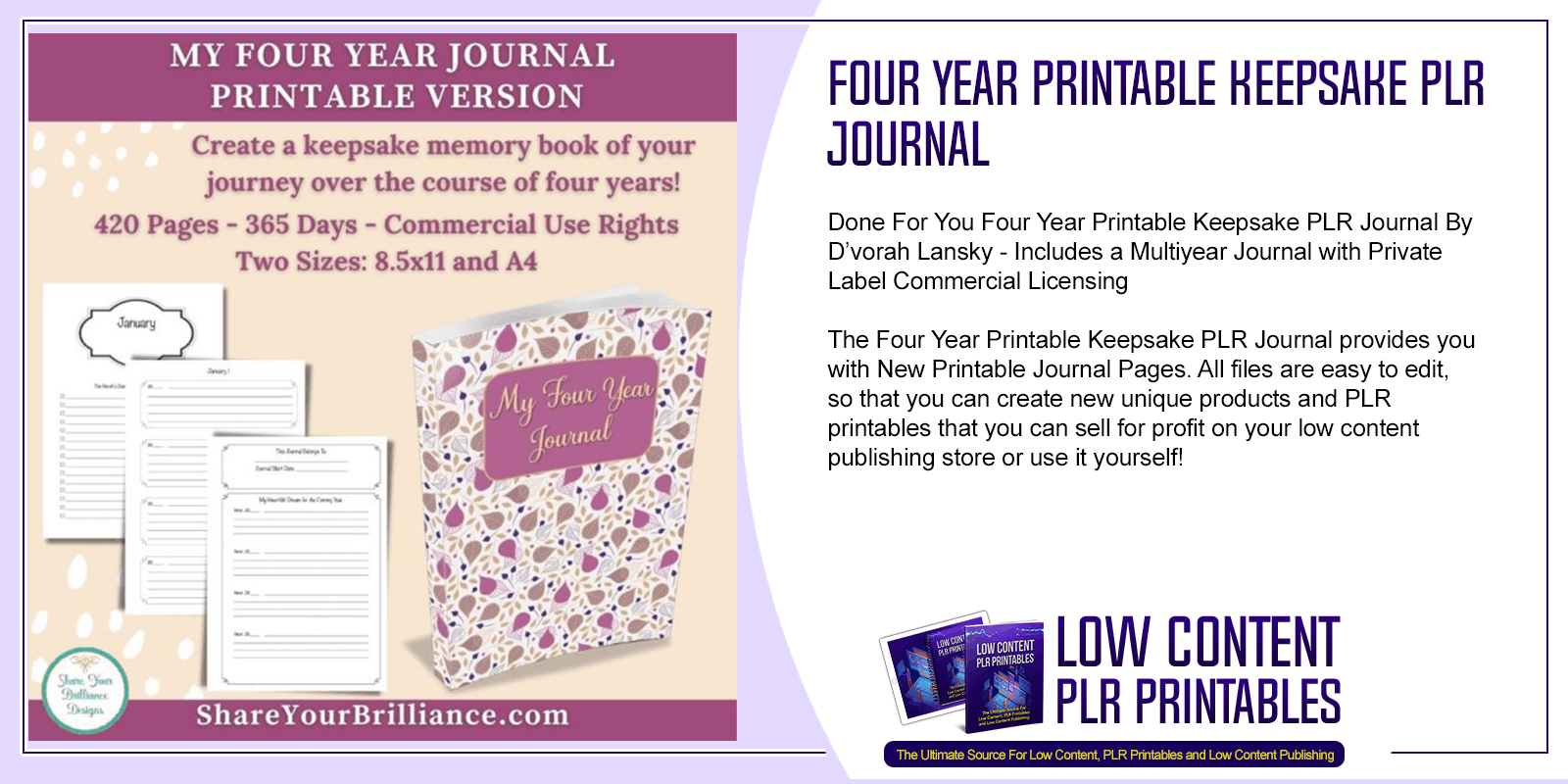 This is exactly what you will be getting in this Four Year Printable Keepsake PLR Journal:
This four-year journal is designed in a way that allows you to capture a thought, experience, or best part of your day, all year long. Over the course of four years, you'll have the opportunity to circle around and revisit what you've journaled about in previous years.
A List Of Pages Included:
How to Use Your Four Year Journal
What I'd Like to Accomplish
My Highest Priority Goals
Monthly Dates and Occasions to Remember
12 Months / 365 Days of Four-Year Journal Pages
Reflections on the Past Year
The Best Part of the Past Year
Section Dividers for Each Month and Each Section
A Notes Section
A Project Planning Section
A Journal Section with Blank Pages
This journal includes editable files, in two sizes, along with Commercial Use Rights.
Editable Source Files
PDF Files and Editable PowerPoint files in 8.5×11 and A4 sizes.
See The Four Year Printable Keepsake PLR Journal For Yourself – Click Here
The Four Year Printable Keepsake PLR Journal Licensing Terms:
You can use the materials in just about any way you'd like, for personal and commercial use.
However:
You May Not pass along the commercial use rights to your customers.
You May Not share the editable source files – those are for your use in creating and customizing content.
You May Not reuse or sell the files in any manner as is, all items must be incorporated into a finished product.
Aside from that, you have a lot of flexibility in using this product in your own creations.
The Four Year Printable Keepsake PLR Journal is just for you if you're looking for amazing new PLR printable Journal Pages that can be used to create your own unique printables when purchased and rebranded! You can also buy these printable pages to sell on your store or use it for yourself. Perfect for you if you have a publishing business and are looking for new products or a printable journal. Click the link below to learn more!
Get a special discount if you purchase products on the Share Your Brilliance PLR Planners and Journals Store, use the coupon code below to save 20% off ANY products at ShareYourBrilliance.com.
MOZIE20
See The Four Year Printable Keepsake PLR Journal For Yourself – Click Here
Other Products You Might Like