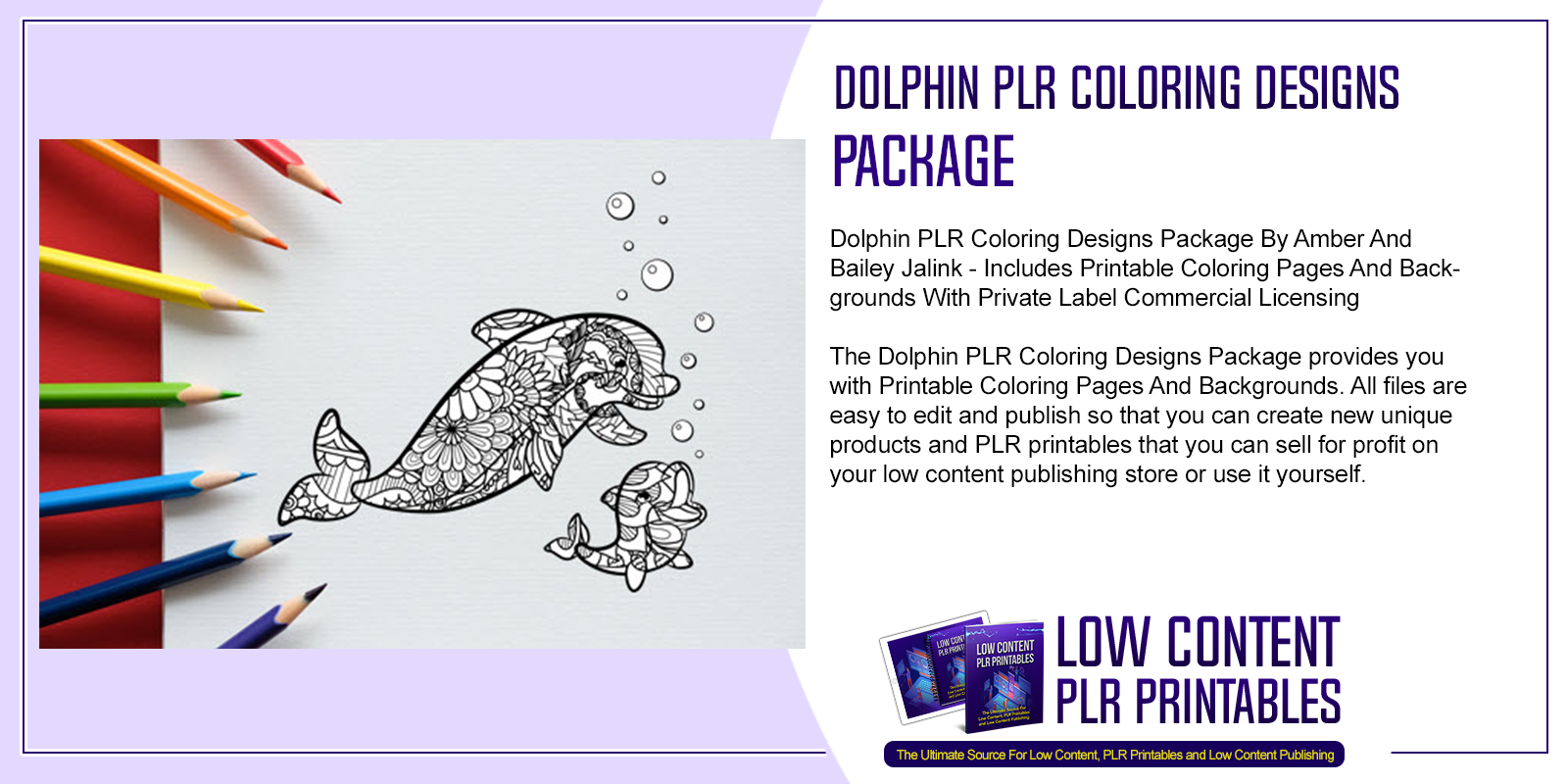 Choose Your Desired Option(s)
#DolphinPLRColoringDesignsPackage #DolphinPLRColoringDesigns #Dolphinprintables #amberjalink #baileyjalink #dragonbubble #backgrounds #printablebackgrounds #plrprintables #lowcontentplr #plrcoloringdesigns #plrcoloringpages #plrprintables #commercialuse #commercialuserights #publishing #publish #selfpublish #coloringprintables #coloringpages #coloringdesigns #templates #printondemandplr #doneforyouplr
Dolphin PLR Coloring Designs Package By Amber And Bailey Jalink – Includes Printable Coloring Pages And Backgrounds With Private Label Commercial Licensing
The Dolphin PLR Coloring Designs Package provides you with Printable Coloring Pages And Backgrounds. All files are easy to edit and publish so that you can create new unique products and PLR printables that you can sell for profit on your low content publishing store or use it yourself.
Introducing The…
Dolphin PLR Coloring Designs Package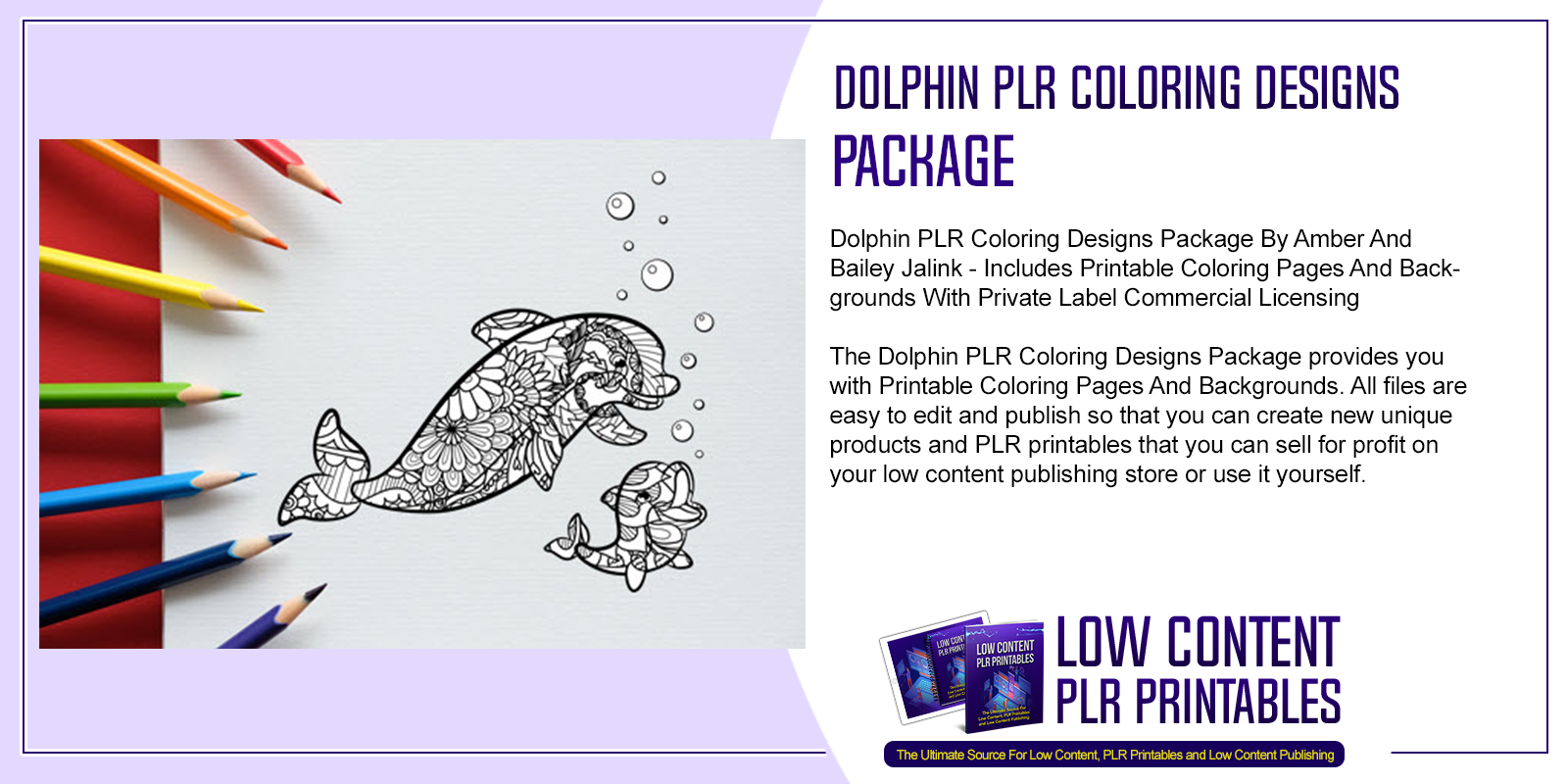 This is exactly what you could be getting in the Dolphin PLR Coloring Designs Package:
When you buy this Dolphin Coloring Pack right now, you get:
5 Brand New Unique, High Quality Individual Dolphin Images (Real $525 Cost Value)
25 MORE (Different!) Dolphin Images with Backgrounds (Real $525 Cost Value)
PLR Commercial Use License* ($500)
High Quality 300 DPI, PNG Format ($250)
Unlimited Print on Demand License ($500)
Create Adult or Kids Coloring books!
Fits perfectly on any 8.5″x11″ page, A4 or can be reduced for smaller pages
Instant download after purchase!
You can now take these images and publish them as your own, in SO many ways!
Create coloring pages and printables and sell on Etsy (or your own website!)
Create as printables and giveaway as lead magnets (freebies to get people to opt into your list) on your website/blog.
Color these in, and sell them as digital art / posters
Create coloring books to sell on Amazon KDP
Mix and match these with other ocean animal coloring you may have, and create mixed books
Put these on mugs, hats or even shirts for people to color!
Create custom coloring calendars
Create notebooks, with these inside (a mix of notebook and coloring) OR use these images on the cover, and let people color the cover themselves!
Add these to planners and stress relief journals.
This Dolphin Coloring Pack Saves SO Much Time!
No time consuming research – just put them in the order you want and start publishing.
No time consuming product creation – these images are done for you. All you have to do is place them where you want them. (If you know photoshop, you know this is not a 30 second task to create these).
No hiring someone else to create these for you – this saves you both time and money. After all, the faster you publish, the faster you have the opportunity for sales.
See The Dolphin PLR Coloring Designs Package For Yourself – Click Here
Your License Rights:
WHAT YOU CAN DO
You can create as many COMPLETED products as you'd like and sell them on any print on demand network such as Amazon KDP, Etsy, Gearbubble, etc.
You have unlimited commercial use rights to sell as many completed products as you'd like, without any royalties to us
You can use these images "as is" or combine to create as many possible variations as you wish
You can modify these and create other variations by adding other backgrounds, new images etc., and all rights above apply.
You can give these away as lead magnets in PDF format (NOT the images directly) in the form of printables, on your website, social media etc., proving it is clear that it is for PERSONAL use only. (You cannot supply the base images).
Yes you can use these in coloring clubs or for schools (if you are a teacher for example), you may distribute these as printables (PDF format).
Yes, you can use these images in videos as well if you wish to use for examples of creating books or other content.
WHAT YOU CAN'T DO
You can not give the image png files away to anyone. The images must be in a compiled or compressed format (i.e., on a mug, shirt or in a printable PDF), not as a png itself. This also means you cannot convert them to SVG or JPG to sell the images in any form other than the PDF or as a POD product of your own.
You can not use my name or my daughter's name on any of your products, or imply that you are associated with us. (PLR means it has your name, not ours).
You CAN NOT sell these images with PLR rights, resell rights, or master resell rights in any way, even in a compiled (PDF) format.
You can not upload these images to any file sharing site such as Pixabay or anywhere similar.
You can not list these images at Image marketplaces such as Adobe Stock, Freepik, CreativeMarket, CreativeFabrica or anything similar. Bailey Jalink owns all original creation rights and does NOT pass these on.
You can not use these images on Fiverr.
The Women's Health PLR Coloring Planner Designs is just for you if you're looking for a printable coloring page templates that can be used to create your own unique printables and profit! Perfect for you if you have a publishing business and are looking for new products or printables. Click the link below to learn more!
See The Dolphin PLR Coloring Designs Package For Yourself – Click Here
Other Products You Might Like