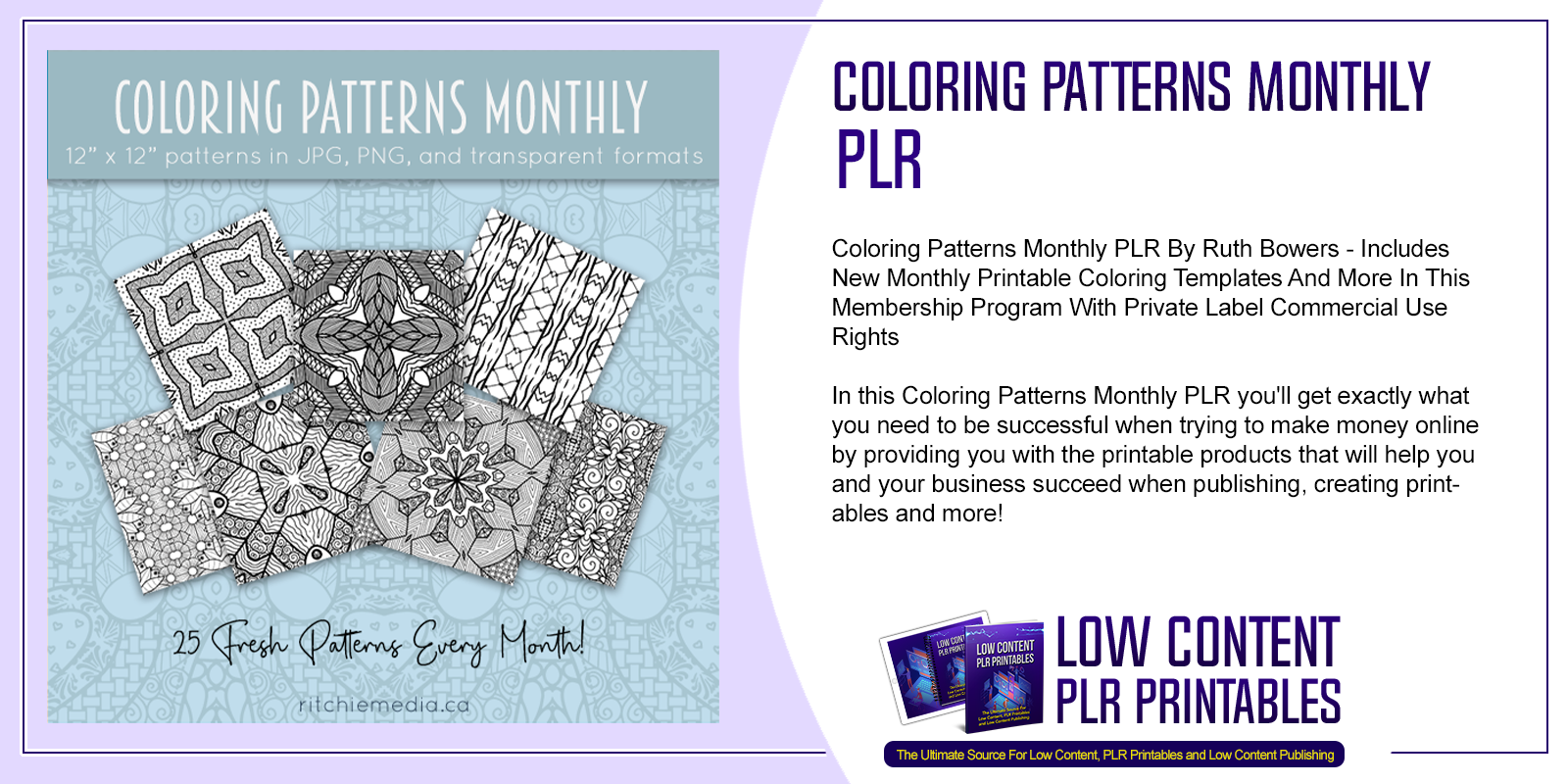 Choose Your Desired Option(s)
#ColoringPatternsMonthlyPLR #coloring #patterns #coloringpatterns #ruthbowers #ritchiemedia #membership #monthly #monthlyprintables #monthlymembership #monthlymembershipprogram #coloringpages #plrcoloringpages #plrprintables #commercialuserights #commercialuse #printablemembership #printables #lowcontentplr #printondemandplr #publishing #publish #selfpublish #printabletemplates
Coloring Patterns Monthly PLR By Ruth Bowers – Includes New Monthly Printable Coloring Templates And More In This Membership Program With Private Label Commercial Use Rights
In this Coloring Patterns Monthly PLR you'll get exactly what you need to be successful when trying to make money online by providing you with the printable products that will help you and your business succeed when publishing, creating printables and more!
Introducing The…
Coloring Patterns Monthly PLR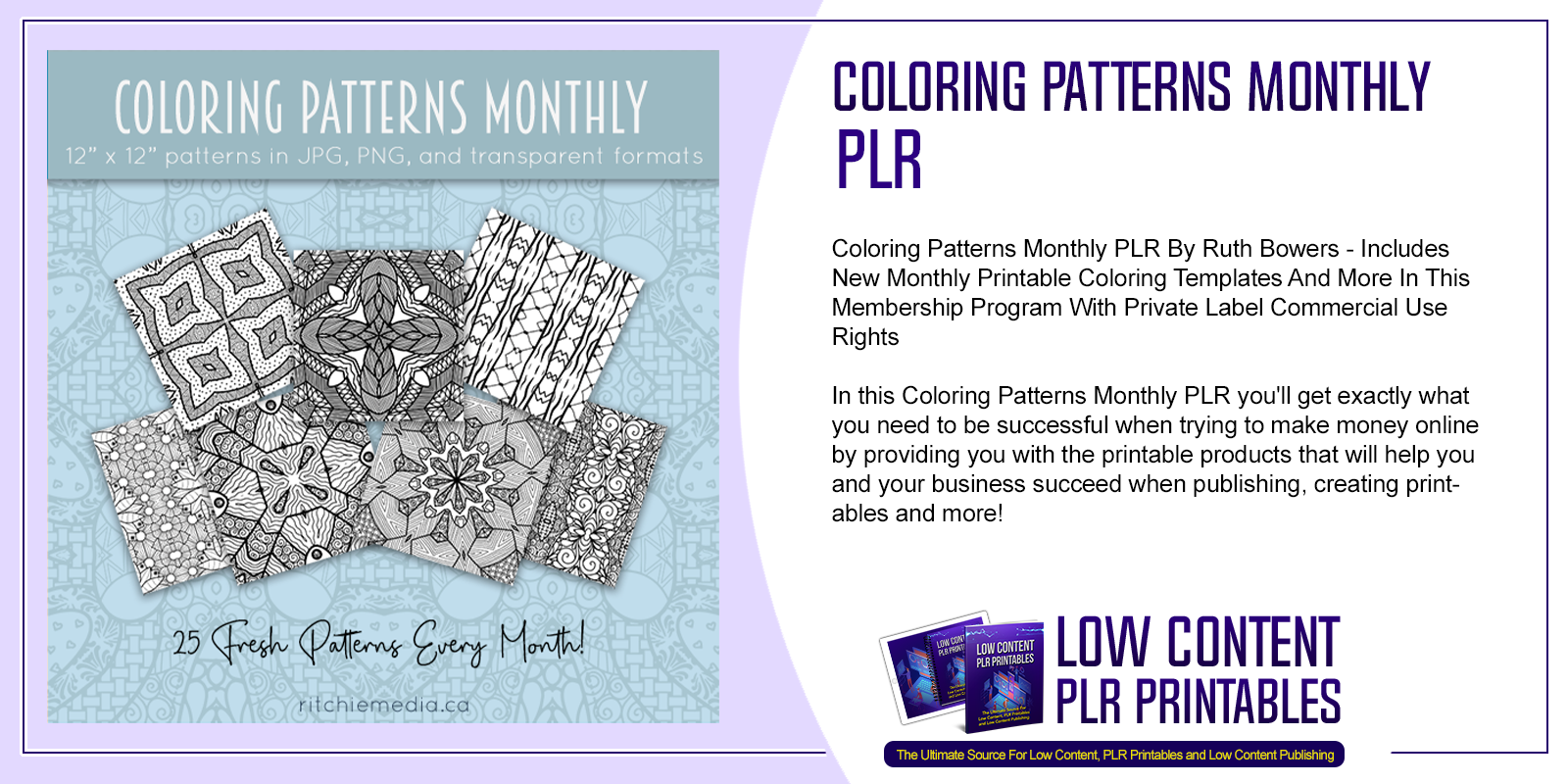 Here's what you'll get with this amazing Coloring Patterns Monthly PLR:
Get Fresh, Unique Patterns Every Month!
Are you looking for a fresh supply of coloring patterns for your projects?
The biggest problem with providing coloring and other low-content products is the time it takes to create the patterns and templates from scratch. So if that's not your idea of fun, you're in the right place!
Now you can grab 25 fresh, unique patterns each month for only $7 a month!
Each month you'll get 25 12″ x 12″ patterns in JPG, PNG, and transparent PNG formats. And they're all print ready at 300 d.p.i.
What Can You Do With These Patterns?
Mix and match the designs to create coloring books, planners and journals to sell or give away on your own site, or on platforms like Etsy, Shopify, etc.
Use them as fill to create new coloring pages
Use them on POD products such as mugs, cushions, and wall art
Add color to make completely new products for different niches
Add the pages to existing planners and journals to give your customers something unique
The commercial license allows you to use and reuse them as many times as you wish!
See The Coloring Patterns Monthly PLR For Yourself – Click Here
Commercial Use PLR License for Coloring Kits and Pages
[YES] Can edit and brand images as your own.
[YES] Can be used in books for sale on Amazon, as long as they are part of a design unique to you.
[YES] Can use for personal use.
[YES] Can sell as coloring books or coloring pages in PDF or print format.
[YES] Can use as opt-in gift
[YES] Can give away as bonuses – as long as in book or finished coloring page form.
[YES] Can use for print works such as mugs, mouse pads, and T-shirts.
[YES] Can add them as content to a PAID membership site, but NOT a Resell Rights or PLR membership site.
[YES] Can use for coloring books, journals, card decks, postcards, etc.
[YES] Can use to create MODIFIED designs to sell to clients and other authors. (You may NOT resell the original images as is.)
[NO] Can offer Private Label Rights.
[NO] Can offer Master Resell Rights.
[NO] Can offer Resell Rights.
[NO] Can share the source files with others.
[NO] Can be sold on Auction sites.
[NO] May not claim copyright.
[NO] Can not sell Digital Papers as is. They must be used as part of a finished and flattened product.
[NO] You can not sell our products as Fiverr Gigs, or on sites like Creative Fabrica, Creative Market, etc.
[NO] You can not use my name or website in connection with your products.
[NO] You can NOT pass on any rights other than personal use rights to your customers.
A PDF Copy of this License is included with your purchase
The Coloring Patterns Monthly PLR is perfect for those of you who want to generate new streams of income online and get amazing printable products that you can edit and sell for profit. When you purchase this membership get access to amazing printable products monthly to ensure your business succeeds!
See The Coloring Patterns Monthly PLR For Yourself – Click Here
Other Products You Might Like