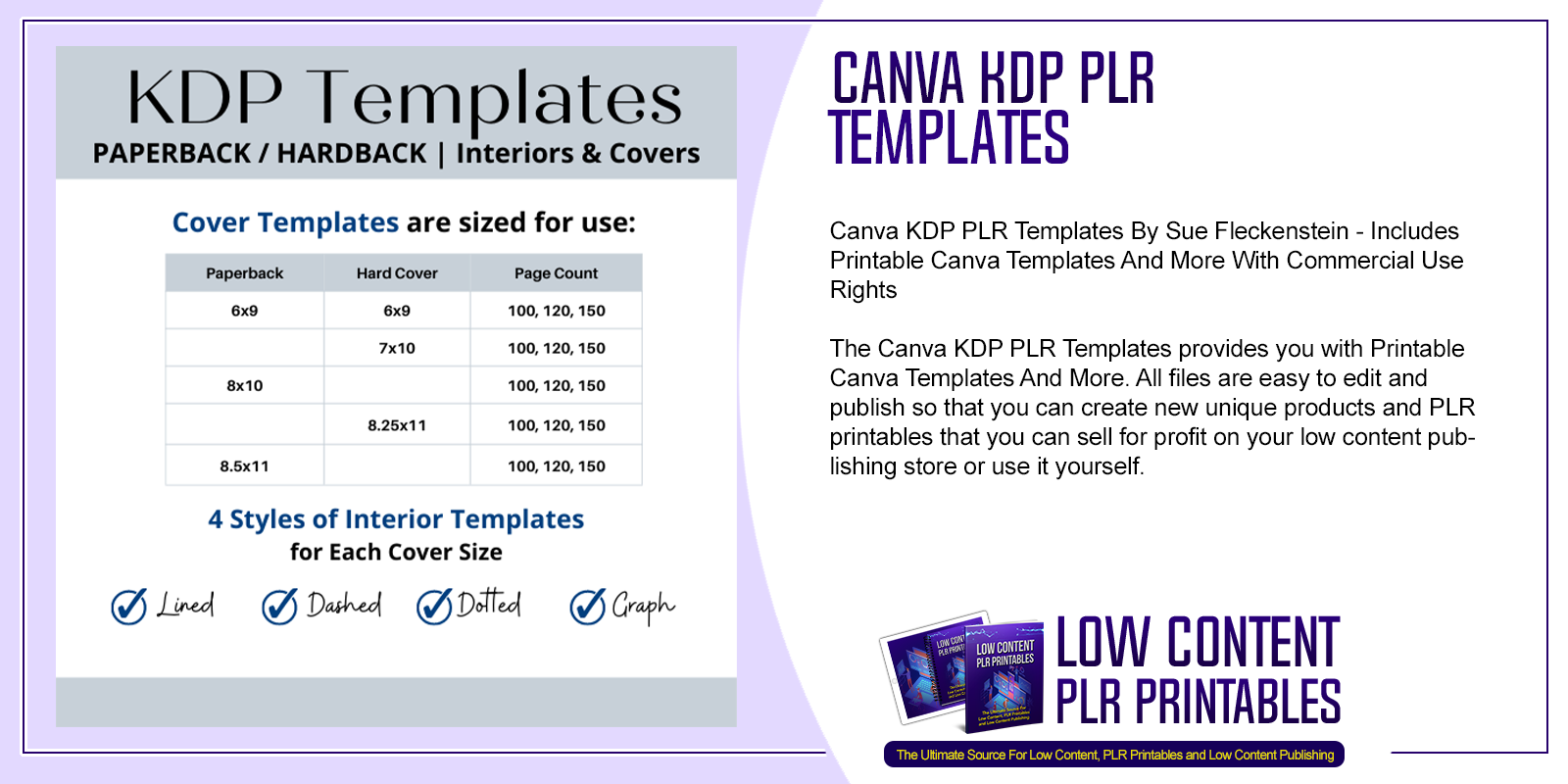 Choose Your Desired Option(s)
#CanvaKDPPLRTemplates #canvaKDP #plrtemplates #canvatemplates #canvaprintables #kdpprintables #suefleckenstein #plrprintabletemplates #plrprintables #lowcontentplr #printondemandplr #doneforyouplr #printablepages #Publishing #selfpublish #commercialuse #commercialuserights #publish #cover #Printablecovers #hardcover #graphics #dotted #printables
Canva KDP PLR Templates By Sue Fleckenstein – Includes Printable Canva Templates And More With Commercial Use Rights
The Canva KDP PLR Templates provides you with Printable Canva Templates And More. All files are easy to edit and publish so that you can create new unique products and PLR printables that you can sell for profit on your low content publishing store or use it yourself.
Introducing The…
Canva KDP PLR Templates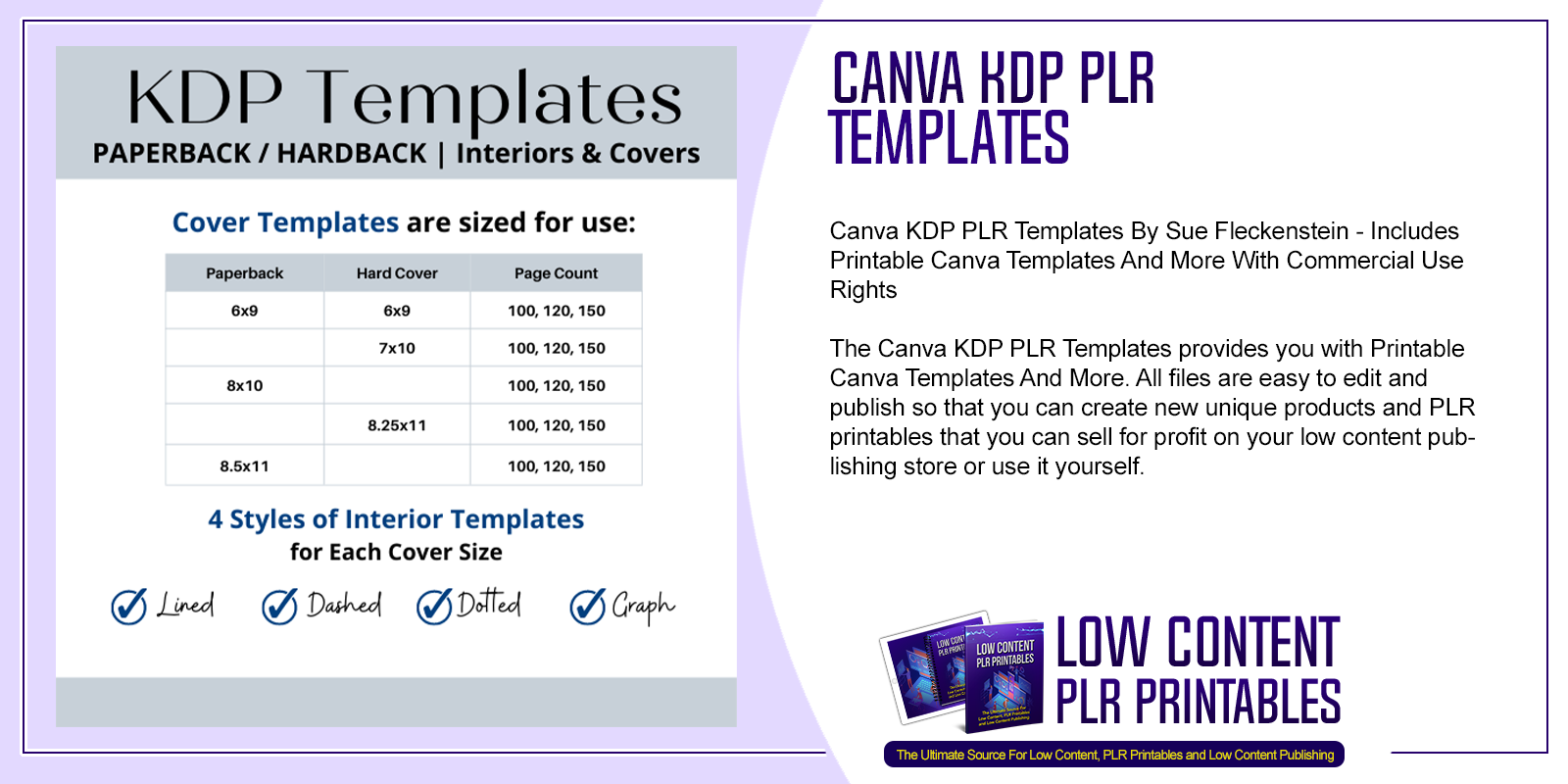 This is exactly what you could be getting in the Canva KDP PLR Templates:
4 Styles of Interiors for each cover size:
Lined
Dashed
Dotted
Graph
KDP Canva Templates
Commercial Use License for the Templates allows you to sell the journals you create. They need to be sold as PDF files and may not include any of the source files/Canva Templates.
Ready to use with 100 pages – Just add more in the PDF Version and Combine with any PDF Editor
69 Template Layouts:
Please note these layouts are designed for use as Non Bleed
Examples of the Canva Templates:
Hardcover Template
Paperback Template
You may use the graphics and papers to generate your final product, but may not give the original files or your modified file to your customers and clients. If they wish to edit the files then they will need to purchase their own copy.
Here's what's included for you today:
69 Canva Templates
Detailed Instructions on Using the Templates
Additional Notes & Tips
Commercial Use License for the Templates
See The Canva KDP PLR Templates For Yourself – Click Here
What are my license rights?
This Etsy Mockup Toolkit comes with Personal Use Rights only. Use the templates to create an unlimited number of images to use for your own products. You may use them on Etsy, Shopify, your own Website and Social Media.
The Canva KDP PLR Templates is just for you if you're looking for printable product templates that can be used to create your own unique printables when purchased and rebranded! You can also buy these printable templates to edit and sell on your store or use it for yourself. Perfect for you if you have a publishing business and are looking for new products or printables. Click the link below to learn more!
Get a special discount on the Createful Journals Beautiful PLR Journals and Printables Shop, use the coupon code below to save 20% off any products at CreatefulJournals.com.
MOZIESAVES20
See The Canva KDP PLR Templates For Yourself – Click Here
Other Products You Might Like