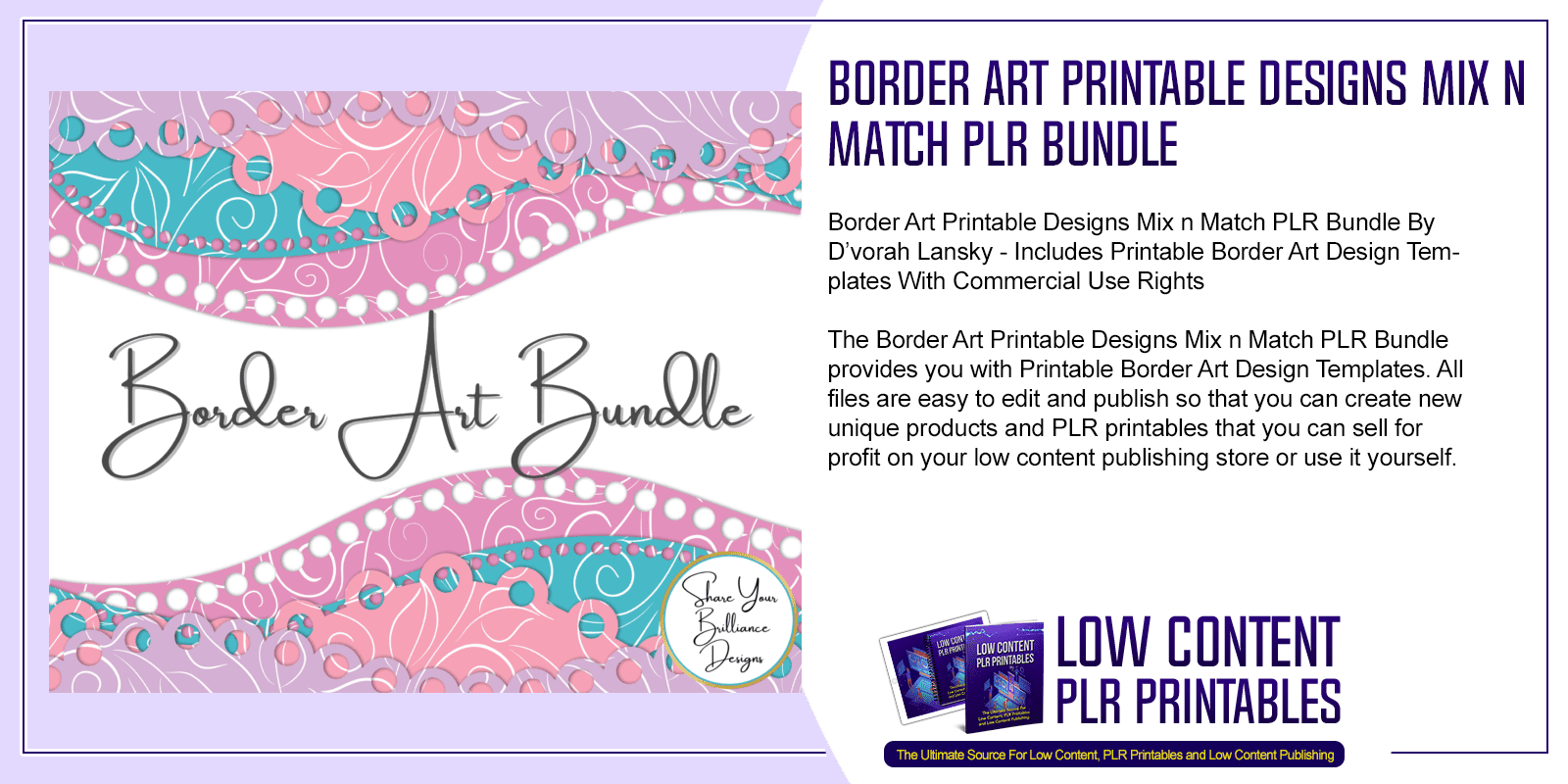 Choose Your Desired Option(s)
#BorderArt #PrintableDesigns #MixnMatch #PLRBundle #borderartprintables #borderartdesigns #borderdesigns #border #borderprintables #dvorahlansky #shareyourbrilliance #printables #printable #printablepages #printbabledesigns #graphics #printablegraphics #commercialuse #publish #selfpublish #printondemand #doneforyou #publishing #selfpublish #printablebundle #mixnmatchprintables #mixnmatchbundle
Border Art Printable Designs Mix n Match PLR Bundle By D'vorah Lansky – Includes Printable Border Art Design Templates With Commercial Use Rights
The Border Art Printable Designs Mix n Match PLR Bundle provides you with Printable Border Art Design Templates. All files are easy to edit and publish so that you can create new unique products and PLR printables that you can sell for profit on your low content publishing store or use it yourself.
Introducing The…
Border Art Printable Designs Mix n Match PLR Bundle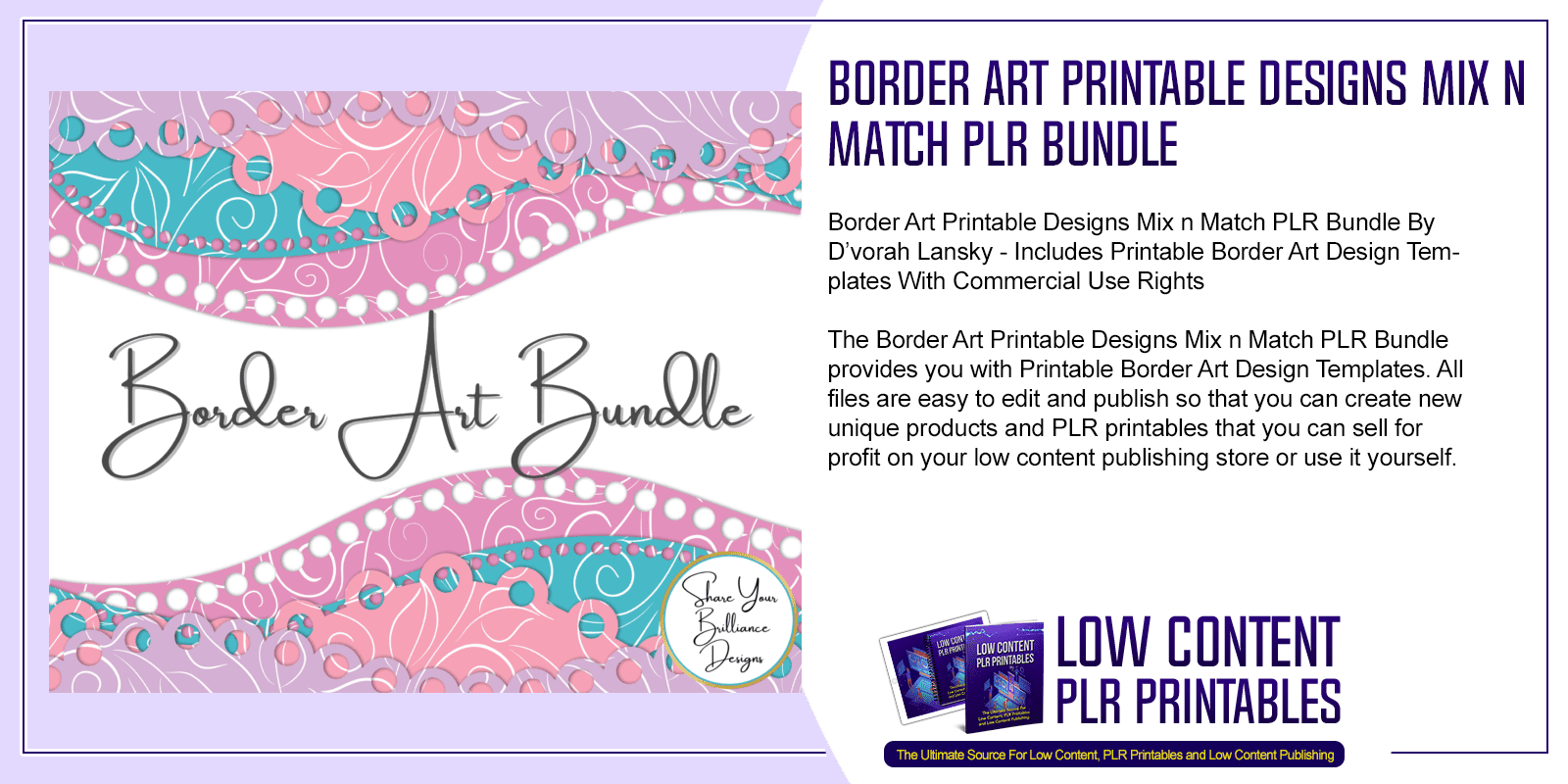 This is exactly what you could be Border Art Printable Designs Mix n Match PLR Bundle:
Here's What Comes in Your Bundle
The Lavenders Collection
The Corals Collection
The Pinks Collection
The Teals Collection
Each Collection Includes:
Eighteen – 8.5″ x 11″ PNG High Resolution Shapes
3 of the designs are multi-layered, to demonstrate what's possible.
Each image is adjustable and easy to resize for varying page dimensions.
All of the files are in PNG format with transparent backgrounds.
Here are some examples of just some of the types of products you can embellish, using these colorful designs…
Book Covers
Habit Trackers
Planner Covers
Digital Planners
Printable Planners
Wedding Invitations
Page Embellishments
Wall/Word Art Borders
And Much, Much More
Your border art designs can be used in many ways. Here are some getting started tips.
Open up the word processing or design program of your choice, such as PowerPoint, Keynote, Canva, Affinity, Photoshop and InDesign.
Create a new document in the size you prefer. The images in this product are currently at 8.5″ x 11″ however they can be easily resized to fit your page or design size.
The Border Art Designs can be used individually or you can layer them to create interest and dimension.
Use your Border Art Designs as top and/or bottom as well as left or right or left and right page borders.
These designs are ideal for embellishing pages as well as page elements such as: Tables, Boxes, Habit Trackers, Etc.
See The Border Art Printable Designs Mix n Match PLR Bundle For Yourself – Click Here
Terms and Conditions
This Product Includes Personal Use Rights and Commercial Use Rights. This means you can create products for your own use as well as products to sell. You may add to and/or edit the content in order to create your own products. This license is for your use, you may NOT grant commercial use rights to your customers.
You may use these designs to create new, completed products. However you may Not resell these elements as is or create a competing product from this collection. All items must be incorporated into a finished product, interlaced with other design elements, in a flattened JPG image or PDF format.
For example, YOU MAY use the border art for the planners, invitations, wall art, etc. products you create to use or sell, however YOU MAY NOT resell this product as a plain borders product that does not have additional content on the page.
The Border Art Printable Designs Mix n Match PLR Bundle is just for you if you're looking for printable designs bundle that can be used to create your own unique printables and profit! Perfect for you if you have a publishing business and are looking for new products or printables. Click the link below to learn more!
Get a special discount if you purchase products on the Share Your Brilliance PLR Planners and Journals Store, use the coupon code below to save 20% off ANY products at ShareYourBrilliance.com.
MOZIE20
See The Border Art Printable Designs Mix n Match PLR Bundle For Yourself – Click Here
Other Products You Might Like