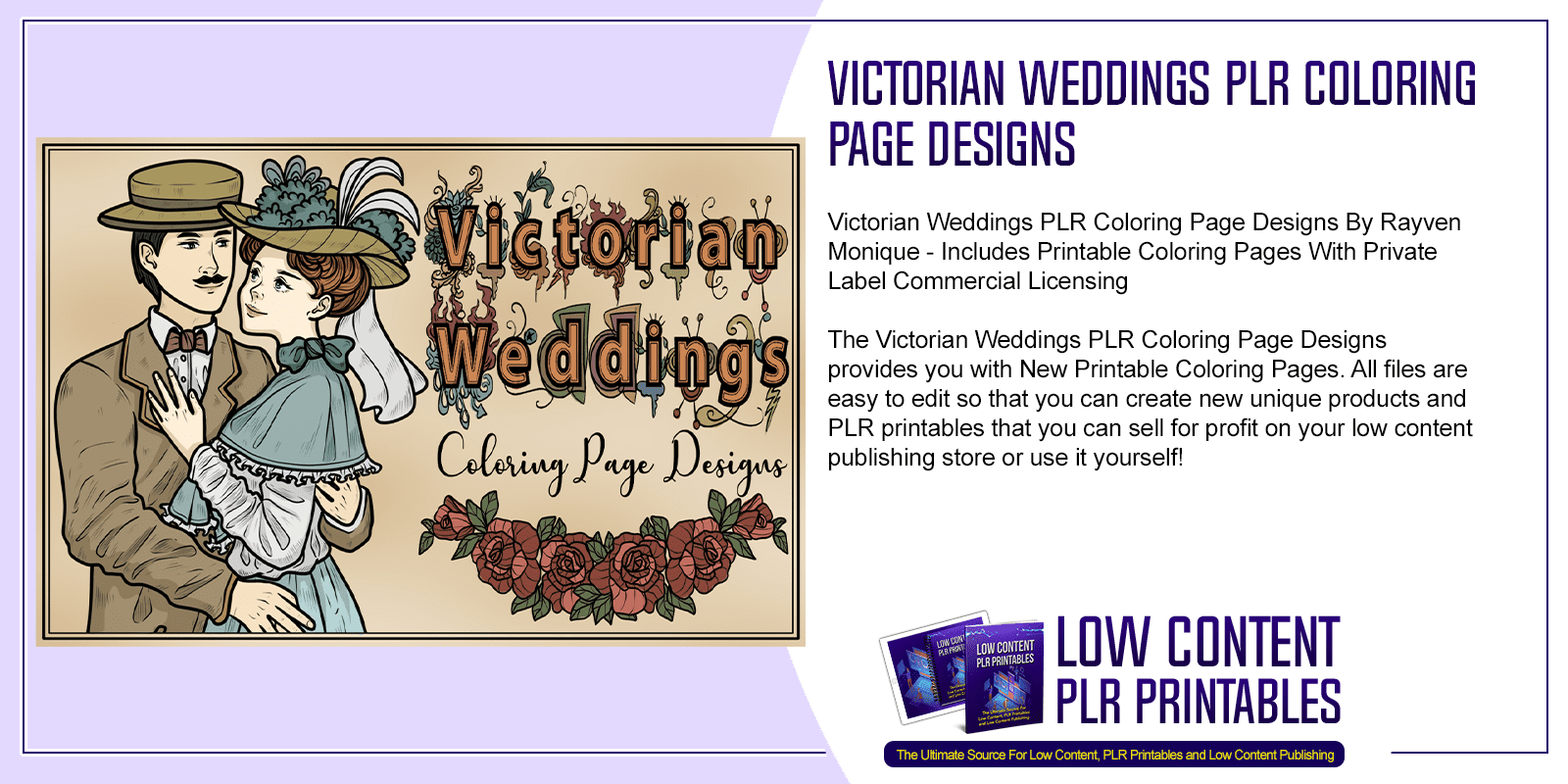 Choose Your Desired Option(s)
#VictorianWeddings #PLRColoringPageDesigns #plrcoloringpages #weddings #wed #wedding #plrcoloring #coloringprintables #plrcoloringbook #coloringpages #coloringdesigns #rayvenmonique #printablecoloringpages #printablecoloringbooks #privatelabelrights #commerciallicense #commercialuse #privatelabelrights #colormonthly #lowcontent #lowcontentplr #pages #digitalpages
Victorian Weddings PLR Coloring Page Designs By Rayven Monique – Includes Printable Coloring Pages With Private Label Commercial Licensing
The Victorian Weddings PLR Coloring Page Designs provides you with New Printable Coloring Pages. All files are easy to edit so that you can create new unique products and PLR printables that you can sell for profit on your low content publishing store or use it yourself!
Introducing The…
Victorian Weddings PLR Coloring Page Designs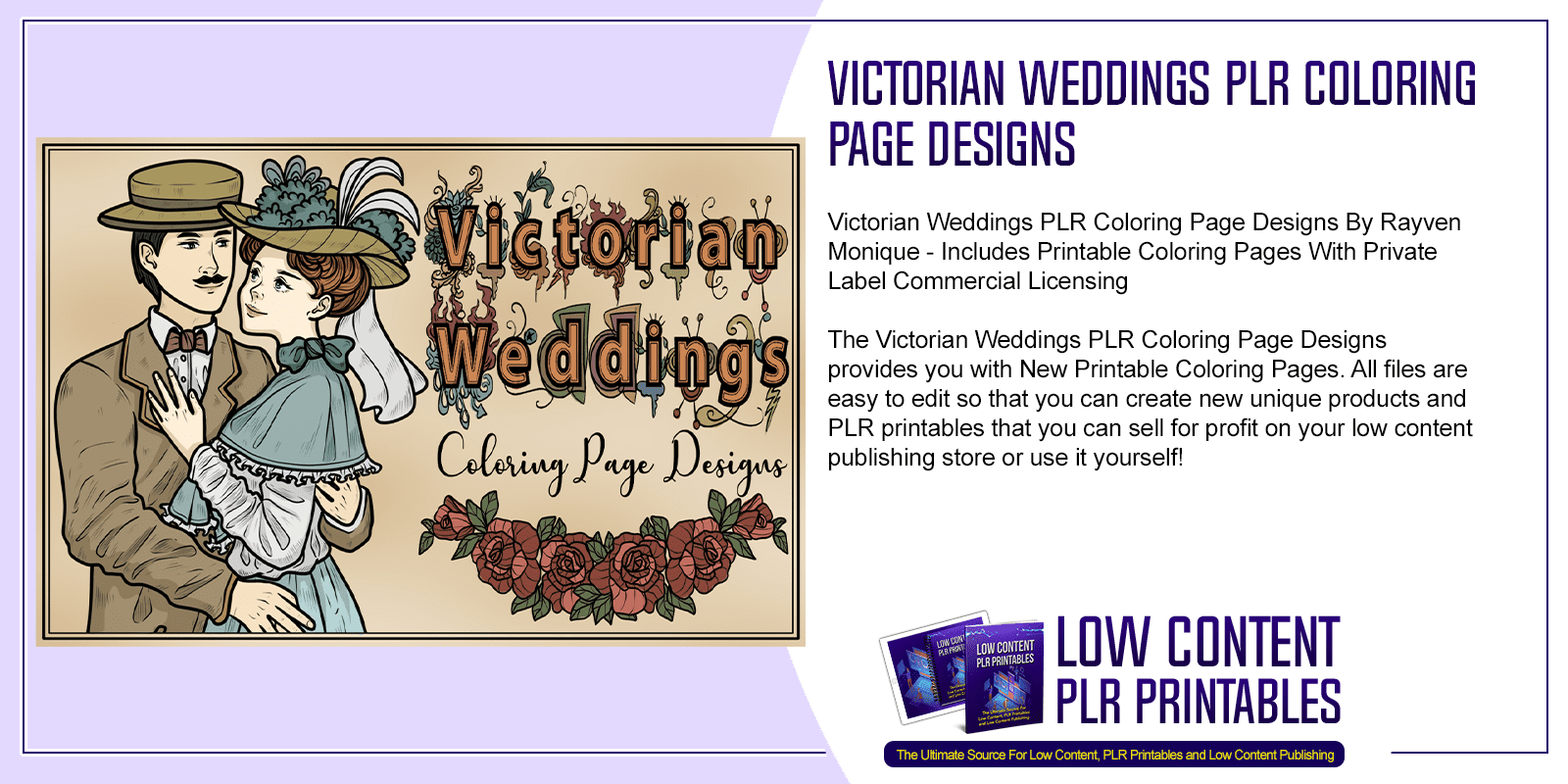 This is exactly what you will be getting in the Victorian Weddings PLR Coloring Page Designs:
This Bundle Includes The Following Beautifully Illustrated Old Fashioned Brides And Grooms Themed Coloring Pages:
"Life is the flower for which love is the honey." -Victor Hugo
"There is no charm equal to tenderness of the heart." -Jane Austen
"There is only one happiness in this life, to love and be loved." – George Sand
"We are most alive when we are in love." – John Updike
"O my Luve's like a red, red rose. That's newly sprung in June; my Luve's like the melodies. That's sweetly played in tune." – My Love Is Like a Red, Red Rose
by Robert Burns
"Being deeply loved by someone gives you strength, while loving someone deeply gives you courage." -Lao Tzu
Young Bride With Bouquet
Bride With Flowers Seated By Curtains
Couple Walking Down The Aisle
Groom Presents Bride With A Rose
"Love is composed of a single soul inhabiting two bodies." -Aristotle
"Love is the whole thing. We are only pieces." – Rumi
Bride On Bench Accepts Rose From Young Girl
"To love and be loved is to feel the sun from both sides." – David Viscott
"Incomplete, if not for you." – Joanna Fuchs
Young Man In Love Presents Arm For Dance
Bride Writing Letters As Groom Surprises Her With Flowers
"Love is an irresistible desire to be irresistibly desired." -Robert Frost
Young Woman Walking With Parasol
Image Of Young Couple On Easel
"Keep me in your heart. So that we will never part." – Love of My Life by Jennifer Betts
Young Couple Carves Heart Into Tree
"I imagined my true love; A perfect match, a soulmate, An angel from above." – Idle Dreams by Joanna Fuchs
Couple Strolling Through The Woods
Couple Engaged In Wedding Dance
"Love does not dominate; it cultivates." -Johann Wolfgang Von Goethe
Craft Tag Of Couple With Picnic Basket
"I love her and it is the beginning of everything." -F. Scott Fitzgerald
Portrait Of Young Woman Wearing Roses
Scroll Of Young Man Sneaking A Kiss
All files in PDF and JPG.
Private Label Rights!
See The Victorian Weddings PLR Coloring Page Designs For Yourself – Click Here
What you can do with ColorMonthly.com PLR Content:
Alter/rebrand the pages/elements of the pages in any way
Create merchandise with the pages/elements of the pages
Create a membership site selling coloring pages
Sell the coloring pages as a package, or element of a larger package/product
Offer pages as a bonus for a paid product or membership
Offer pages as a resource within a paid membership
Offer the pages as a bonus for paying clients
Print the pages and give them away to customers or members in person
Print the pages and sell them to customers or members in person
Offer the pages as an optin resource
What you can't do with ColorMonthly.com PLR Content:
You may NOT use Color Monthly's name (or Rayven's, for that matter).
You may NOT publish the content for free on the web. (this protects everyone's investment)
You may NOT resell the PLR rights to any images in any package.
The Victorian Weddings PLR Coloring Page Designs is just for you if you're looking for amazing new PLR printable coloring pages that can be used to create your own unique printables when purchased and rebranded! You can also buy these printable pages to sell on your store or use it for yourself. Perfect for you if you have a publishing business and are looking for new products or a printable pack. Click the link below to learn more!
See The Victorian Weddings PLR Coloring Page Designs For Yourself – Click Here
Other Products You Might Like