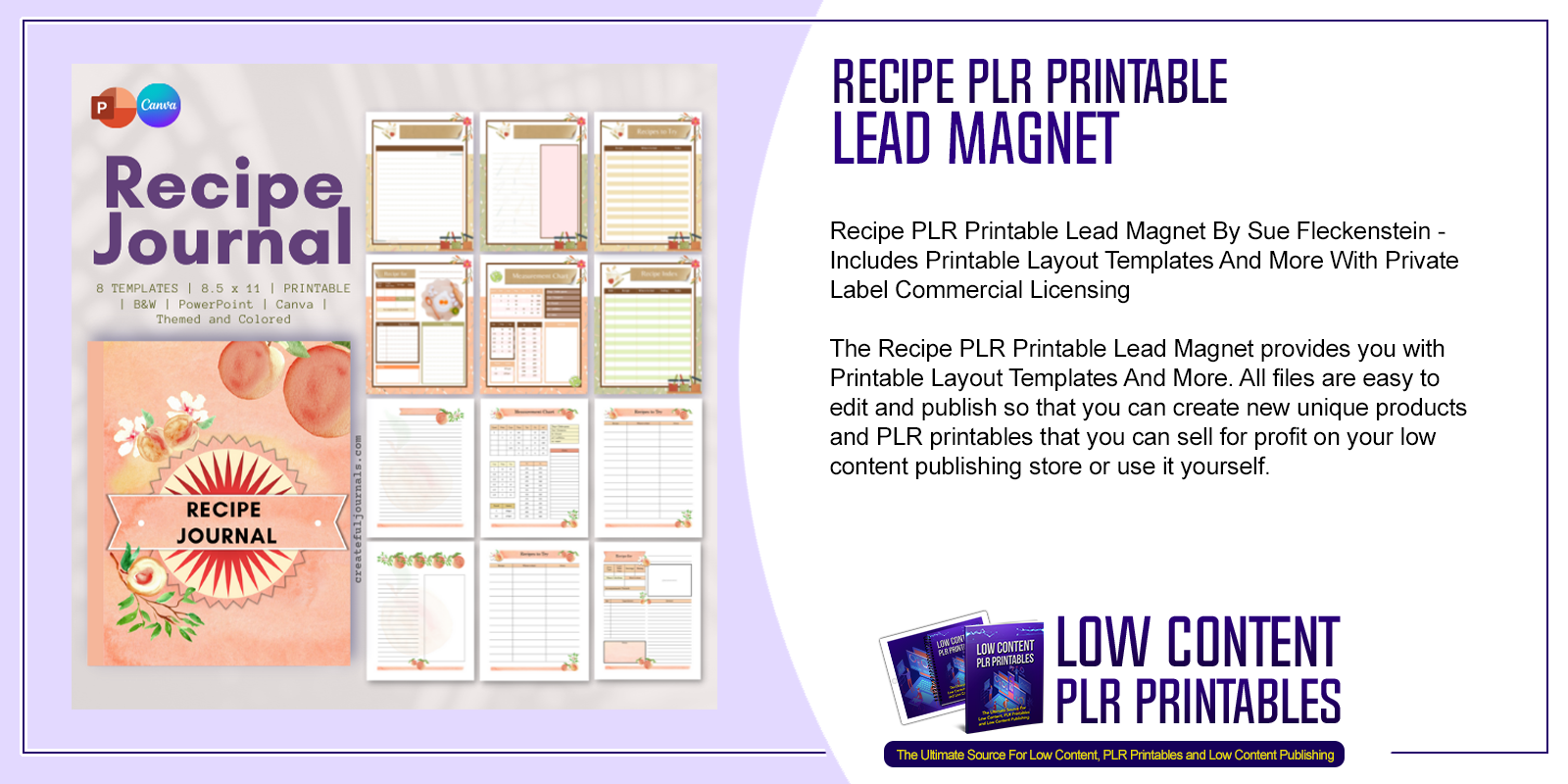 Choose Your Desired Option(s)
#Recipe #PLRPrintable #LeadMagnet #recipeprintables #printable #printables #printableleadmagnet #publish #suefleckenstein #printablelayouts #createfuljournals #printablepages #digitalpages #commecialuse #commercialuserights #lowcontentpublishing #selfpublish #plrjournal #journalpages #plrjournalpages #layouts #printablelayouts
Recipe PLR Printable Lead Magnet By Sue Fleckenstein – Includes Printable Layout Templates And More With Private Label Commercial Licensing
The Recipe PLR Printable Lead Magnet provides you with Printable Layout Templates And More. All files are easy to edit and publish so that you can create new unique products and PLR printables that you can sell for profit on your low content publishing store or use it yourself.
Introducing The…
Recipe PLR Printable Lead Magnet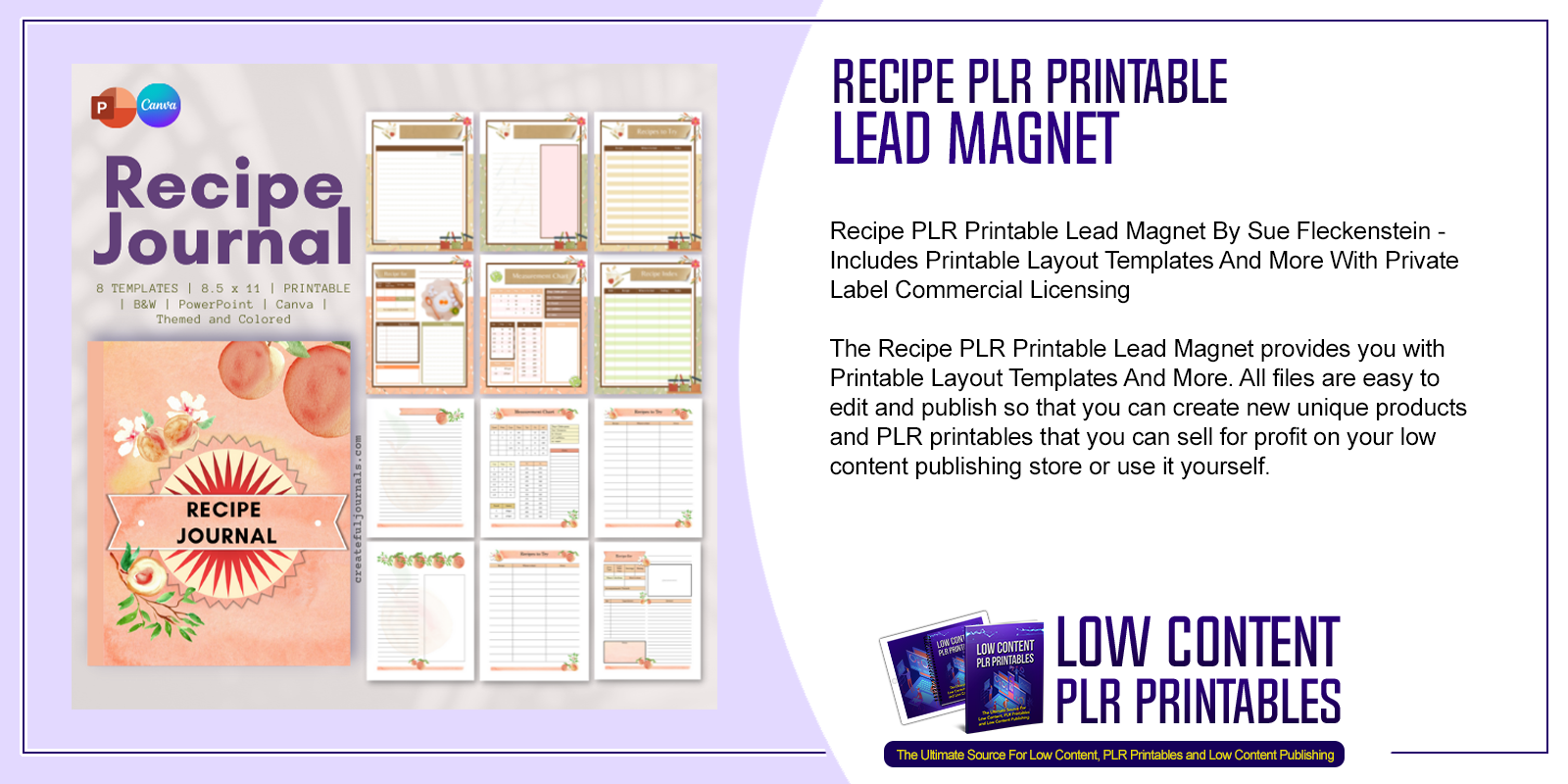 Here's what you'll learn with this amazing Easter Bible Story PLR Coloring Pack:
Here's What's Included:
You get editable PowerPoint files, so you can easily re-brand with your own graphics and colors if you wish, or just use as is.
8.5 x 11 inch size
8 page layouts
Full Color, Black & White + Minimalist
1 Cover/Divider Page – JPG Files
Canva Template
Commercial Use License
How to Use These Templates
Edit and brand them to suit your business needs or niche.
We have provided you various layouts of templates that fit this market.
Here's a few ideas on how to customize these templates:
Use as a Lead Magnet to sell or build your own list
Edit the templates and then save pages as JPGs to create a Digital Planner
Create a new full length Recipe Journal based on the content
Add quotes, journal pages
Include Mandalas and coloring pages
Use the cover page as a background instead of a cover
Sell as a Printables Pack on Etsy or in your Shopify Store
Now you have your own product you can:
Sell it to other business owners with personal use rights
Create new versions to publish on platforms like Amazon or Lulu
Give sample pages of it to your customers & clients
Use portions to build your list
Create New Templates & sell as Printables in your Etsy or Shopify Store – PDF's only
See The Recipe PLR Printable Lead Magnet For Yourself – Click Here
What you can do with CreatefulJournals.com PLR Journal Content:
You MAY create an Unlimited number of products for your own personal use
You MAY create an Unlimited number of products to sell as a PDF version [printable] in your Etsy or Shopify Store, or on your own website – applies to the new products YOU have CREATED – YOU MAY only sell these with personal use rights.
You MAY create products to sell on Amazon or other self-publishing sites.
What can't you do with CreatefulJournals.com PLR Journal Content:
You MAY NOT sell or give away any of the source documents such as the Word Docs or Powerpoint Slides.
You MAY NOT sell these products on sites such as Creative Fabrica, Design Bundles etc
You MAY NOT sell any of their products as a Gig on Fiverrr.
You MAY NOT use their name or website in connection with your products.
The files DO NOT come with private label rights or resell rights of any kind.
You MAY NOT give your customers any type of COMMERCIAL LICENSE or RESELL RIGHTS with their products – they are for personal use only.
The Recipe PLR Printable Lead Magnet if you're looking for amazing printable template layouts. You can buy it for your own use or simply sell it on your own publishing store with your branding to profit! Click the link below to learn more.
Get a special discount on the Createful Journals Beautiful PLR Journals and Printables Shop, use the coupon code below to save 20% off any products at CreatefulJournals.com.
MOZIESAVES20
See The Recipe PLR Printable Lead Magnet For Yourself – Click Here
Other Products You Might Like