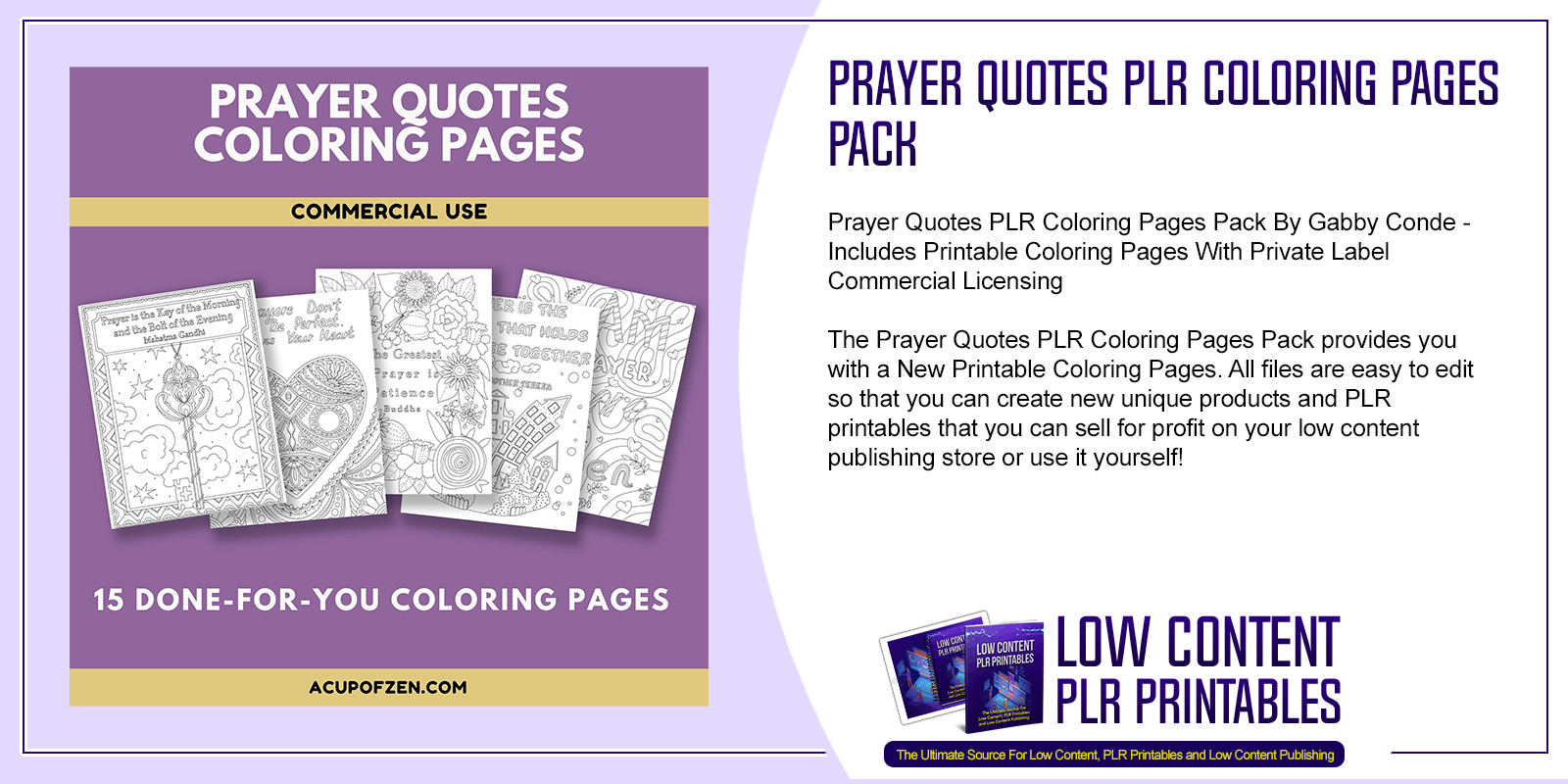 Choose Your Desired Option(s)
#PrayerQuotes #PLRColoringPages #Pack #prayer #religious #pray #quotes #quotedpages #coloringpages #plrcoloringbooks #coloringbooks #plrprintables #Printables #Printable #commercialuse #commerciallicense #privatelabelrights #printablepages #printablecoloringpages #printablescoloring #coloring #publishing #selfpublish #publishign #gabbyconde #acupofzen
Prayer Quotes PLR Coloring Pages Pack By Gabby Conde – Includes Printable Coloring Pages With Private Label Commercial Licensing
The Prayer Quotes PLR Coloring Pages Pack provides you with a New Printable Coloring Pages. All files are easy to edit so that you can create new unique products and PLR printables that you can sell for profit on your low content publishing store or use it yourself!
Introducing The…
Prayer Quotes PLR Coloring Pages Pack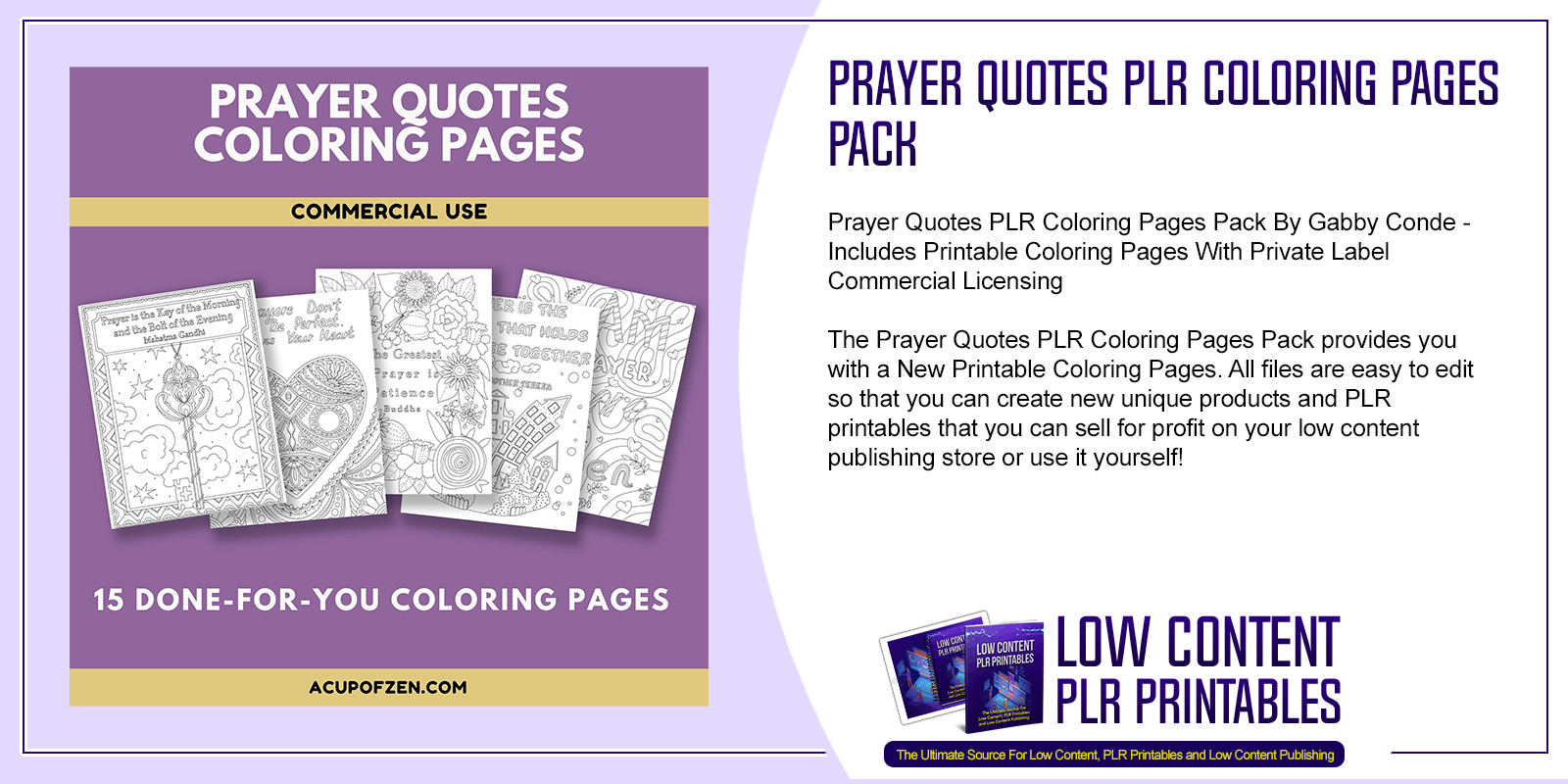 This is exactly what you will be getting in the Prayer Quotes PLR Coloring Pages Pack:
This Done-For-You Package Includes:
15 Coloring Pages
PNG & PDF Format, 300 DPI
8.5″ x 11″ size
PLR / Commercial Use Rights
Word Sayings And Quotes Include:
When the World Pushes You to Your Knees, You're in the Perfect Position to Pray – Rumi
Prayer is the Key of the Morning and the Bolt of the Evening – Mahatma Gandhi
Prayer is the Mortar that Holds Our House Together – Mother Teresa
The Greatest Prayer is Patience – Buddha
How Can You Use the Prayer Quotes Coloring Pages Pack?
Get more traffic with opt-ins
Attract your ideal clients looking to fix their mindset
Sell your own products (Coloring Pages, Journal, Planner)
Help clients with this topic in coaching sessions
Give Coloring Pages to Your Clients Who Are Changing Their Mindset
Create your products faster
See The Prayer Quotes PLR Coloring Pages Pack For Yourself – Click Here
The Prayer Quotes PLR Coloring Pages Pack Licensing Terms:
Can Be Used In Commercial Projects
Sell pages individually, in a coloring book, in a planner, journal, or any other end product you want to list for sale
Cannot Pass On, Sell or Give Away These with PLR Rights, Commercial Use, or Master Resell Rights
The Prayer Quotes PLR Coloring Pages Pack is just for you if you're looking for amazing new PLR printable coloring pages that can be used to create your own unique printables when purchased and rebranded! You can also buy these printable pages to sell on your store or use it for yourself. Perfect for you if you have a publishing business and are looking for new products or a printables bundle. Click the link below to learn more!
Here's a coupon to get 50% off any products from Acupofzen.com
mozie
See The Prayer Quotes PLR Coloring Pages Pack For Yourself – Click Here
Other Products You Might Like