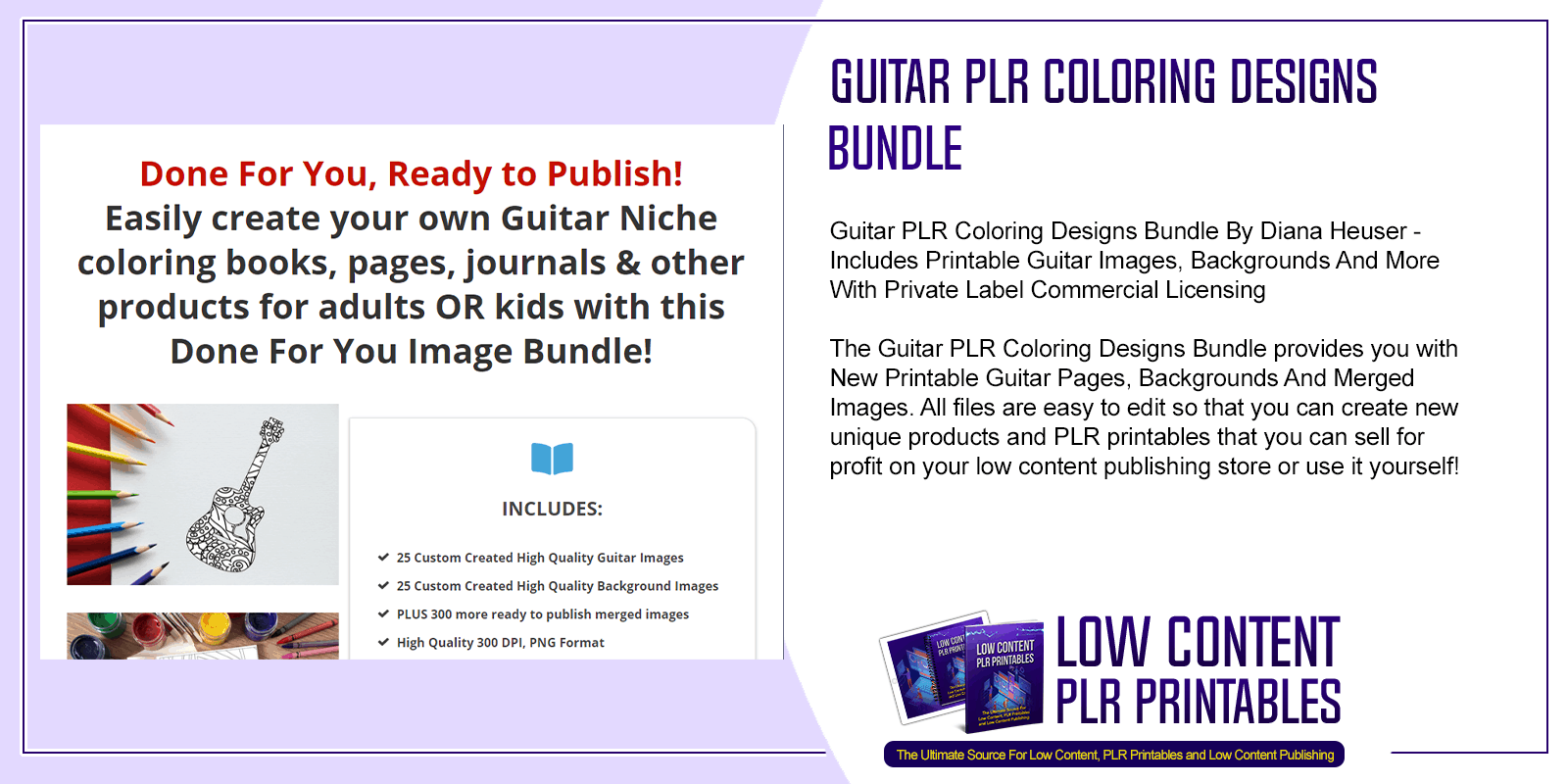 Choose Your Desired Option(s)
#GuitarPLR #ColoringDesignsBundle #guitarprintables #guitarplrprintables #plrprintables #coloring #coloringpages #coloringdesigns #coloringprintables #coloringbooks #digitalpages #publish #publishing #selfpublish #commercialuse #commerciallicense #privatelabelrights #amberjalink #incomesleuth #background #backgroundimages #mergedimages #designs #graphics #pages #images
Guitar PLR Coloring Designs Bundle By Amber Jalink​ – Includes Printable Guitar Images, Backgrounds And More With Private Label Commercial Licensing
The Guitar PLR Coloring Designs Bundle provides you with New Printable Guitar Pages, Backgrounds And Merged Images. All files are easy to edit so that you can create new unique products and PLR printables that you can sell for profit on your low content publishing store or use it yourself!
Introducing The…
Guitar PLR Coloring Designs Bundle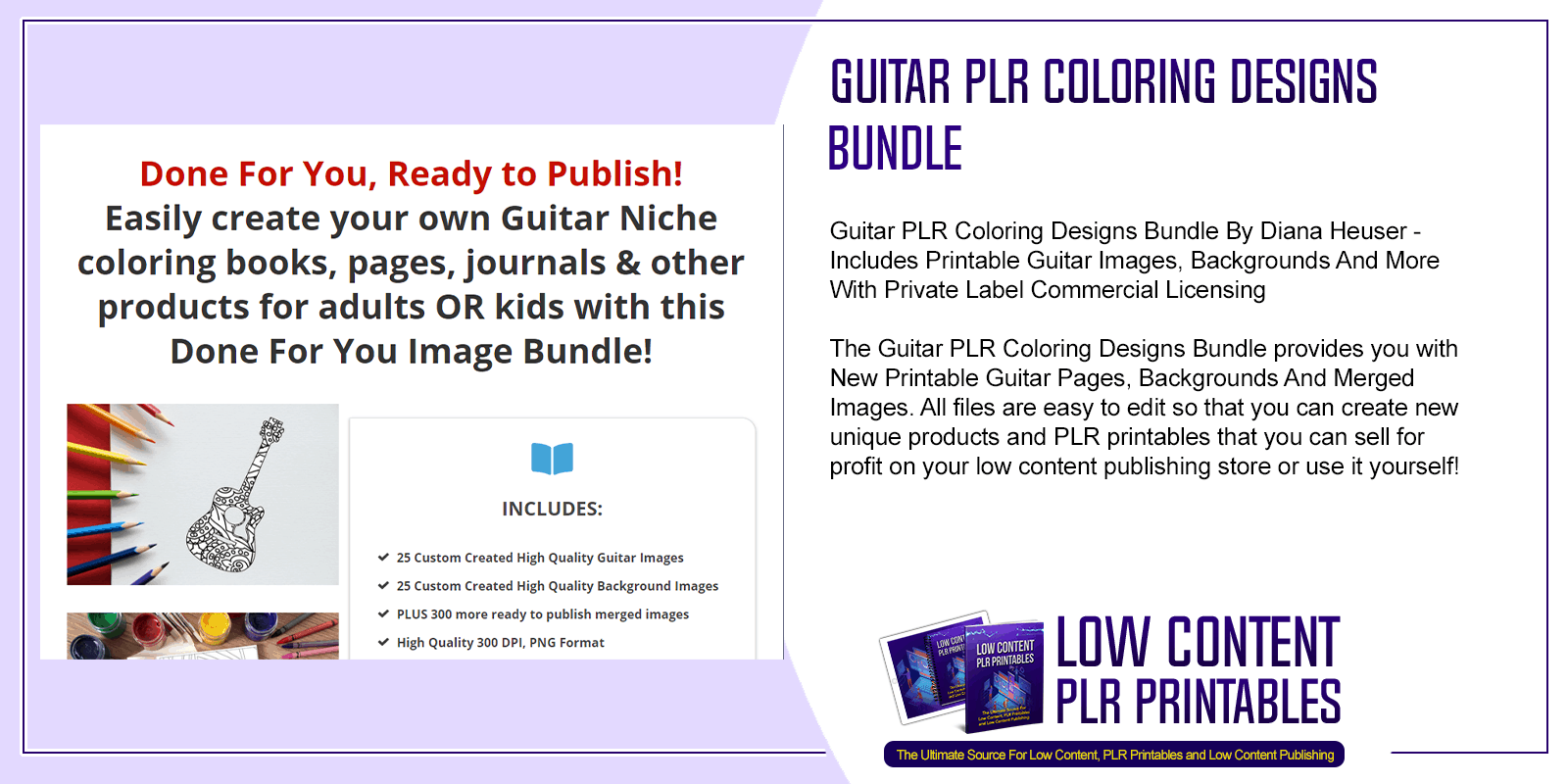 This is exactly what you will be getting in the Guitar PLR Coloring Designs Bundle:
25 Custom Created High Quality Guitar Images
25 Custom Created High Quality Background Images
PLUS 300 more ready to publish merged images
High Quality 300 DPI, PNG Format
Unlimited Print on Demand License
PLR Commercial Use License
Here's just a few ideas you can use to profit from:
Create Adult OR kids coloring books with just the guitar images.
Create adult OR kids coloring books with just the background images.
MERGE the guitar images ONTO the background images. You can literally create 25 of EACH guitar with all backgrounds, essentially giving you 625 images to put into books!
Take the guitars and put them on mugs, hats, signs, or any other print on demand type product.
Sell these as printables, not just full coloring books. (You can sell 5 for $1.99 or more on Etsy!)
Use these images in any combination and create NAME SIGNS or Posters (hint – kids!!) for their rooms.
Turn these into journals with a guitar image on the bottom of each page, on half the page, or even with one page the coloring, and one page the journal. (If it's on the same page, you could keep the same guitar on every page, and have 25 variations of your journals! Just make them a bit different position wise etc.).
Make motivational quotes with the coloring images, or a gratitude journal.
Create a prompt journal, perhaps targeted to someone who wants to learn (or loves to play) guitar.
See The Guitar PLR Coloring Designs Bundle For Yourself – Click Here
The Guitar PLR Coloring Designs Bundle Licensing Terms:
You can create as many products as you'd like and sell them on Amazon KDP, Etsy, or wherever you'd like an unlimited number of times.
You have unlimited commercial usage rights to sell as many completed products as you'd like.
You can use these images "as is" or combine to create as many possible variations as you wish.
You can modify these and create other variations by adding other backgrounds or adding new tiling and all rights above apply.
You can give these away as lead magnets (free downloads if you wish) in the form of printables, on your website, social media etc., providing it is clear it is personal use only, and is in PDF format. (You cannot simply supply the raw/base png images).
Yes you can use these in coloring clubs or for schools (if you are a teacher for example), you may distribute these as printables.
Yes you can use these images in videos as well if you wish to use for examples of creating books or other content.
You can not give the image png files away to anyone. The images must be in a compiled or compressed format (i.e., on a mug, on a shirt, or on a printable PDF), not as a png itself. This also means, you cannot convert them to svg or jpg to sell the images in any form other than pdf or on a POD product.
You can not use their name, Amber Jalink, or DIME Consultants Inc. in any of your products, or imply that you are associated with us. (PLR means it has your name, not ours).
You can not sell these images with PLR rights, resell rights, or master resell rights in any way. (A special license is required for that and is NOT included).
You can not upload these images to any file sharing site such as Pixabay or anywhere similar.
You can not list these images at Image marketplaces such as Adobe Stock, Freepik, CreativeMarket, CreativeFabrica, or similar. I own the original creation rights and do not pass those on.
You can not use these images on Fiverr.
The Guitar PLR Coloring Designs Bundle is just for you if you're looking for amazing new PLR printable pages and background images that can be used to create your own unique printables when purchased and rebranded! You can also buy these printables to sell on your store or use it for yourself. Perfect for you if you have a publishing business and are looking for new products or a printable pack. Click the link below to learn more!
See The Guitar PLR Coloring Designs Bundle For Yourself – Click Here
Other Products You Might Like