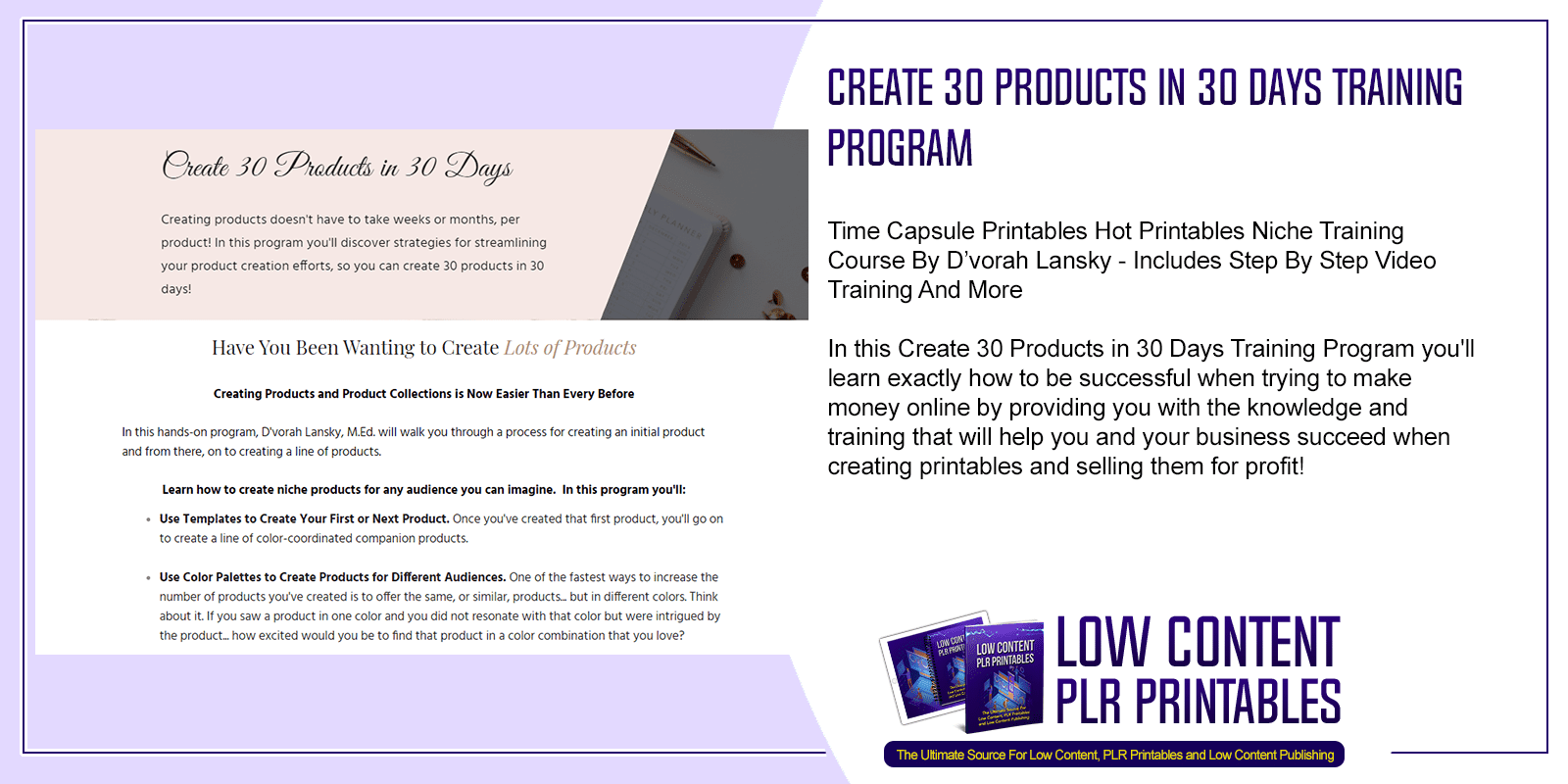 Choose Your Desired Option(s)
#CreateProducts #in30Days #Training #Program #course #dvorahlansky #shareyourbrilliance #hotprintables #indemandprintables #lowcontentplr #lowcontent #lowcontentpublishing #stepbystep #videotraining #printables #plrprintables #printablescourse #printablesvideotrianing #coachingprogram #creatingprintables #printablescreation
Time Capsule Printables Hot Printables Niche Training Course By D'vorah Lansky – Includes Step By Step Video Training And More
In this Create 30 Products in 30 Days Training Program you'll learn exactly how to be successful when trying to make money online by providing you with the knowledge and training that will help you and your business succeed when creating printables and selling them for profit!
Introducing The…
Create 30 Products in 30 Days Training Program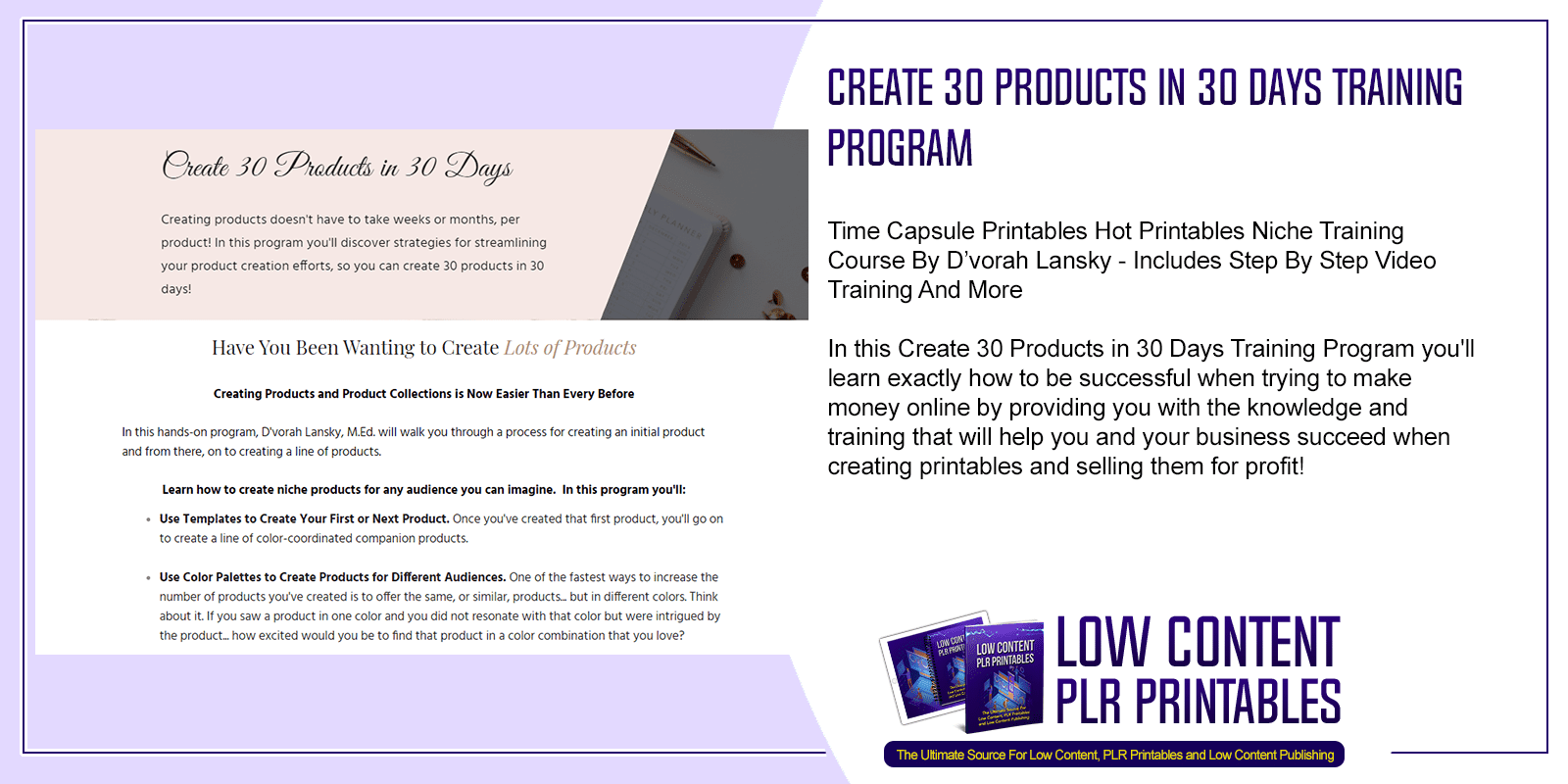 Here's what you'll learn with this amazing Create 30 Products in 30 Days Training Program:
Learn how to create niche products for any audience you can imagine. In this program you'll:
Use Templates to Create Your First or Next Product. Once you've created that first product, you'll go on to create a line of color-coordinated companion products.
Use Color Palettes to Create Products for Different Audiences. One of the fastest ways to increase the number of products you've created is to offer the same, or similar, products… but in different colors. Think about it. If you saw a product in one color and you did not resonate with that color but were intrigued by the product… how excited would you be to find that product in a color combination that you love?
Take Action in a Productive Environment. In this take-action program, you'll receive training PLUS you'll have built in time to take action, work on your products, get feedback and receive answers to your specific questions.
Create Display Images and Prepare Your Products to Sell. In addition to learning how to create and batch products, you'll also learn how to create attractive display images and prepare your products to be sold!
Here are Just a Few Examples of What You Can Create
The types of products we'll be primarily creating are "printable products" (such as journals, planners, notebooks, etc.) However, you are welcome to create any type of product you'd like.
Each time you create a product, you do not have to recreate the wheel. In this program you'll create your first (or next) product and then develop a color-coordinated product collection, that you can transform into countless other products. You can create:
Products for Entrepreneurs
Products for Success Seekers
Products for Animal Lovers
Products for Creatives
Products for Foodies
Products for Coffee Lovers
Products for Educators
Products for Students & Parents
Products for Authors
Products for Artists
Products for Nature Buffs
Products for… (fill in the blank)
What Types of Products Would You Like to Make?
Get ready to explore creative ways to create more products.
Streamline & Batch Activities
An effective way to increase your product line is to identify the various aspects of a product and then batch activities to create multiple products.
Fast Track Productivity
In this program you'll also discover ways to use templates to fast-track your productivity while creating more products. Your templates can be transformed in multiple ways. You'll discover many of them in this course.
See The Create 30 Products in 30 Days Training Program For Yourself – Click Here
Special Bonuses:
Bonus #1 Product Creation Templates
Use these templates to create an unlimited number of products! Includes commercial use rights!
Bonus #2
200+ Product Ideas. This list of product ideas demonstrates how you can take one idea and turn it into many.
Bonus #3
File Folder Structure. A set of computer folders to help you streamline your product creation activities.
The Create 30 Products in 30 Days Training Program is perfect for those of you who want to generate new streams of income online and learn how to create and sell printables online for profit. When you purchase this course get access to amazing training and more to educate yourself and ensure your business succeeds!
See The Create 30 Products in 30 Days Training Program For Yourself – Click Here
Other Products You Might Like