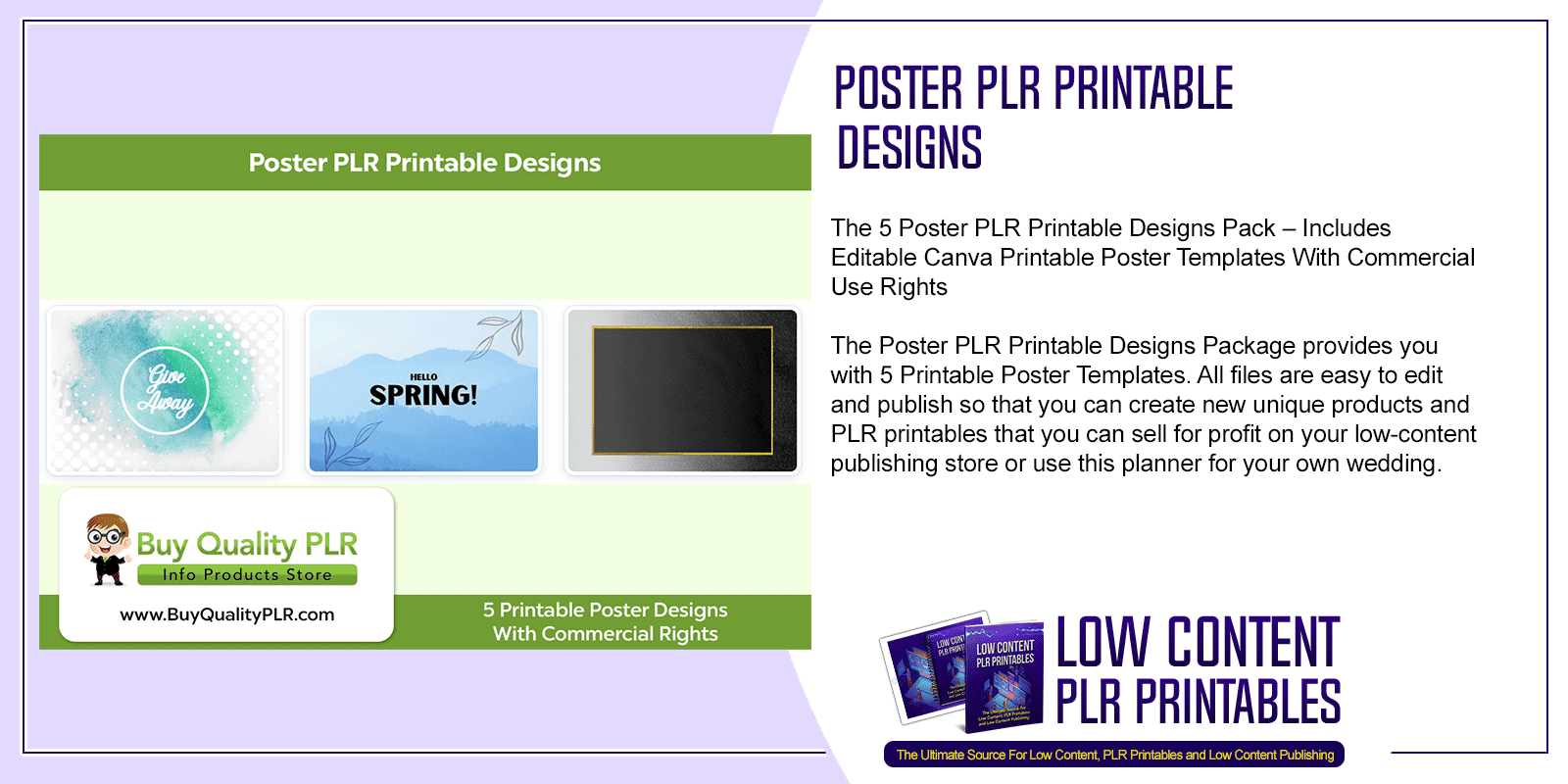 Choose Your Desired Option(s)
#PosterPLRPrintableDesigns #posterplr #plrposters #posterplrprintable #posterdesigns #graphics #plrgraphics #canvatemplate #canvaeditable #printableposter #buyqualityplr #canvaprintables #poster #posterprintables #graphicstemplates #publish #commercialuse #commercialuserights #printablepages #printabledesigns #postertemplates #printabletemplates
The 5 Poster PLR Printable Designs Pack – Includes Editable Canva Printable Poster Templates With Commercial Use Rights
The Poster PLR Printable Designs Package provides you with 5 Printable Poster Templates. All files are easy to edit and publish so that you can create new unique products and PLR printables that you can sell for profit on your low-content publishing store.
Introducing The…
Poster PLR Printable Designs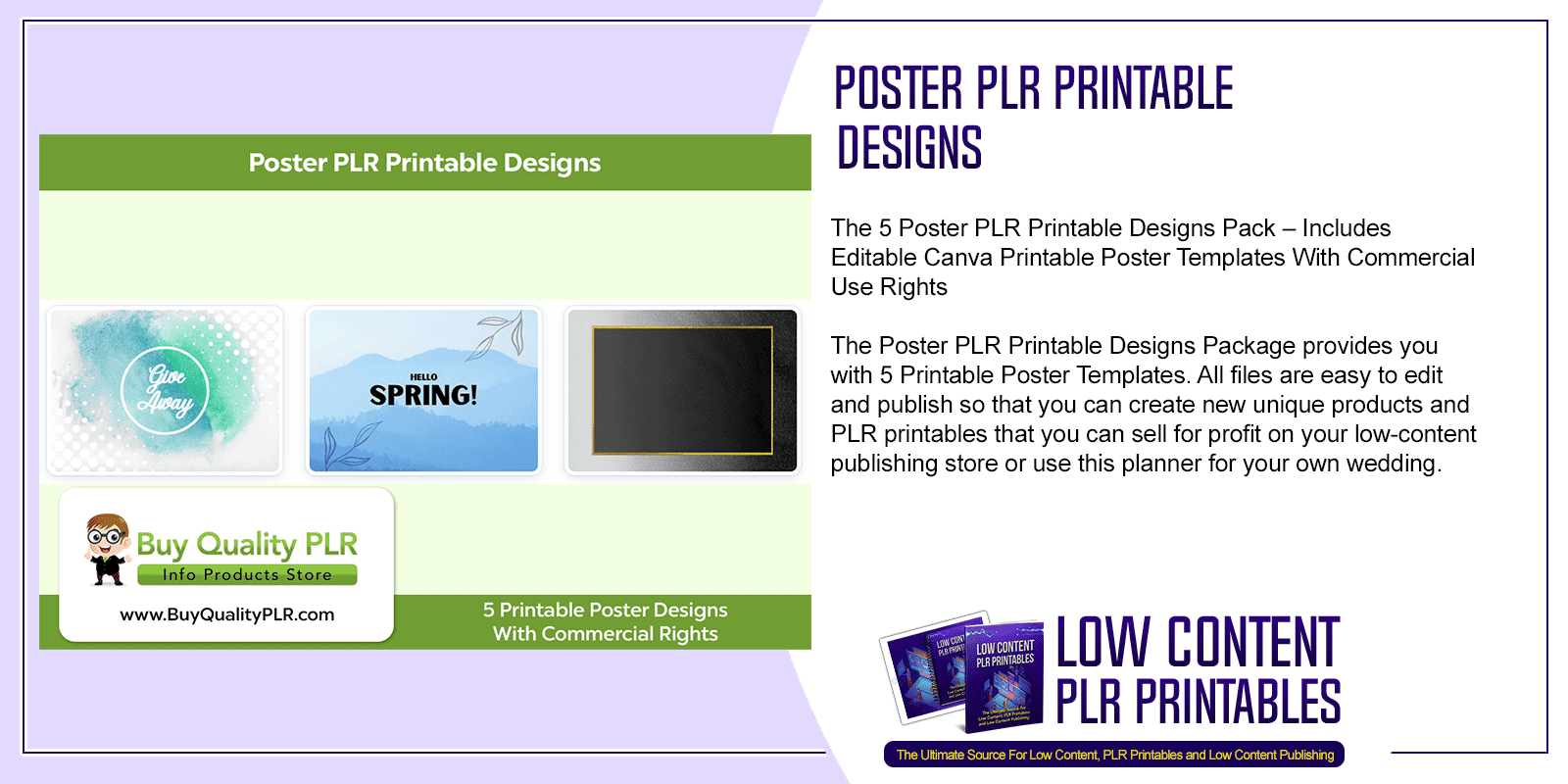 Here's exactly what you're getting in this 5-Poster PLR Printable Design Pack:
Enhance your visual content with our extensive collection of Poster PLR Printable Designs. At Buy Quality PLR, we offer a wide range of high-quality posters that are ready for you to customize and use for your personal or commercial projects. Our Posters are meticulously created by talented designers, ensuring visually appealing and engaging designs that cater to various niches and themes. Whether you need posters for motivational quotes, educational materials, events, or promotional purposes, we have you covered. With our PLR (Private Label Rights) license, you have the flexibility to modify the designs, add your branding elements, and tailor them to your specific needs. You can use these posters to enhance your blog posts, social media campaigns, websites, presentations, or any other creative projects. By leveraging our Poster PLR Designs, you can save time and effort in designing captivating visuals. Our collection includes a diverse range of styles, layouts, and color schemes, giving you the freedom to choose designs that resonate with your target audience and reflect your brand identity. Whether you're a blogger, marketer, graphic designer, or entrepreneur, our Posters offer a cost-effective solution to elevate your visual content. Access our extensive library of professionally designed posters, and unleash your creativity to captivate and inspire your audience. Visit Buy Quality PLR and Elevate your projects with eye-catching posters that convey your message effectively and leave a lasting impact on your audience.
You Get:
5 Poster PLR Printable Designs
Editable Canva Templates Link
Commercial Use License
Here Are All of The Poster PLR Templates You'll Be Getting:
The Poster PLR Printable Designs are just for you if you're looking for PLR Printable Posters that can be used to create your own unique printables and profit! Perfect for you if you have a publishing business and are looking for new products or printables.
Click the button below to purchase this product!
Your Package Details:
5 Individual Color Posters In Canva, PNG, PDF, And PowerPoint Format
Total File Download Size – 48.9 MB
Here are the Licence Terms:
What You Can Do:
You can sell this product in a non-editable format like PDF to sell to your customer for personal use.
You can sell this product as a physical product.
You can use this product to build an email list.
You can edit the product and brand it with your name and company branding.
You can resell the product as your own.
You can include the product in a bundle or package.
What You Cannot Do:
You cannot sell this product with PLR or resell rights. This license is for you only.
You cannot sell this product with its editable source files.
Please set a fair price when you sell and do not give the product away for free unless you're using it to build an email list
Get up to 30% off from our trusted partner BuyQualityPLR with this coupon code:
LCPP
See The Poster PLR Printable Designs For Yourself – Click Here
Other Products You Might Like