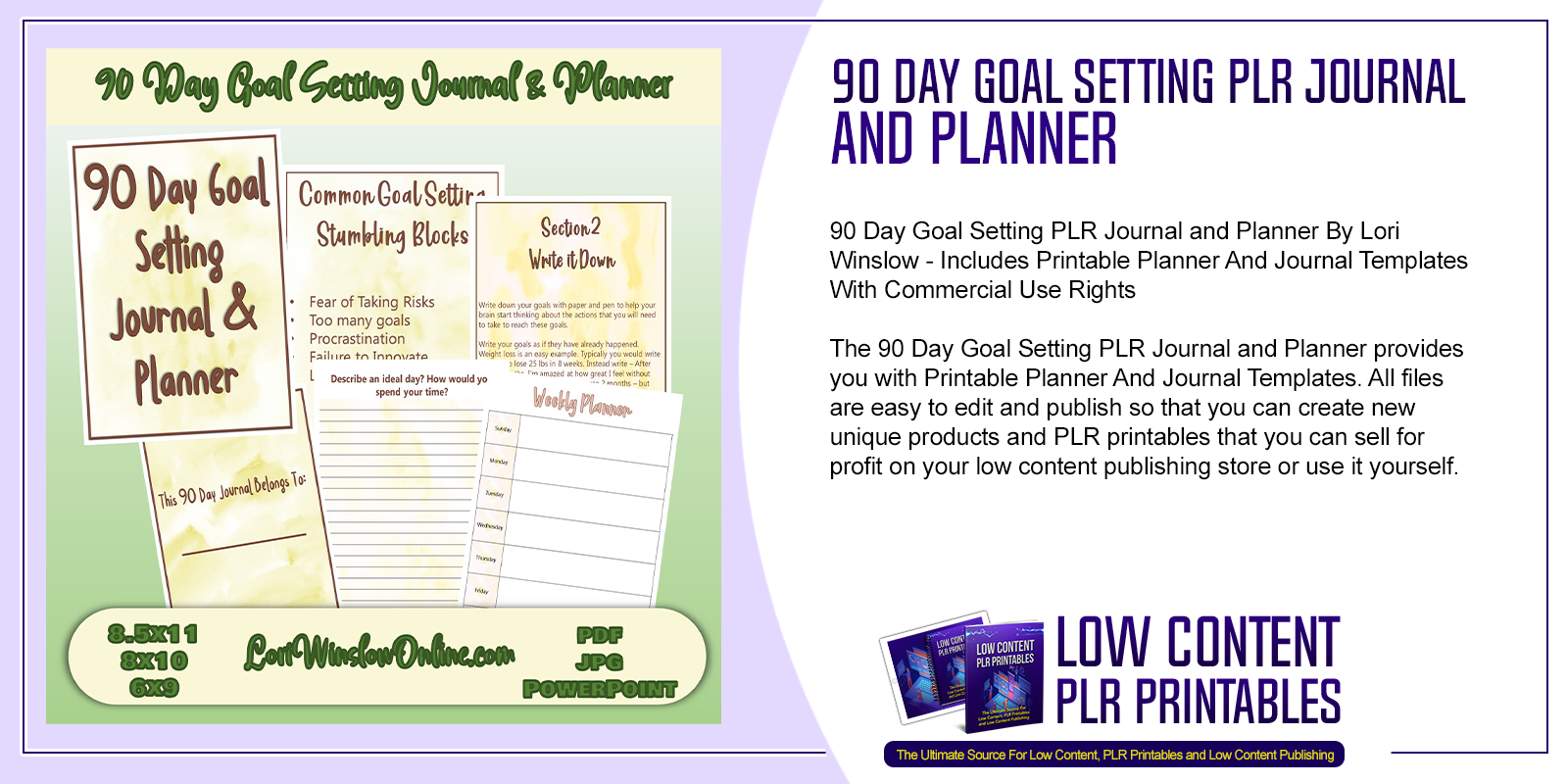 Choose Your Desired Option(s)
#90DayGoalSetting #PLRJournal #PLRPlanner #planner #journal #plannertemplates #journaltemplates #journaling #journalpages #plannerpages #loriwinslow #loriwinslowonline #plrprintables #printabletemplates #goalsetting #goalsettingprintables #goalsettingjournal #goalsettingplanners #publishing #publish #commercialuse #commercialuserights #doneforyouplr #printondemandplr
90 Day Goal Setting PLR Journal and Planner By Lori Winslow – Includes Printable Planner And Journal Templates With Commercial Use Rights
The 90 Day Goal Setting PLR Journal and Planner provides you with Printable Planner And Journal Templates. All files are easy to edit and publish so that you can create new unique products and PLR printables that you can sell for profit on your low content publishing store or use it yourself.
Introducing The…
90 Day Goal Setting PLR Journal and Planner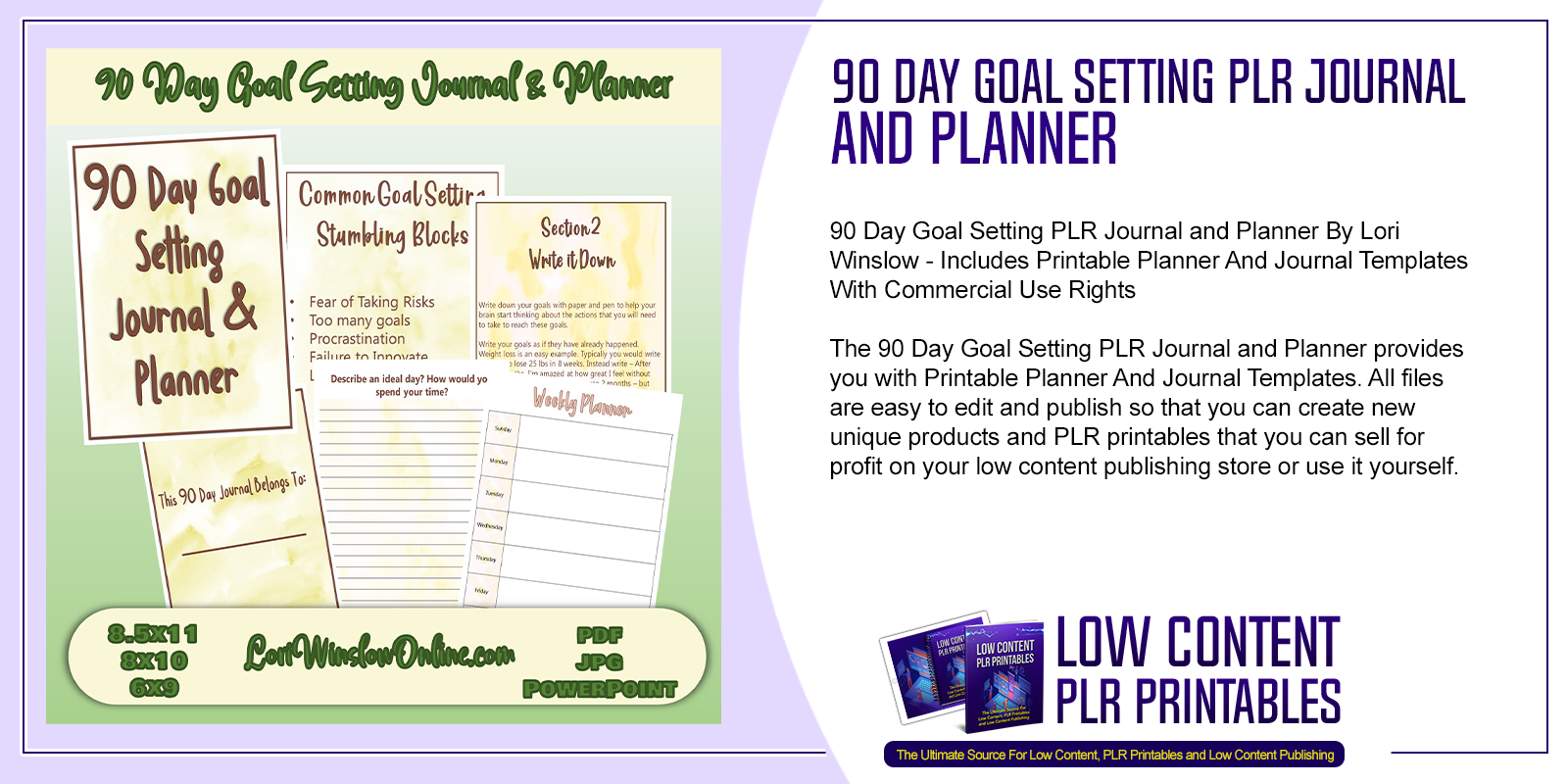 This is exactly what you could be getting in the 90 Day Goal Setting PLR Journal and Planner:
Easy to Edit PowerPoint Files
8.5in x 11in
8in x 10in
6in x 9in
All 3 sizes in both PowerPoint and PDF versions
Pages included:
1. Cover Page
2. Belongs to
3. Importance of goals
4. Welcome
5. Section 1
6-15. Guided Journal pages
16. Section 2
17. Guided Journal page
18. Realistic
19. Guided Journal page
20. Stumbling blocks
21. Guided Journal page
22. Section 3
23. 90 Day Plan
24. Guided Journal page
25. Monthly Goals
26. Weekly Planner
27. Daily Task list
28. Potential problems solutions
29. If Then
30. Section 4
31. My Results
32-33. Guided Journal pages
34. Stick to goals
35. Conclusion
36. Blank Journal page
37. What next
38. George Eliot Quote​
90 Day Goal Setting Journal & Planner
Use these pages to create your own Journals and Planners.
Create Printables to sell on sites like Etsy and Gumroad from the Individual Pages
Use These Templates as Handouts for a Goal Setting Workshop or Course.
Goal Setting peaks in January, yet this planner allows you to easily set goals at any time.
Yellow is Energizing & Radiates Positivity
See The 90 Day Goal Setting PLR Journal and Planner For Yourself – Click Here
Terms of Use
You may edit and brand as your own.
You may use the content to create products for resale on your own website or on sites like Etsy.com
You may offer the content for sale or offer it in a membership site.
You may publish it as is
Be aware that it is against the terms of service of Amazon KDP to use PLR content
You DO NOT have the right to pass on, share or sell the Resell Rights or Source Files
The 90 Day Goal Setting PLR Journal and Planner is just for you if you're looking for printable product templates that can be used to create your own unique printables when purchased and rebranded! You can also buy these printable templates to edit and sell on your store or use it for yourself. Perfect for you if you have a publishing business and are looking for new products or printables. Click the link below to learn more!
See The 90 Day Goal Setting PLR Journal and Planner For Yourself – Click Here
Other Products You Might Like